Korean Beauty™ 4D Motion Facial Cleansing GOLD Machine
Korean Beauty 4D Motion Facial Cleansing Brush Gold Version made from 99.9% 24k Pure Gold plating makes to luxury. Using 4D motion technology and Dermapro Micro-fine fiber antibacterial Brush. Diameter 0.009mm Micro-fine fiber can help remove the impurities that is not removed by normal face washing by hand. Deep Cleansing on the face completely and Micro-fine fiber on edge processed softly clean until Pore of Skin tightly with hypoallergenic.
Washing our face with our bare hands often leave traces of dirt and oil in our skin. This is why the experts have come up with this innovative electrical face brush.
This electrical face brush that patented 4D motion technology, super deep cleansing using 4 direction (right & left rotation + up & down vibration). Brush made by 97,000 micro-fine fiber as fine as diameter 0.009mm. It can helps to remove impurities that couldn't remove by using our bare hand.
KoreanBeauty 4D Motion 黄金豪华版由是由99.9%24K 纯金镀而成使产品显得高贵豪华。采用4D技术和Dermapro精密抗菌刷毛,0.009mm的超细纤维刷毛能帮助面部深层洁净,微细纤维刷毛能非常柔和的清洗毛孔而且不会过敏,直到毛孔紧密。
使用双手洗脸不能把脸上的灰尘和油迹100%洗净,所以专家们纷纷建议使用电子洁面刷。
它能够深入洁净肌肤,并且采用4个动向和声波振动(左右旋转,上下振动),并且拥有市场上最细小的纤维刷来帮助深层洗净肌肤。毛刷的细度小于0.009mm,由97,000根组成。
Direction to use: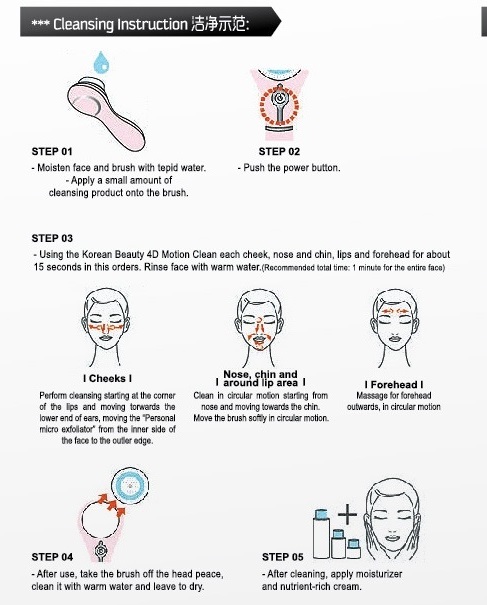 Each Korean Beauty 4D Motion Gold included:
* 1 X Korean Beauty 4D machine
* 1 X Facial Brush Head
* 2 X AAA battery
* 1 X Menu book
* 1 X One year warranty Card
ORDER NOW!
Or find us in FB:
https://www.facebook.com/prowell.my
Customer comments
| Author/Date | Rating | Comment |
| --- | --- | --- |