Nuewee Organic Aloe Saponaria with Peach
Product Information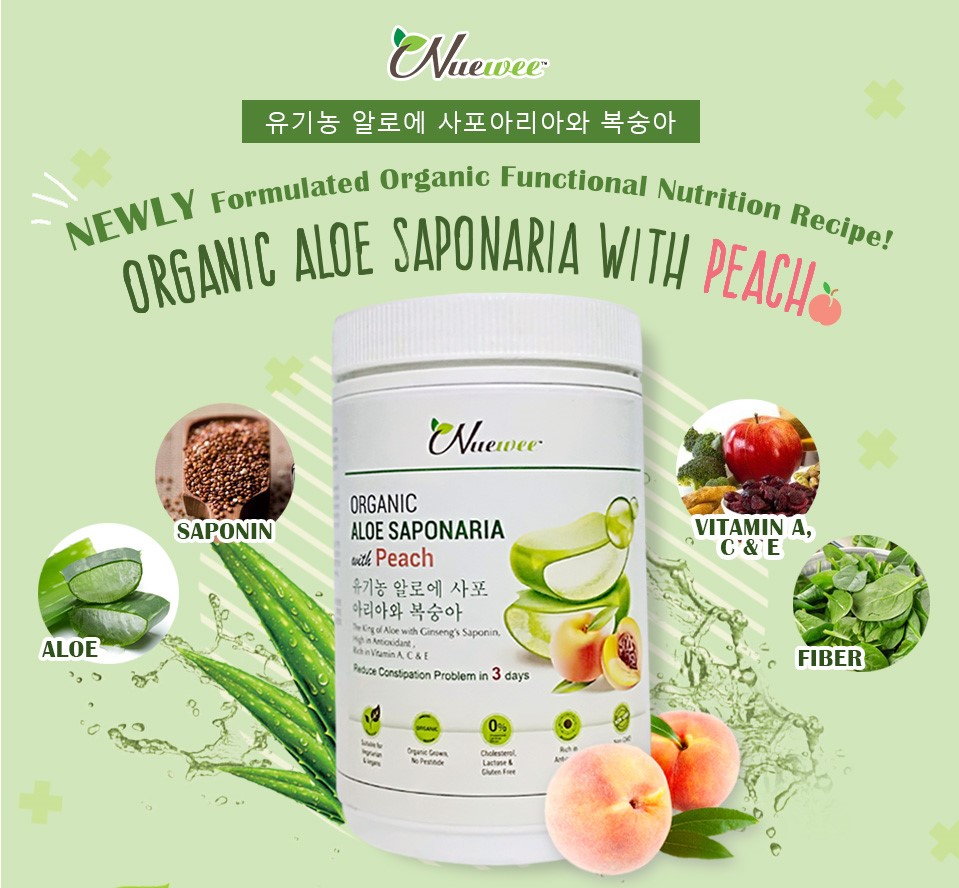 English
Nuewee Organic Aloe Saponaria with Peach is an organic health drink made from 100% naturally cultivated Aloe Saponaria and peach.

Korea's Aloe Saponaria is a premium edible variety that can be consumed in Aloe's skin and its whole body. Aloe Saponaria is high in quality and also rich in chlorophyll and Fiber too.

Aloe Saponaria is also a high-grade variety called "Western Ginseng" or "Ginseng Aloe" because it contains a large amount of "Saponin", the main ingredient of ginseng which is good for our general health.
Nuewee Organic Aloe Saponaria with Peach also promotes bowel movement and can benefit people who struggle in constipation and hemorrhoids. The Aloe Saponaria enhance skin beauty, promotes blood circulation, lower cholesterol, improve hangover, anti-cancer, regulate sebum secretion, gastritis, reflux esophagitis, inflammation of enteritis, immunity enhancement, diet effect.

Nuewee Organic Aloe Saponaria with Peach is suitable for all age group and long term consumption will promote and maintain a strong and healthy body.
Ingredients: Organic Aloe Saponaria, Organic Peach & Fructose.


Nuewee Organic Aloe Saponaria with Peach is suitable for:
To Prevent Constipation

Enhance Immune System

Weight Management

Detoxification

Reduce Gastritis

Improve Skin Complexion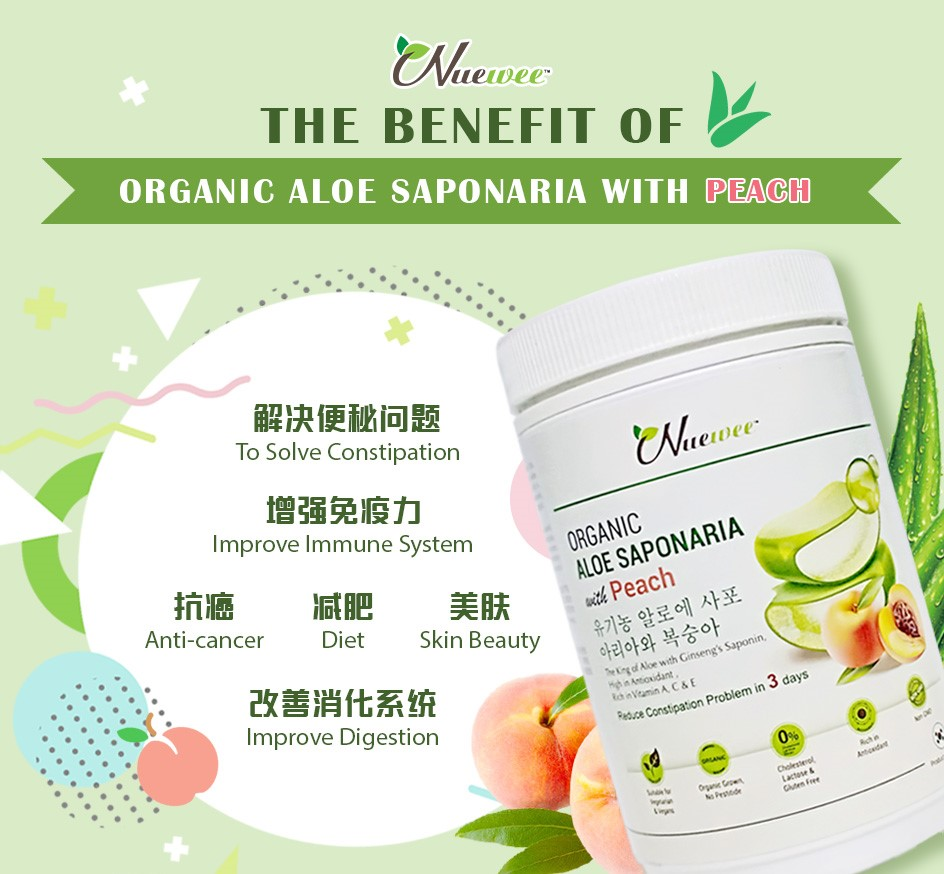 INGREDIENTS:
Saponaria/ Organic Aloe Saponaria
Treats constipation problem
To prevent skin disease
Contains antioxidant Vitamin A, C and E
Help in Slimming
Contain Ginseng's Saponin

Saponin? What is Saponin?

Plant-based foods are rich in phytochemicals that cannot be found in meat and diary.
Saponins, for instance, occur naturally in Aloe Saponaria.
These plant steroids have the ability to foam when mixed with water and boast various health benefits.
They exhibit anti-inflammatory and immune-boosting properties as well as anti-bacteria effects.
Organic Peach
Combat free radical
Fights and Prevent Cancer
Reduces Inflammation
Treats Gut Disorder
Destroys Candida Fungus
Support Healthy Eyes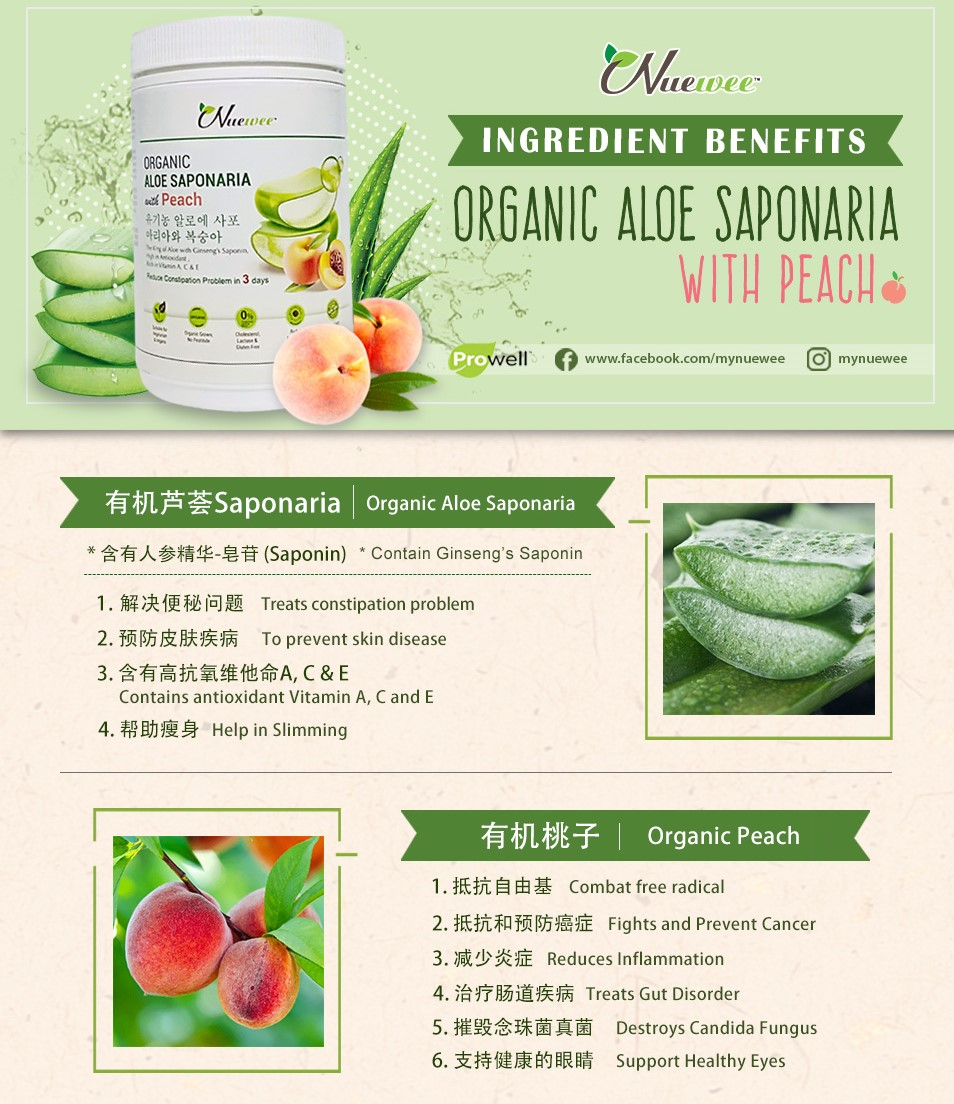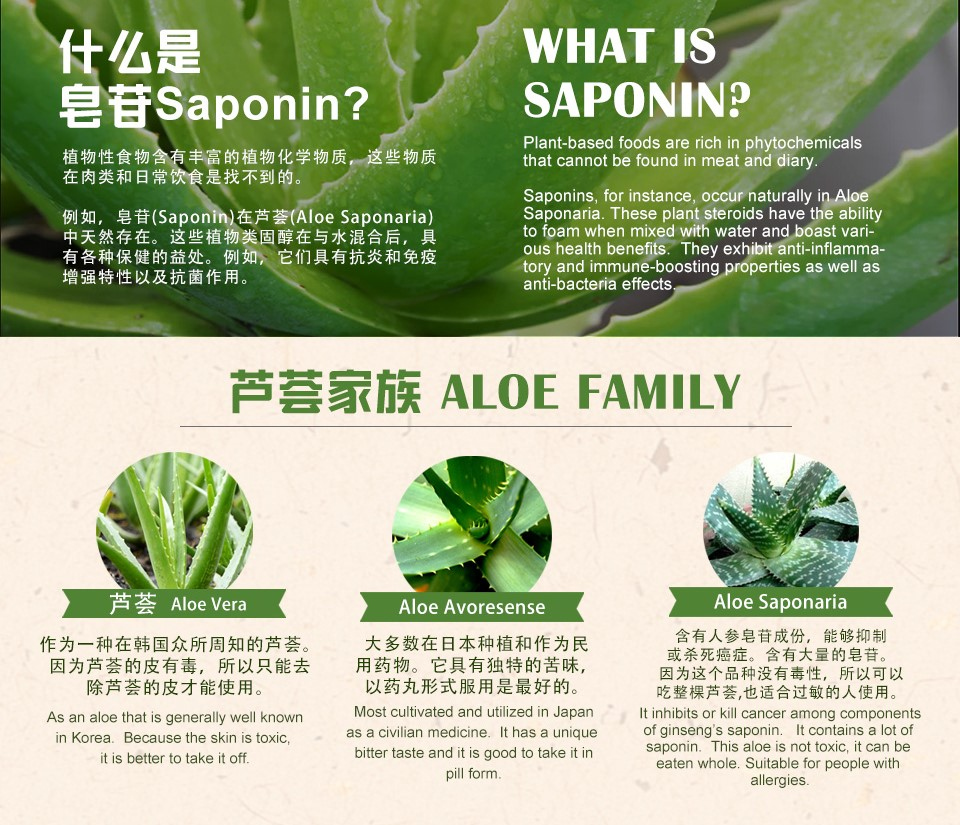 Recommended Serving:
Mix 1 scoop of Nuewee Organic Aloe Saponaria with Peach into 120ml cold water,
stir or shake well to serve. It is recommended to drink once or twice a day, after meal.

Malay
Nuewee Organik Aloe Vera Saponaria dan Buah Pic merupakan sejenis minuman kesihatan berorganik, yang dihasilkan daripada penanaman Aloe Vera Saponaria dan Buah Pic semula jadi yang 100% berorganik.

Aloe Vera Saponaria adalah sejenis spesies buah yang berkualiti tinggi dan kulit serta isinya boleh dimakan. Di samping itu, kandungannya diperkaya dengan klorofil dan selulosa.

Aloe Vera Saponaria juga dikenali sebagai jenis yang sama taraf dengan "Ginseng Amerika" atau "Ginseng Aloe Vera" yang jenis gred tinggi. Ini adalah kerana ia mempunyai sejumlah besar kandungan utama Ginseng Korea iaitu "Saponin". Ia memainkan peranan yang penting terhadap peningkatan tahap kesihatan tubuh badan.
Nuewee Organik Aloe Vera Saponaria dan Buah Pic adalah kaya dengan selulosa yang boleh menggalakkan pergerakan usus besar, serta memperbaiki masalah sembelit dan buasir untuk pesakit-pesakit yang mengalami masalah tersebut.

Selain daripada itu, Aloe Vera Saponaria juga boleh mencantikkan kulit, menggalakkan pengaliran darah, mengurangkan kolesterol, anti-kanser, mengawal rembesan sebum, anti-gastritis, esofagitis refluks, radang usus, mempertingkatkan sistem keimunan serta mencapai kesan pengurangan berat badan.

Nuewee Organik Aloe Vera Saponaria dan Buah Pic sesuai digunakan oleh kesemua lapisan masyarakat. Penggunaan jangka masa panjang boleh memperbaiki dan mempertingkatkan tahap kualiti kesihatan tubuh badan.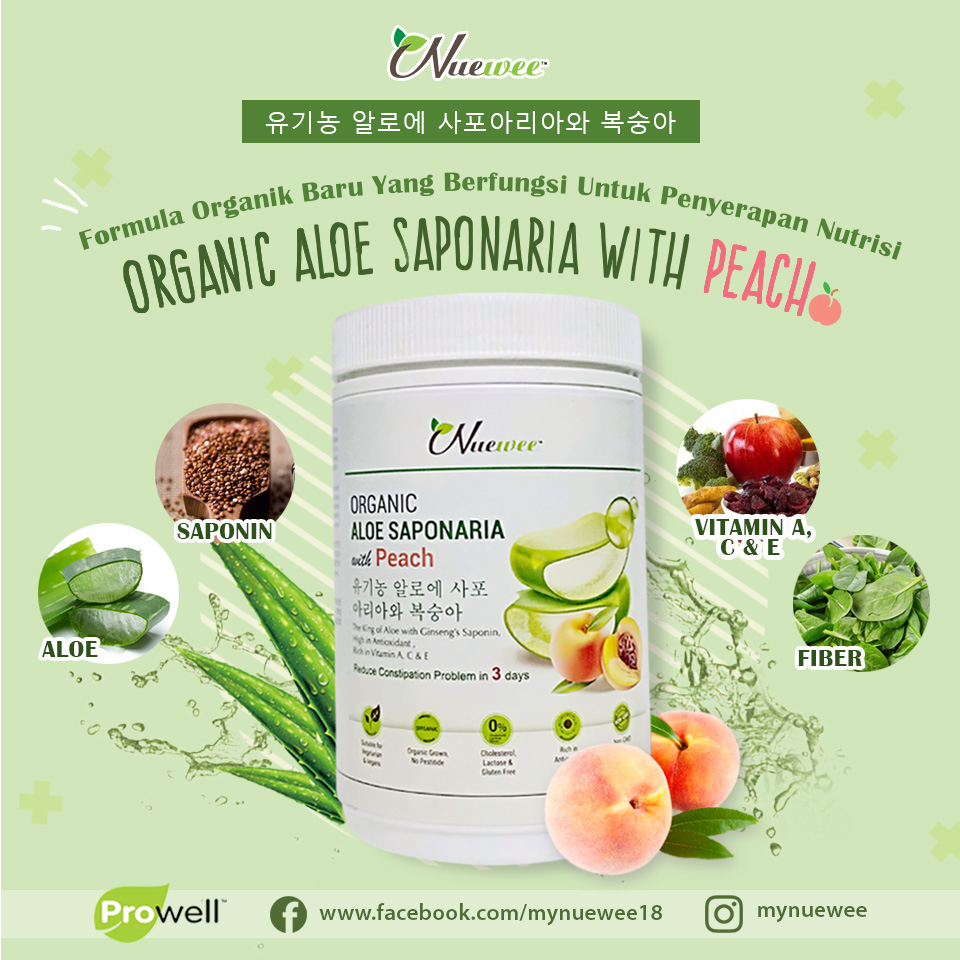 Bahan-bahan: Organik Aloe Saponaria, Organik buah Pic & Fruktosa.

Nuewee Organik Aloe Vera Saponaria dan Buah Pic sesuai untuk:
* Mengurangkan masalah sembelit
* Mengawal berat badan
* Anti-kanser
* Kecantikkan kulit
* Menggalakkan proses detoksifikasi
* Meningkatkan Sistem Imun
* Meningkatkan pencernaan

Fungsi bahan-bahan:
Organik Aloe Saponaria:
* Mengurangkan masalah radang usus
* Memperbaiki ton kulit serta mengelakkan penyakit kulit.
* Ia mengandungi vitamin A, C & E, anti-oksidan yang tinggi
* Membantu untuk usaha pelangsingan badan.
* Ia juga mengandungi ekstrak Ginseng – Saponin
Apakah itu Saponin?
Makanan tumbuhan diperkayakan dengan bahan-bahan kimia tumbuhan, dan bahan-bahan tersebut tidak dapat diperolehi melalui pemakanan daging dan pemakanan harian. Contohnya, Saponin yang terdapat pada Aloe Vera secara semula jadi. Sterol tumbuhan tersebut apabila dicampur dengan air, ia mempunyai pelbagai faedah kesihatan. Contohnya, ia mempunyai fungsi-fungsi seperti anti-radang dan anti-bakteria serta dapat memperkukuhkan sistem keimunan tubuh badan.

Organik Buah Pic:
*Mempunyai unsur-unsur anti radikal bebas
*Mencegah dan anti-kanser
*Mengurangkan keradanga
*Memperbaiki masalah usus
*Memusnahkan kulat candida
*Menyokong kesihatan mata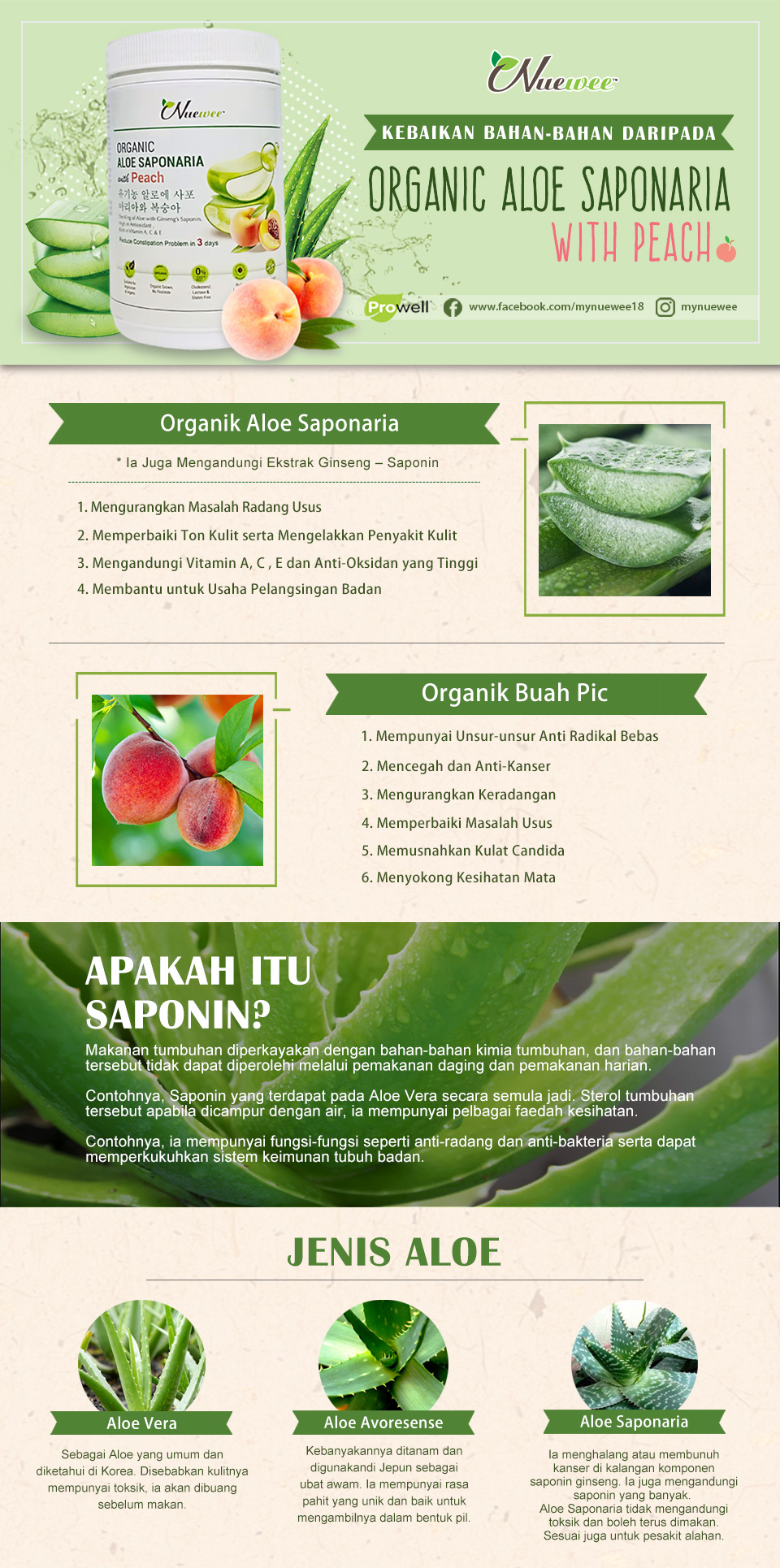 Cara Penyediaan:
Masukkan 1 sudu serbuk Nuewee Organik Aloe Saponaria dan buah Pic ke dalam 120ml air sejuk, kacau sehingga larut dan minum. Bercadang 1-2 kali setiap hari, minum selepas makan.






Chinese
Nuewee有机芦荟Saponaria 与桃子是一种有机保健饮品,由100%有机天然栽培的芦荟Saponaria和桃子制成。芦荟Saponaria是一种优质并且可食用其芦荟皮层与果肉的品种,而且含有丰富的叶绿素与纤维素。
此外,芦荟Saponaria也被冠为同属"西洋参"或者"人参芦荟"的高档品种,因为它含有大量的韩国人参主要成分"皂甙"(Saponin),对提升人体的健康水平扮演着重要的角色。
Nuewee有机芦荟Saponaria 与桃子 含有丰富纤维素,能够促进大肠蠕动,帮助改善患有便秘和痔疮的人士。
芦荟Saponaria还能美肤,促进血液循环,降低胆固醇,改善宿醉,抗癌,调节皮脂分泌,抗胃炎,反流性食管炎,肠炎,增强免疫力和达到减肥效果。
Nuewee有机芦荟Saponaria 与桃子 适合任何阶层的人使用,长期使用也能改善及提升身体的素质。

成份:有机芦荟Saponaria, 有机桃子与果糖。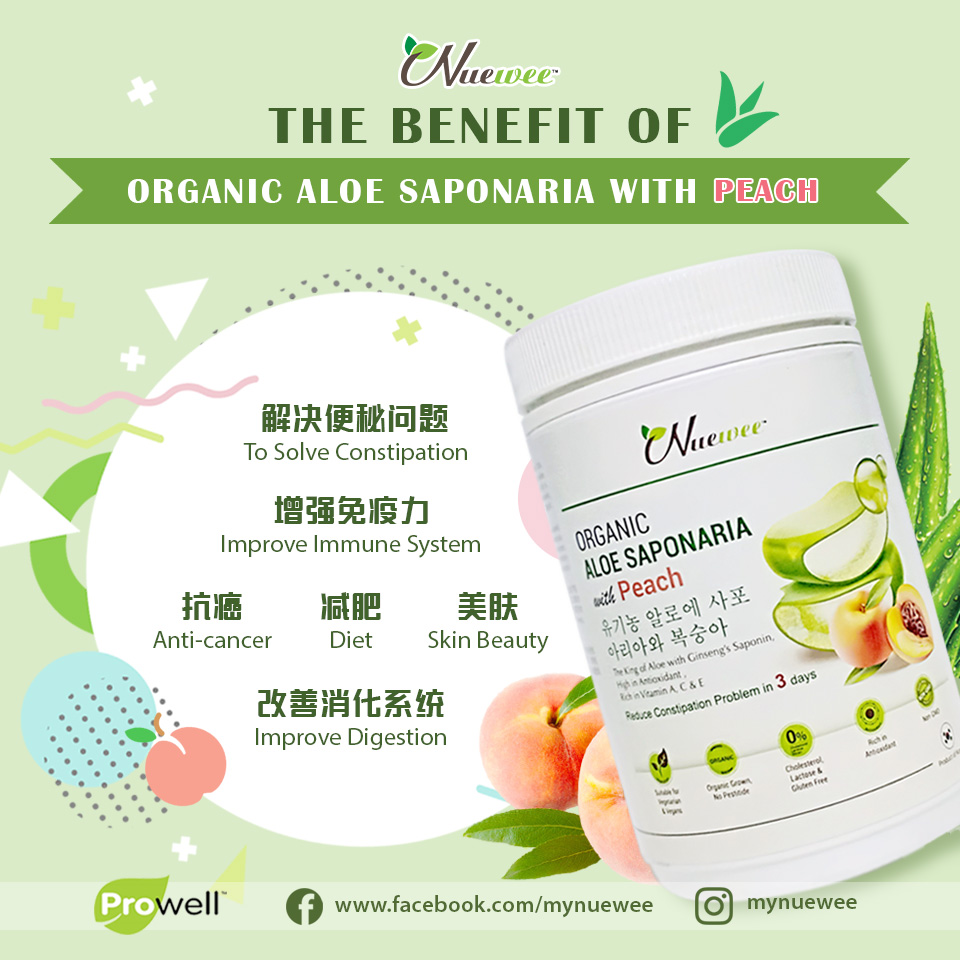 Nuewee有机芦荟Saponaria 与桃子适合:
预防便秘

增强免疫系统

控制体重

排出毒素

减少胃炎的问题

改善皮肤肤色





成份INGREDIENTS:
有机芦荟
解决便秘问题
预防皮肤疾病
含有高抗氧维他命A,C & E。
帮助瘦身
含有人参精华-皂苷(Saponin)
什么是皂苷
植物性食物含有丰富的植物化学物质,这些物质在肉类和日常饮食是找不到的。
例如,皂苷(Saponin)在芦荟(Aloe Saponaria)中天然存在。

这些植物类固醇在与水混合后,具有各种保健的益处。例如,它们具有抗炎和免疫增强特性以及抗菌作用。


有机桃子
抵抗自由基
抵抗和预防癌症
减少炎症
治疗肠道疾病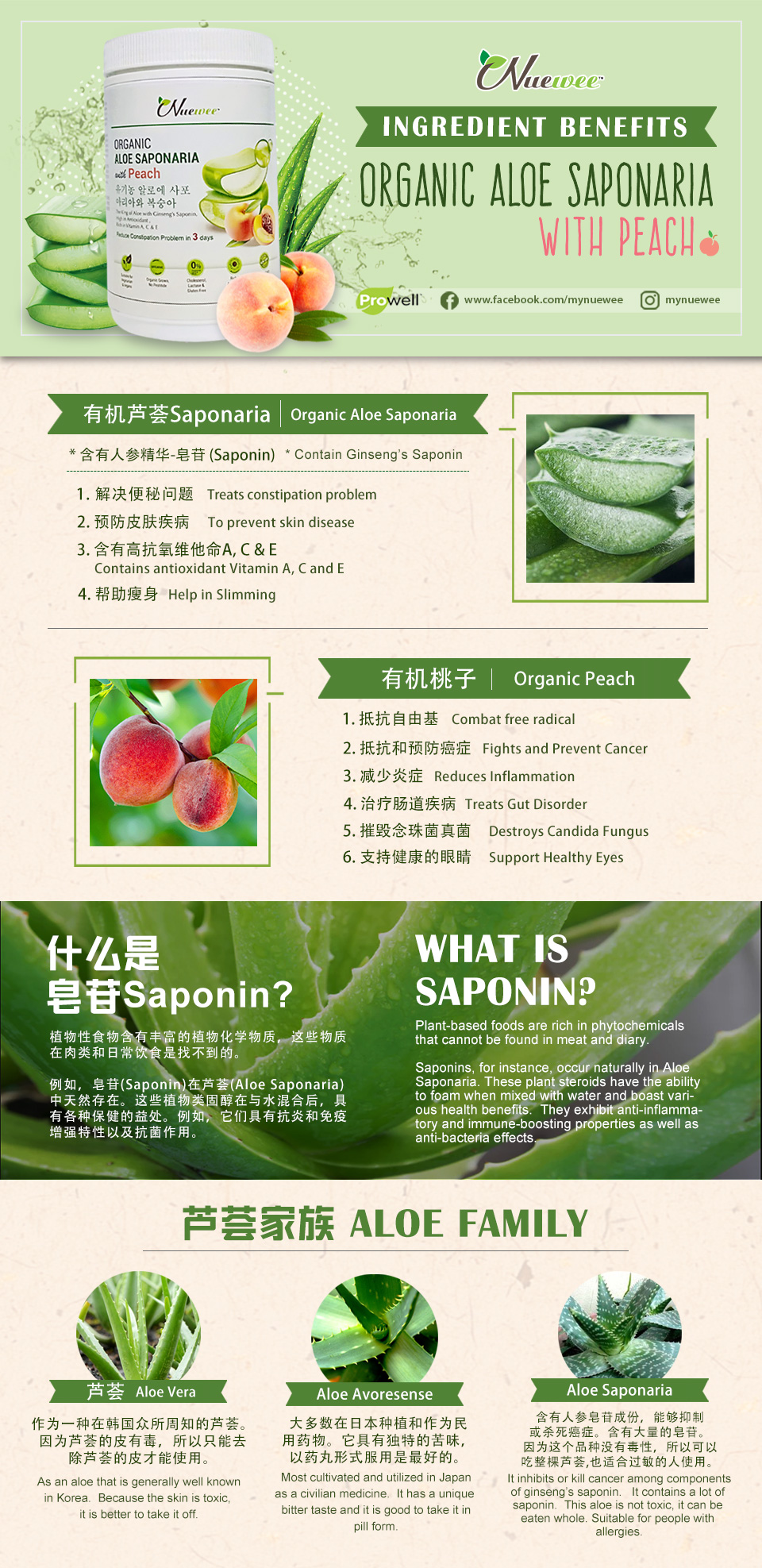 饮用方法:
将1汤匙的Nuewee有机芦荟Saponaria与桃子加入120ml冷水中,搅拌或摇匀即可食用。
建议每天使用1-2次,饭后饮用。
Customer comments
| Author/Date | Rating | Comment |
| --- | --- | --- |