Nuewee Organic Banana Protein (10 Sachets)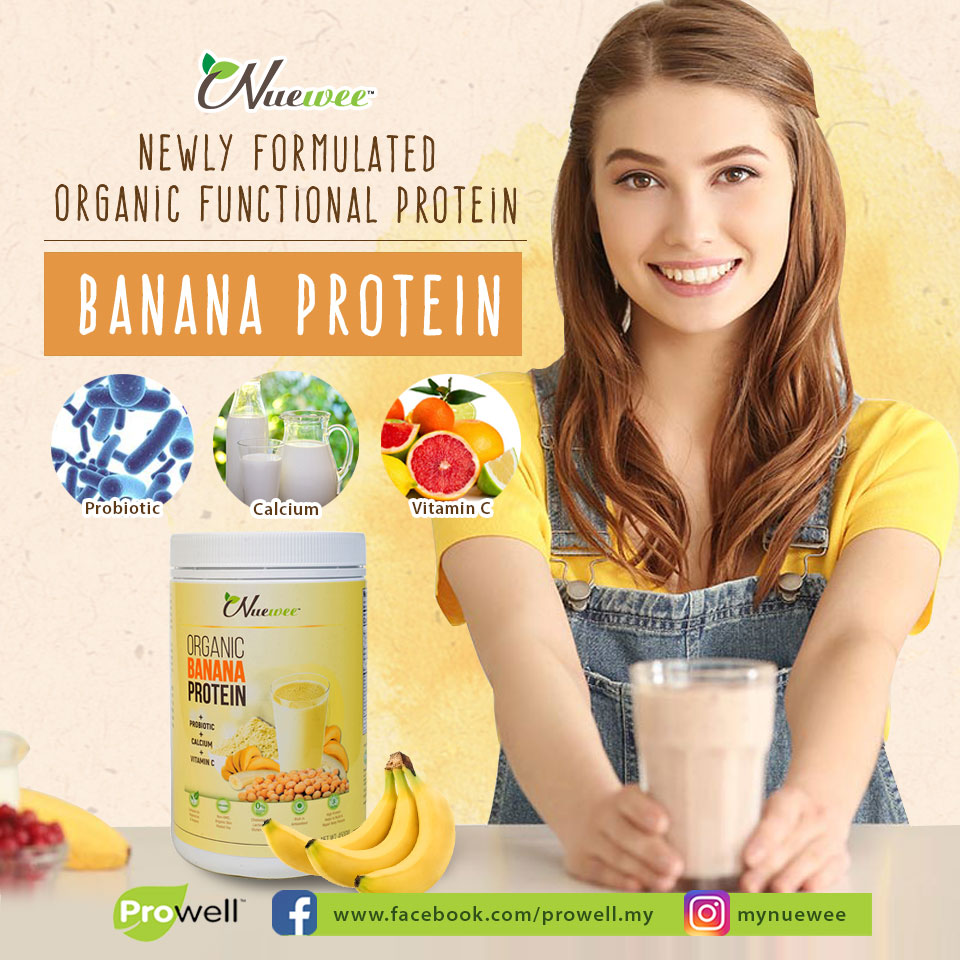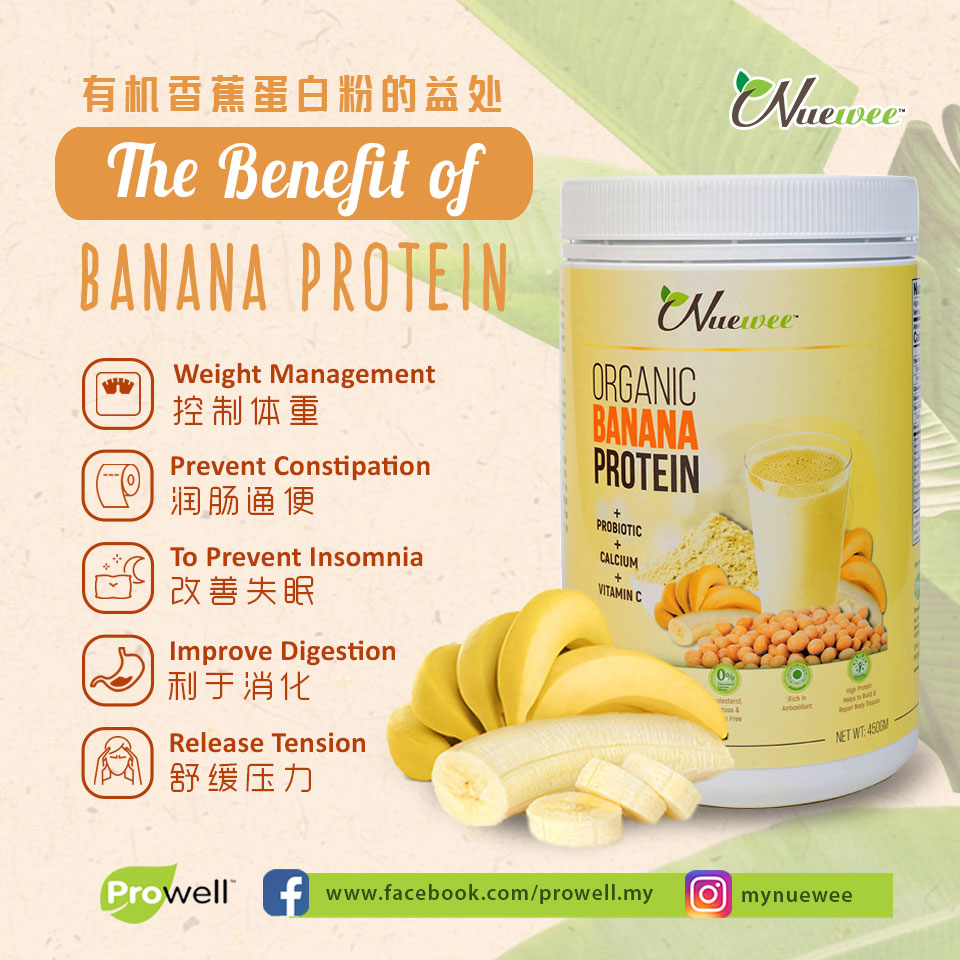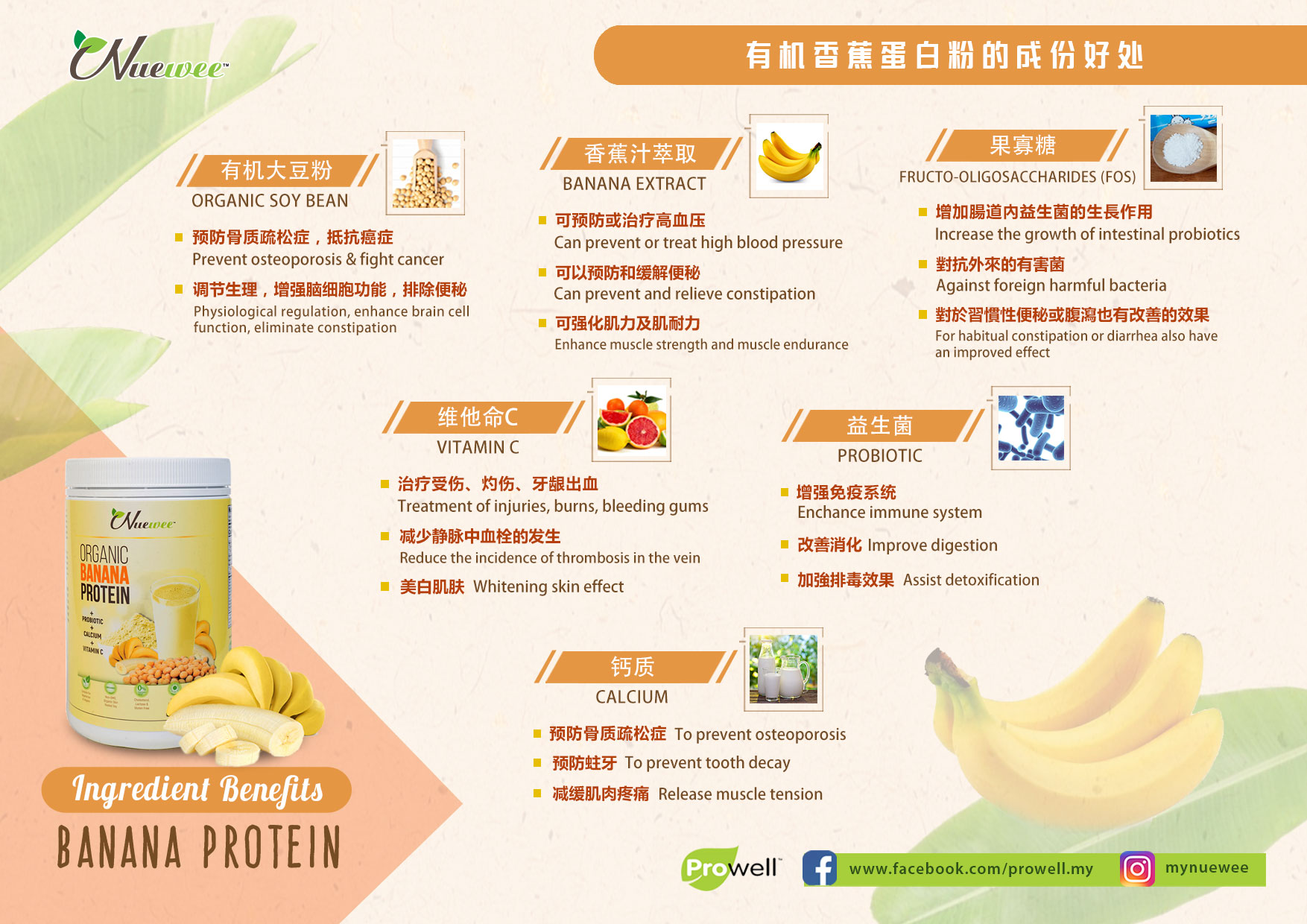 营养丰富的Nuewee有机香蕉蛋白粉是乳制品替代品。纯正,不加糖,提供饱腹感,让您享受大豆蛋白质的营养及好处。

成份拥有独特的配方,由非基因改造大豆蛋白质,钙质和维生素C所组成。香蕉含有丰富的抗氧化剂,维生素B群以及钾和镁,能降低血压,保护我们的心脏健康。
Nuewee有机香蕉蛋白粉添加了益生菌和果寡糖(FOS)帮助维持肠道良菌活动与数量,因此会改善您的消化系统,排出毒素及提高免疫力。

这是一个完美的营养饮料,丰富的矿物质与蛋白质100%能够帮助您维护一个强壮和健康体魄。
Nuewee 有机香蕉蛋白粉的好处:
控制体重
改善失眠
改善消化及排毒
改善便秘
降低血压和胆固醇
Nuewee 有机香蕉蛋白粉的成分:
有机大豆粉 (去皮), 大豆分离蛋白, 香蕉汁萃取, 果寡糖 (FOS), 益生菌,钙质,维他命C 和甜菊
Nuewee 有机香蕉蛋白粉的食用方法:
把 2 匙的 Nuewee 有机香蕉豆粉加入200毫升的冷水或温水,搅拌均匀即可饮用。您也可以加入即溶麦片或其他谷类饮料一起食用。
产品产地:美国
产品重量:450gm (可食用18次左右)

适合所有年龄层:儿童,成人,老年人,孕妇,哺乳妈妈



常见问题:
1. 尿酸可以喝Nuewee 有机功能性蛋白粉吗?
尿酸病人主要是体内嘌呤代谢紊乱,引起尿酸升高,所以需要控制含有嘌呤高的食物的摄入量。

Nuewee蛋白粉主要原料是各种氨基酸,它根本没有细胞结构,可以说嘌呤几乎是0, 你可以放心吃。

2.多吃Nuewee 有机功能性蛋白粉导致发胖?
不会,因为蛋白质不容易转为脂肪。发胖的真正原因是脂肪和碳水化合物过量摄入。
3.糖尿病患者可以吃Nuewee 有机蛋白质?
Nuewee 有机功能性蛋白质主要糖分来自果糖。
果糖在肠道比葡萄糖吸收慢,易被机体利用,且不依赖胰岛素作用,对血糖影响小。

果糖主要来源是水果,因此即使是糖尿病病人,一天适于饮用一杯Nuewee 有机功能性蛋白粉。

4.孕妇可以喝Nuewee 有机蛋白质?
可以,大豆蛋白质是优质蛋白质,含有人体所必需的氨基酸。Nuewee 有机蛋白粉中含有多种矿物质和维生素哦!


浏览以下网址,了解更多顾客给予我们的好评哦!
https://www.facebook.com/pg/prowell.my/reviews/?ref=page_internal






One of the delicious alternative to dairy milk, Nuewee Organic Banana Protein is a pure, unsweetened version and deliver the satiety and allow you to enjoy the benefits of soy protein at the same time.

It is now feature our pioneering formula with Non-GMO Soy protein, Calcium and Vitamin C. Banana are high in antioxidants, high levels of B-Vitamins as well as potassium and magnesium to lower blood pressure and also important for heart health.
Probiotic and Fructo-oligosaccharides (FOS) helps in regulating the activities of intestinal bacteria for digestive benefits therefore will improve your digestive system, cleanse your system and enhance immunity.
Each delicious flavor has been meticulously engineered to provide a broad range of minerals, protein and an incredible 100% to help you maintain a strong and healthy body.
Benefit of Nuewee Organic Banana Protein with FOS
Weight Managament
To Prevent Insomnia
Improve Digestion & Detoxification
To Prevent Constipation
Reduce Blood Pressure & Cholesterol
Ingredients of Nuewee Organic Banana Protein with FOS:
Organic Soybean Powder (Dehulled), Isolated Soy Protein, Banana Juice Extract Powder, Fructo-Oligosaccharides (FOS), Probiotic, Calcium, Vitamin C and Stevia Sugar.
Ways to Consume:
Mix 2 scoops of the Nuewee Organic Banana Protein Powder with 200ml cold or warm water. Stir well and serve. You may add in instant oat meal or other cereal as well.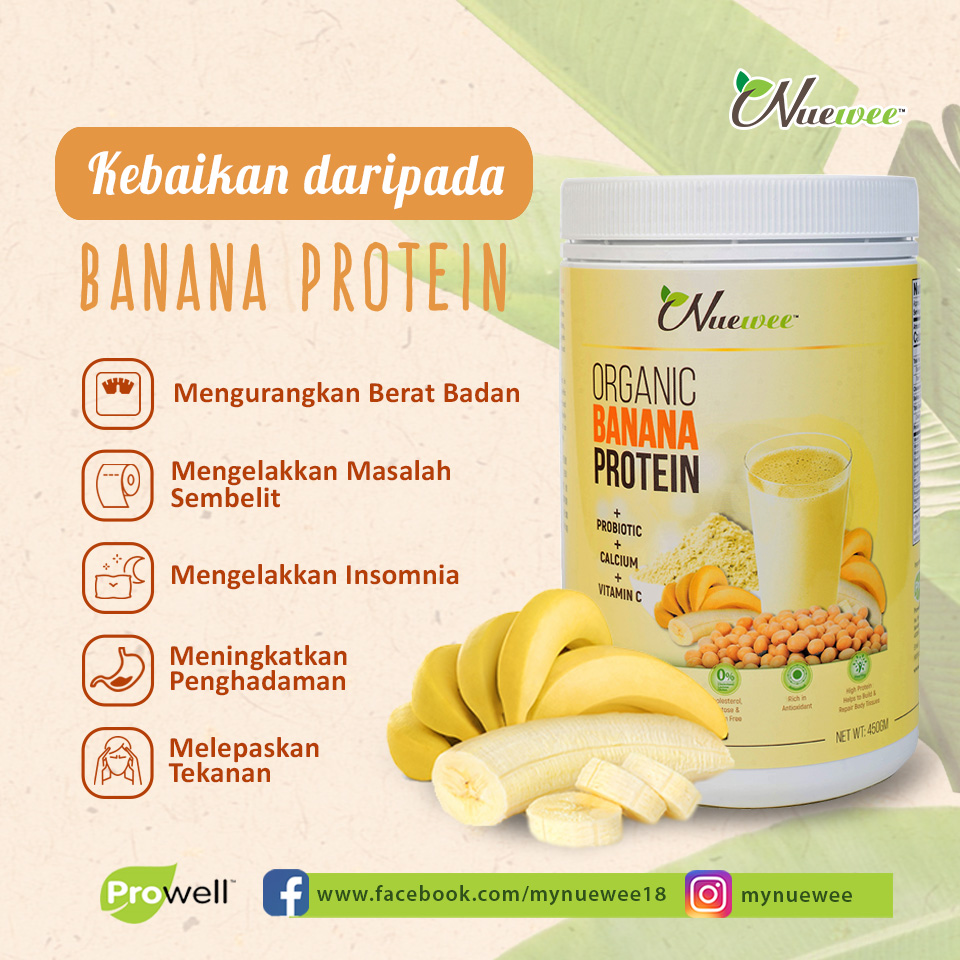 Salah satu kelazatan alternatif selain daripada tenusu, Nuewee Organic Banana Protein with FOS merupakan sesuatu minuman yang asli, dengan versi tanpa kemanisan dan memberikan rasa kekenyangan serta membenarkan anda menikmati kebaikan-kebaikan protein soya pada masa yang sama. Kini dengan adanya formula perintis kami yang dicipta khas dengan protein soya tanpa Pengubahsuaian Organisma Genetik (Non-GMO), kalsium serta Vitamin C. Pisang mempunyai kandungan anti-oksidan yang tinggi, tahap Vitamin B yang tinggi, begitu juga dengan kalium dan magnesium untuk mengurangkan tekanan darah serta penting untuk kesihatan jantung.
Nuewee Organic Banana Protein ditambahkan dengan Probiotik dan Fructo-oligosaccharides (FOS) dan ia dapat membantu dalam pengawalan aktiviti-aktiviti bakteria usus untuk kebaikan sistem penghadaman. Oleh yang demikian, ia dapat memperbaiki dan membersihkan sistem penghadaman serta meningkatkan sistem keimunan anda. Setiap perisa yang lazat dirumuskan secara terperinci untuk memberikan pelbagai jenis mineral, protein dan 100% yang luar biasa untuk membantu anda mengekalkan kesihatan badan yang kuat.
Nuewee Organic Banana Protein with FOS Sesuai Untuk:
Untuk mereka yang ingin dihidangkan sebagai penggantian pemakanan
Untuk mereka yang ingin memperbaiki kualiti tidur
Untuk mereka yang ingin mempunyai tulang dan sendi yang kuat
Sistem keimunan yang lemah
Melepaskan tekanan
Melindungi daripada ancaman sakit jantung dan strok


Customer comments
| Author/Date | Rating | Comment |
| --- | --- | --- |