Nuewee Organic Blackcurrant Protein With Grape Seed (New Formula)
Product Photos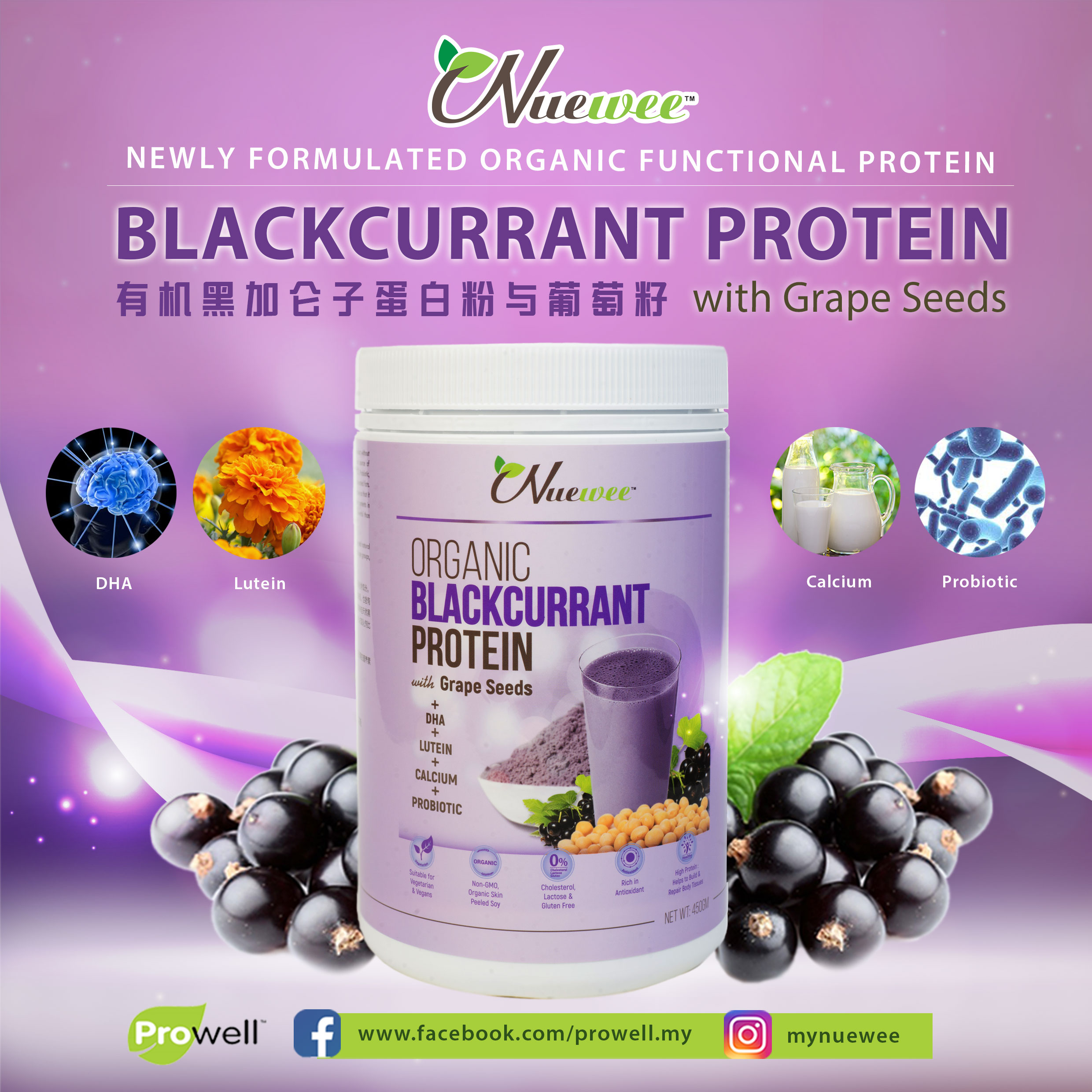 Chinese
Nuewee有机黑加仑子蛋白粉与葡萄籽是100%适合素食者,而且没有任何化学成份。这产品富含纤维,低饱和脂肪,蛋白质含量高,是摄取植物蛋白的理想来源。

Nuewee有机黑加仑子蛋白粉与葡萄籽也含有DHA,低聚半乳糖(GOS),益生菌,纳米钙,维他命C等其他营养素。甜味来自天然黑加仑粉和果糖,因此它可以成为您提供额外的能量。

加上被称之为"眼睛维他命"的叶黄素,可减缓视力下降和预防眼部疾病如老年性黄斑变性(AMD),白内障和视网膜色素变性等眼疾。

葡萄籽和Alpha OPCs抗氧化剂比维生素E强约2倍,比橙的维生素C强4倍。这些葡萄籽和OPCs的健康益处包括抗菌,抗病毒,抗癌,抗炎,抗过敏和血管扩张等好处。
Nuewee有机黑加仑子蛋白粉与葡萄籽以最健康和自然方式提供您的每日所需的营养素。

Nuewee有机黑加仑子蛋白粉与葡萄籽的好处:
改善你的大脑和记忆功能
改善视力
减少身体肿胀
促进伤口愈合
保护心脏健康
增强皮肤的弹性
帮助减重
淡化雀斑
Nuewee有机黑加仑子蛋白粉与葡萄籽成分:
有机豆粉(去皮),大豆分离蛋白,黑加仑子汁粉,葡萄籽,花青素,DHA,低聚半乳糖(GOS),益生菌,钙质,叶黄素,维他命C和果糖。
Nuewee有机黑加仑子蛋白粉与葡萄籽食用方式 :
把2匙Nuewee有机黑加仑子蛋白粉与葡萄籽加入200毫升的冷水或温水,搅拌均匀即可饮用。您也可以加入即溶麦片或其他谷类饮料一起使用。



产品产地:美国
产品重量:450gm (可食用18次左右)

适合所有年龄层:儿童,成人,老年人,孕妇,哺乳妈妈
English
Nuewee Organic Blackcurrant with GrapeSeeds is 100% vegan product without anyartificial ingredients. The high protein content makes it an ideal source ofvegetable protein and valuable source of other nutrients like DHA, GOS,Probiotic, Calcium,Vitamin C and so on.

Nuewee Organic Blackcurrant with GrapeSeeds is also rich infibre, and low in saturated fats. The sweet flavor comes from the naturalblackcurrant powder and fructose so that it gives an extra energy boost to your protein serving.

Lutein which is called as "Eye Vitamins" to prevent eye diseases including age-relatedmacular degeneration (AMD), cataracts and retinitis pigmentosa.

The antioxidant contents in Grape Seed and Alpha OPCs are approximately 2 times morepowerful than vitamin E and as much as 4 times stronger than vitamin C.

Health benefits of these Grape Seeds & OPCsinclude antibacterial, antiviral, anticarcinogenic, anti-inflammatory,anti-allergic, and vasodilatory.
Nuewee Organic Blackcurrant Protein with Grape Seeds is a healthy and natural way to optimize your daily nutrients need.

This product is suitable for all age groups, especially growing children, busy working group and senior citizen.

Benefits of Nuewee Organic Blackcurrant Protein with Grape Seeds
Improve your brain & memory Function
Weak eyesight
Reducing Swelling
Boost wound healing
Protect heart health
Improve Skin's elasticity
Obesity and weight lost
Reduce and lighten pigmentation
Ingredients of Nuewee Organic Blackcurrant Protein with Grape Seeds:
Organic Soybean Powder (Dehulled), Isolated Soy Protein, Blackcurrant Juice Powder, Grape Seeds, Alpha OPCs, DHA, Galacto-oligosaccharide (GOS), Probioyic, Calcium, Lutein, Vitamin C and Fructose.

Recommended Serving:
Mix 2 scoops of Nuewee Organic Pumpkin Seed with 200ml cold or warm water.Stir well and serve.You may add in instant oat meal or other cereal as well.
Malay
Nuewee Organic Blackcurrant Protein with Grape Seeds merupakan sejenis produk vegan tanpa sebarang bahan tiruan. Kandungan protein yang tinggi menjadikannya suatu sumber protein sayuran dan lain-lain sumber yang berkhasiat seperti DHA, GOS, Probiotik, Kalsium, Vitamin dan lain-lain lagi. Serbuk ini juga kaya dengan fiber, dan kandungan lemak tepu yang rendah. Sumber perisa manisnya adalah daripada serbuk blackcurrant dan fluktosa semula jadi supaya ia dapat memberikan rangsangan tenaga tambahan untuk setiap hidangan protein anda.


Nuewee Organic Blackcurrant Protein with Grape Seeds juga ditambahkan dengan Lutein yang juga dikenali sebagai "vitamin-vitamin mata" untuk mengelakkan pelbagai penyakit mata, termasuk degenerasi makula berhubungan dengan usia (AMD), katarak dan penyakit mata Retinitis Pigmentosa. Kandungan anti-oksidan dalam benih anggur dan Alpha OPC adalah kira-kira 2 kali ganda lebih kuat daripada vitamin E serta 4 kali ganda lebih kuat daripada vitamin C. Kebaikan-kebaikan benih-benih anggur dan OPC termasuklah anti-bakteria, anti-virus, anti-karsinogen, anti-keradangan, anti-alergi serta melebarkan saluran darah.
Minuman Nuewee Organic Blakcurrant Protein with Grape Seeds merupakan satu cara yang sihat dan semula jadi untuk optimumkan keperluan pemakanan harian anda. Produk ini sesuai untuk kesemua golongan umur, khasnya kanak-kanak yang sedang membesar, kumpulan bekerja sibuk serta warga emas.
Nuewee Organic Blackcurrant Protein with Grape Seeds Sesuai Untuk:
Memperbaiki otak dan fungsi ingatan anda
Daya penglihatan yang lemah
Mengurangkan bengkak
Meningkatan penyembuhan luka
Melindungi kesihatan jantung
Meningkatkan keanjalan kulit
Obesiti dan kehilangan berat badan
Mengurangkan dan meringankan pigmentasi
FAQ
顾客常见问题
Frequently Ask Question




1. NUEWEE 有机蛋白粉如何发挥他的作用呢?
NUEWEE有机蛋白粉提供优质的蛋白质,它含有各种人体必需氨基酸,帮助成长、维护及修复组织用途。只有蛋白质充足,才能代谢正常。就像盖房子,构建身体的原材料最主要的是蛋白质。


1. How does NUEWEE Organic Protein works?
NUEWEE Organic Protein provide high quality protein, contains adequate amounts of all of the essential amino acids in a form your body can use with other dietary protein for growth, maintenance, and repair of tissues.

Protein is an important building block of bones, muscles, cartilage, skin, and blood.
2. 尿酸可以饮用NUEWEE有机蛋白粉吗?
尿酸病人主要是体内嘌呤代谢紊乱,引起尿酸升高,所以需要控制含有嘌呤高的食物的摄入量。
高嘌呤的食物包括肉类、鱼、海鲜、家禽、牛杂碎、肾脏、肝脏、芦笋、花椰菜、蘑菇、菠菜等蔬菜以及干豆子(小扁豆和豌豆)。

NUEWEE有机蛋白粉主要原料是各种氨基酸,嘌呤水平偏低,一天饮用一杯是适合的。

至于痛风者,我们还是建议先询问医师意见哦。


2. Can I take NUEWEE Organic Protein if I have high uric acid?
Elevated uric acid level is mainly caused by purine metabolism disorders, hence you need to control consumption of high purine food. Foods high in purines include meat, fish, seafood, poultry, sweetbreads, kidneys, liver, brains, and vegetables like asparagus, cauliflower, mushrooms, spinach, and dry beans (lentils and peas).

NUEWEE Organic Protein is low in purine level, it is safe to consume 2 scoop per day.

However, for anyone having gout, it is advisable to check with physician before taking Nuewee Organic Protein.

3. 饮用NUEWEE有机蛋白粉导致发胖?
不会,因为蛋白质不容易转为脂肪。发胖的真正原因是脂肪和碳水化合物过量摄入。
NUEWEE 有机蛋白粉蛋白质里的氨基酸能帮助稳定您的血糖水平,增加饱足感,对于在节食的您反而有帮助!而且一杯NUEWEE 有机蛋白粉才提供80-100卡路里而已哦。
3. Can excessive intake of NUEWEE Organic Protein contribute to weight gain?
Not really, protein is comparatively not easy to turn into fat, while consuming too much fat and carbohydrates will cause weight gain.

The amino acids in the protein may help keep your blood sugar levels stable, so you will not always feel hungry. It may help you if you are on a diet.
Moreover, one serving of NUEWEE Organic Protein gives you less than 100 calories, which is better than getting your protein from a heavy meal, which may contain hundreds of calories.

4. 糖尿病患者可以饮用Nuewee 有机蛋白粉?
NUEWEE有机蛋白粉主要糖分来自果糖和甜菊。果糖在肠道比葡萄糖吸收慢,不依赖胰岛素作用,对血糖影响小。

果糖主要来源是水果,因此即使是糖尿病病人,也可以适量食用水果。糖尿病人摄入果糖不可以过量,一天适于饮用一杯NUEWEE有机蛋白粉。


4. Can diabetics take NUEWEE Organic Protein?
NUEWEE Organic Protein uses froctose as main source of sugar. Fructose is absorbed slower than glucose in small intestines, it does not require insulin, thus having little impact on blood sugar level.
Fructose is mainly found in fruits, even diabetics are suitable to take a glass of NUEWEE Organic Protein per day.

5. 平常有吃大量肉类,鱼和蛋等,还可以饮用NUEWEE有机蛋白粉吗?

可以。 这有赖于您希望从饮食里摄取多少蛋白质。肉类蛋类有大量脂肪,相较于Nuewee有机蛋白粉, NUEWEE有机蛋白粉消化吸收时间快, 减少肠胃负担, 服用方便.

因此, 饮用NUEWEE有机蛋白粉是获取优质蛋白质和最低脂肪与胆固醇量的方法之一。


5. Can consume NUEWEE Organic Protein even we have taken plenty of meat, fish and eggs?

Yes, it all depends on how much protein you want in your diet. However, the health authorities strongly recommend cutting back on fat, which could mean cutting back on protein foods that also contain plenty of fat, for example, meat and eggs. NUEWEE Organic Protein is one way of getting high-quality protein with minimum fat and cholesterol.
6. 孕妇可以饮用NUEWEE 有机蛋白粉?

可以,大豆蛋白质是优质蛋白质,含有人体所必需的氨基酸。NUEWEE 有机蛋白粉含有多种矿物质和维生素哦!
6. Can pregnant women take NUEWEE Organic Protein?
Yes, soy is a good source of protein, completed with all essential amino acids necessary for human. NUEWEE Organic Protein is nutrient rich and contains a lots of minerals and vitamins.
7. 饮用NUEWEE 有机蛋白粉会胀气吗?

NUEWEE 有机蛋白粉的成分是大豆分离蛋白,主要成分是蛋白质,糖的含量极低,因此不会引致类似的问题。
7. Will NUEWEE Organic Protein cause me to have gas?
Isolated soy protein in NUEWEE Organic Protein are primarily protein, with very little sugar, so they should not cause such a problem.
8. NUEWEE有机蛋白粉适合婴儿吗?
NUEWEE有机蛋白粉适合一岁小孩以上。少吃或完全不吃动物性产品的小孩,建议每天饮用一杯NUEWEE有机蛋白粉。
8. Can baby consume NUEWEE Organic Protein?
NUEWEE Organic Protein is suitable for kids above one years old. If a child consumes little or no animal products, one serving of NUEWEE Organic Protein is recommended.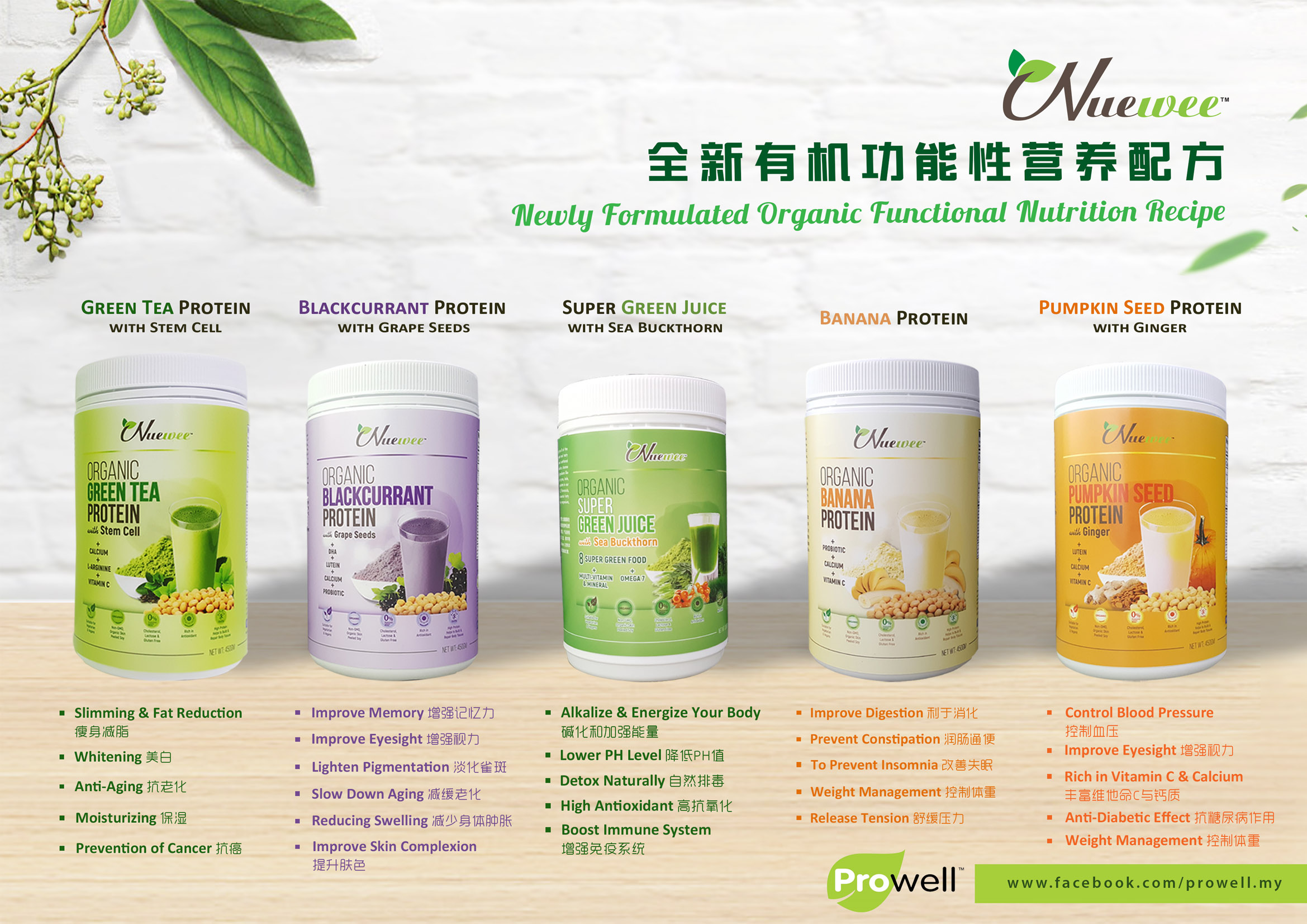 Reward Program


Promotion [ Buy 10 FREE1 ]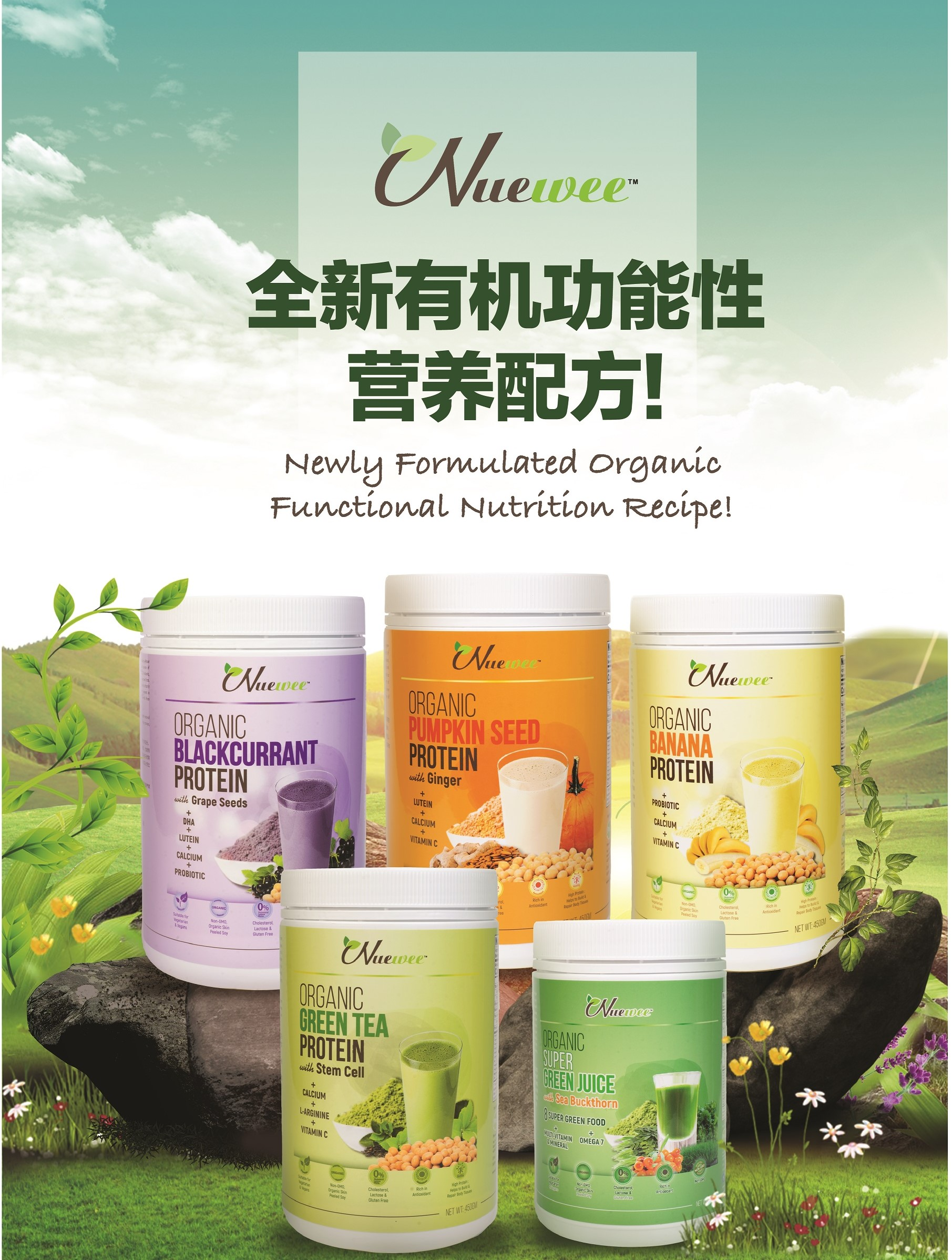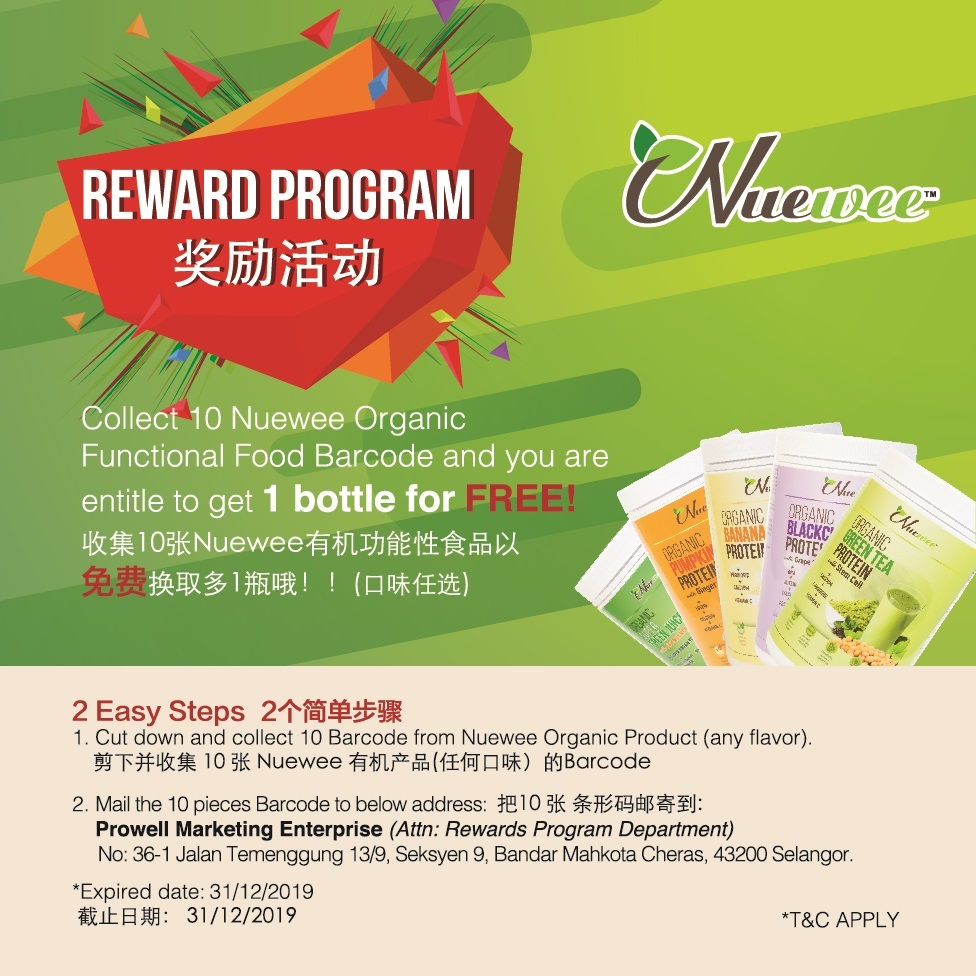 Step 1: Choose any flavor & Quantity and "Add to cart"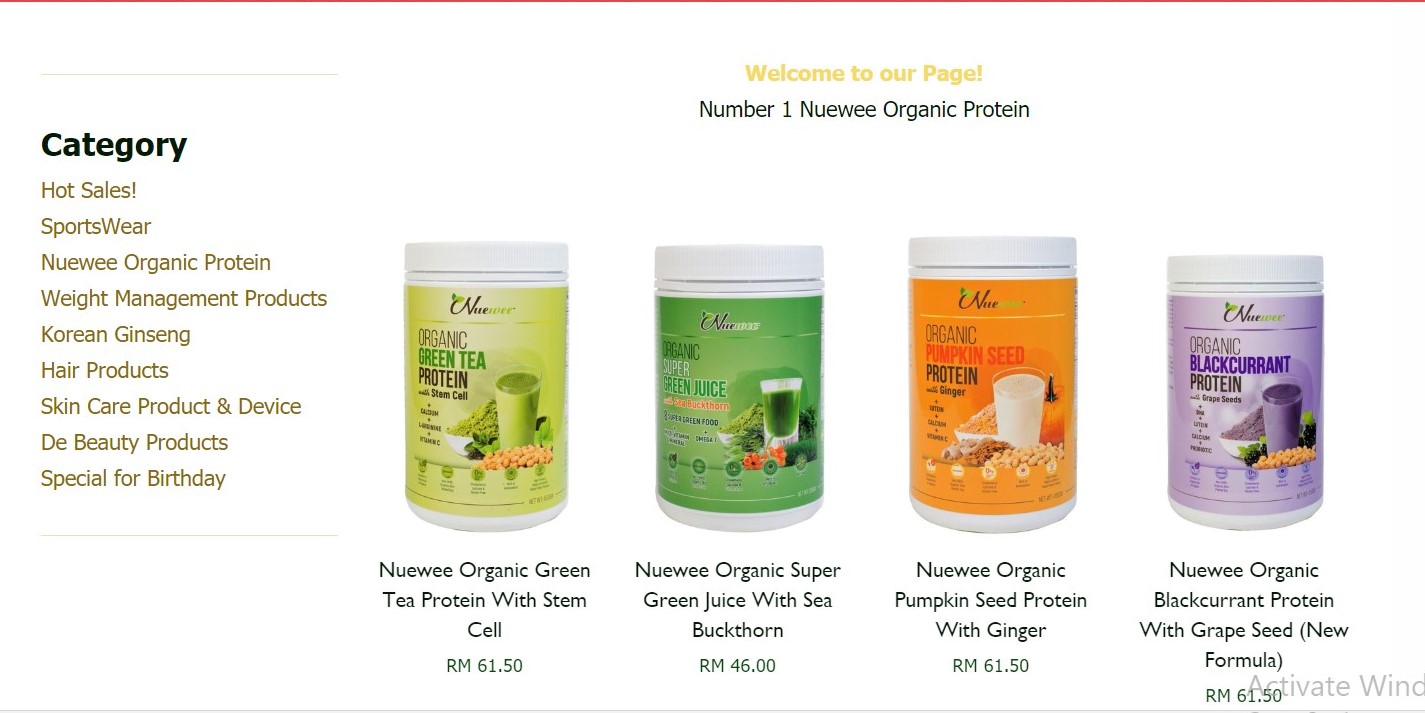 Step 2: Inform us which flavor you want when "CHECK OUT"



Step 3: Continue and choose payment method.
P/S : We will cut down all bottles (11 bottles) barcode
Customer comments
| Author/Date | Rating | Comment |
| --- | --- | --- |