Nuewee Package C (Auto Upgrade Agent)
Promotion
Nuewee Package C (Auto Upgrade to Agent)
Purchase any 8 of Protein (1kg) / Sesamin Gold (650g)

Free

16 Nuewee Sachets

(Worth: RM96.00)

+

Free

2 Nuewee Wild Flower Honey 250gm (Worth: RM79.80) OR

Free

2 Nuewee Limited Edition Storage Shaker (Worth: RM59.80) OR

Free

6

Nuewee Mini Shaker (Worth: RM36.00)




>List down the flavor you need in "customer remark" when checkout
Nuewee 特别促销 C (自动升级成为代理)
购买任何 8瓶 蛋白粉(1kg) / Sesamin Gold (650g)

免费

16包 Nuewee 方便装 (价值: RM96.00) +

免费

2个 Nuewee 野花蜂蜜 (价值: RM79.80) 或者

免费

2个 Nuewee 限量版摇摇杯 (价值: RM59.80) 或者

免费

6个

Nuewee Mini 摇摇杯 (价值: RM36.00)
***结帐时在 "customer remark" 中列出您需要的口味。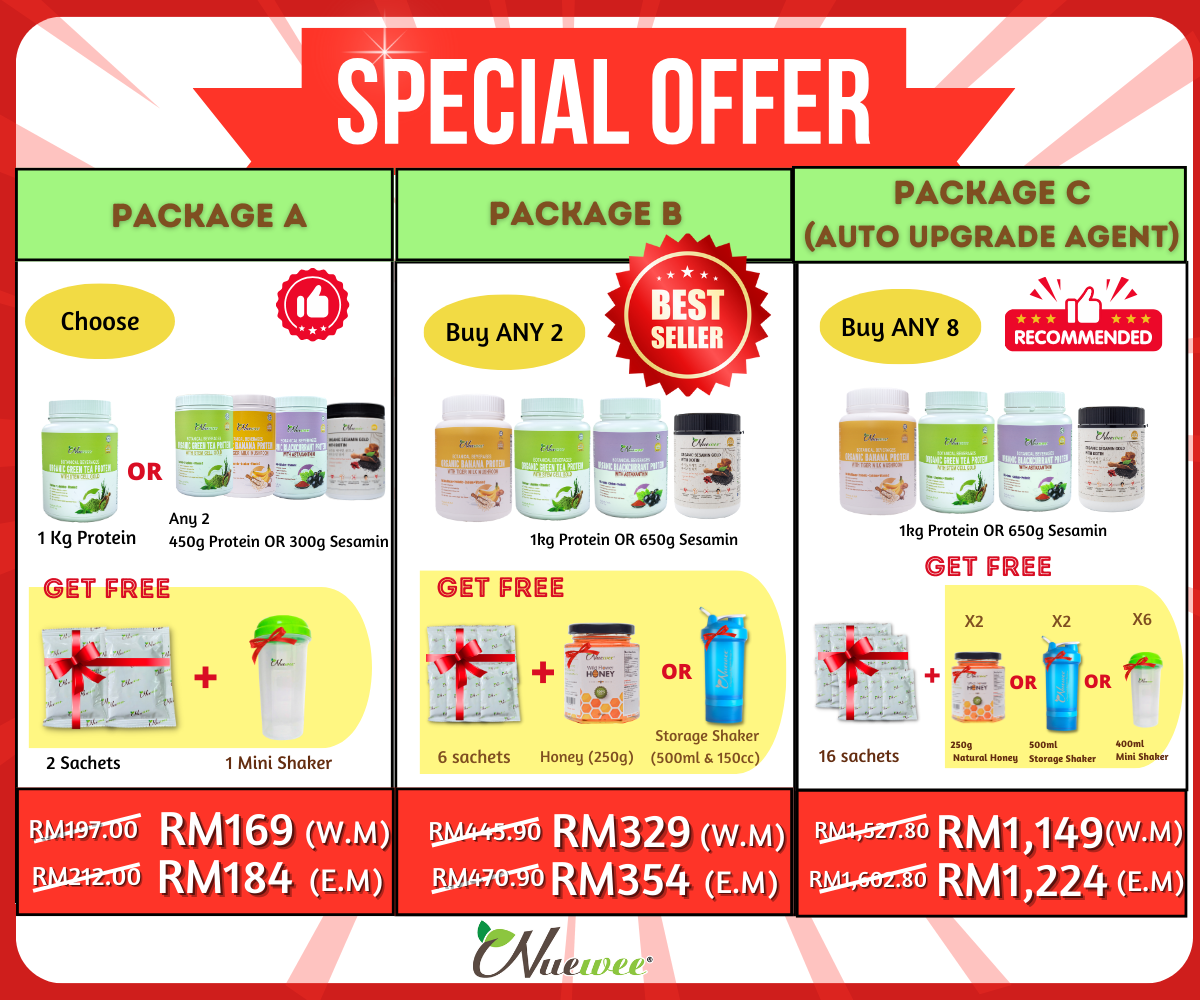 English
Benefits of Nuewee Organic Green Tea Protein with Stem Cell Gold
Lose weight
Boost immune system
Resolve dry, dark and aging skin problem
Reduce fat and cholesterol
Reduce pain and inflammation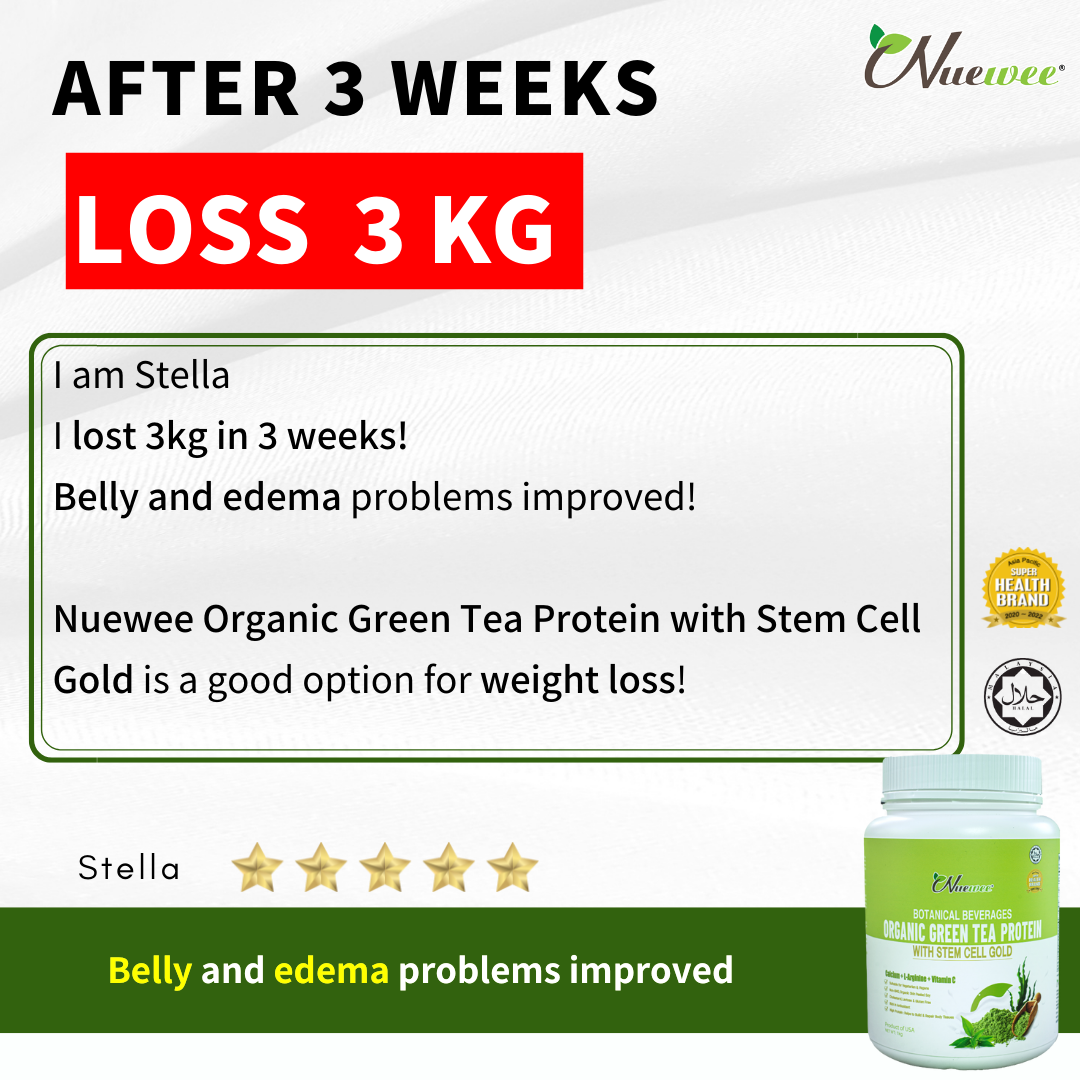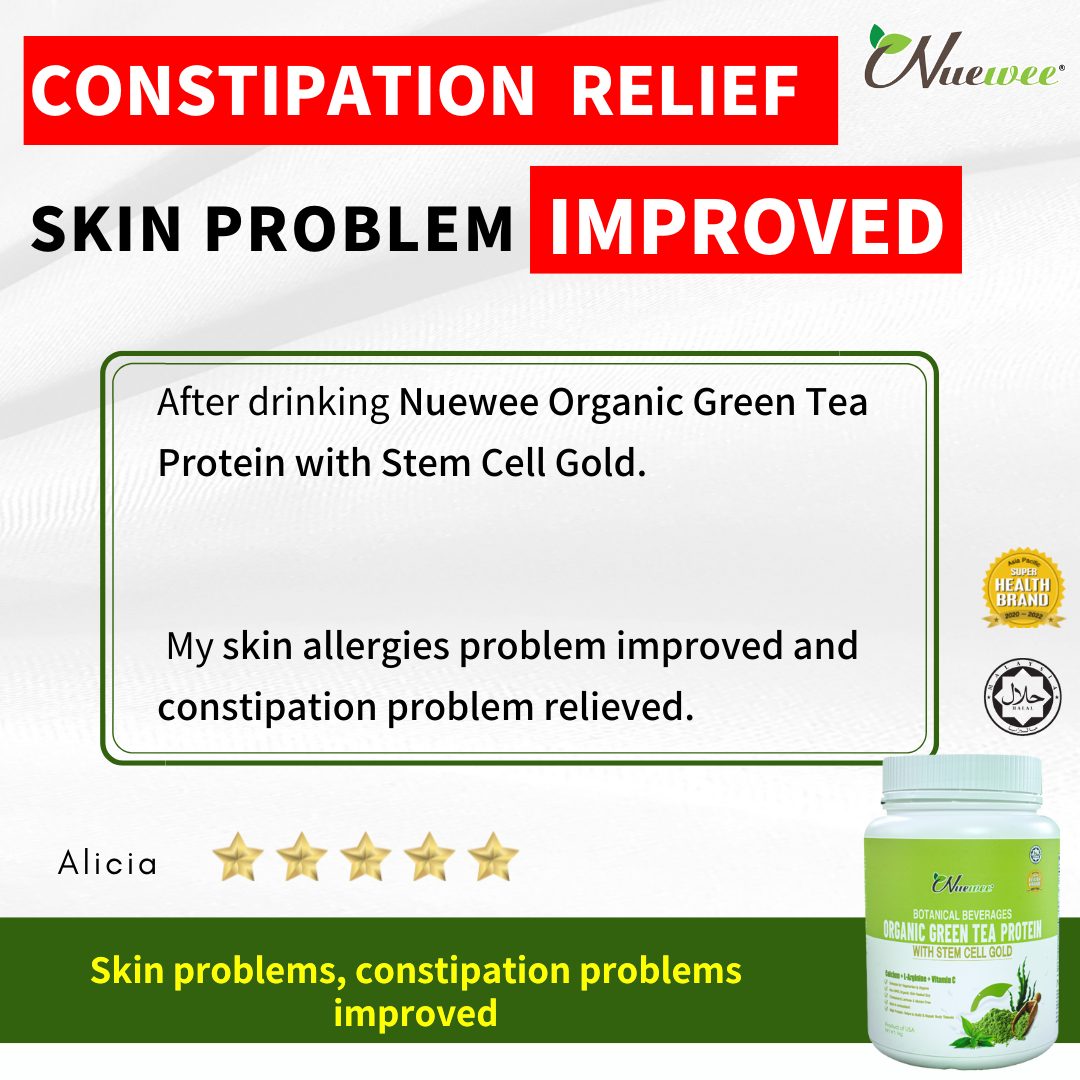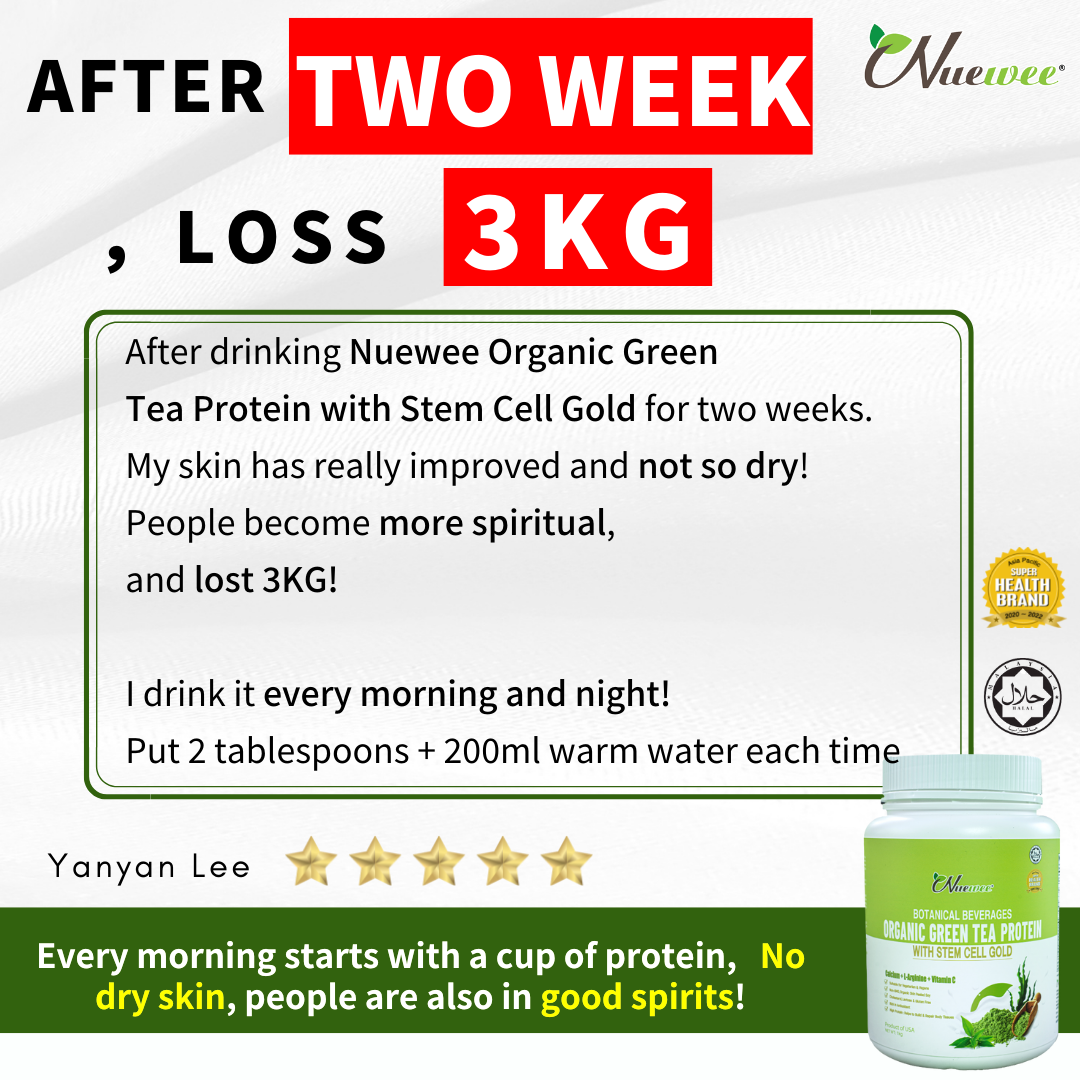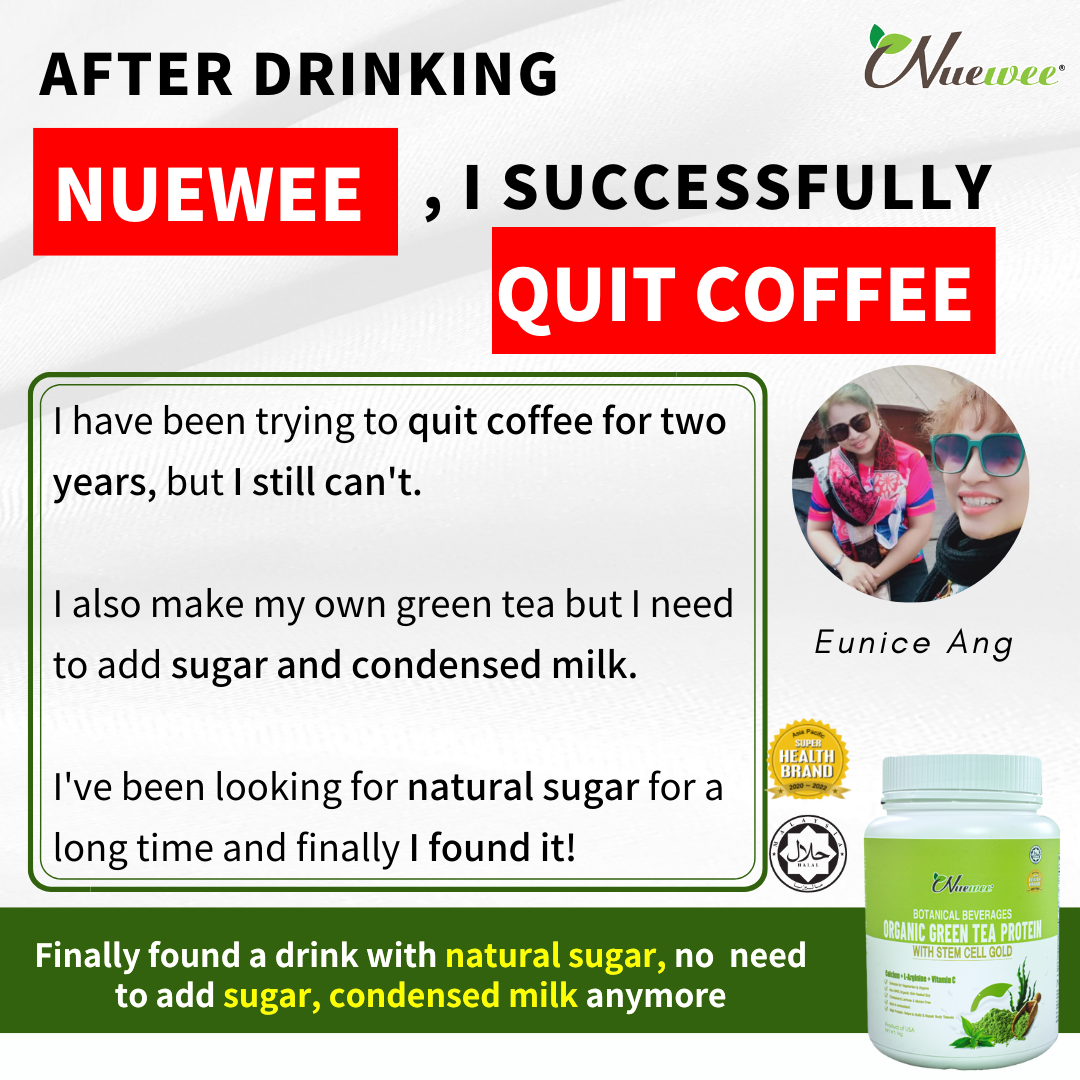 Benefits of Nuewee Organic Banana Protein with Tiger Milk Mushroom
Relieve respiratory symptoms such as sinus, cough and cold
Supports lung & respiratory health
Supports immune health
Relieves allergies & anti-inflammatory
Improve sleep quality & release tension
Reduce Bad Cholesterol
Control blood sugar level
Promote Gut health
Benefits of Nuewee Organic Blackcurrant Protein with Astaxanthin
Improve brain & memory function
Improve weak eyesight
Reducing swelling
Boost wound healing
Protect heart health
Improve skin's elasticity
Obesity and weight lost
Reduce and lighten pigmentation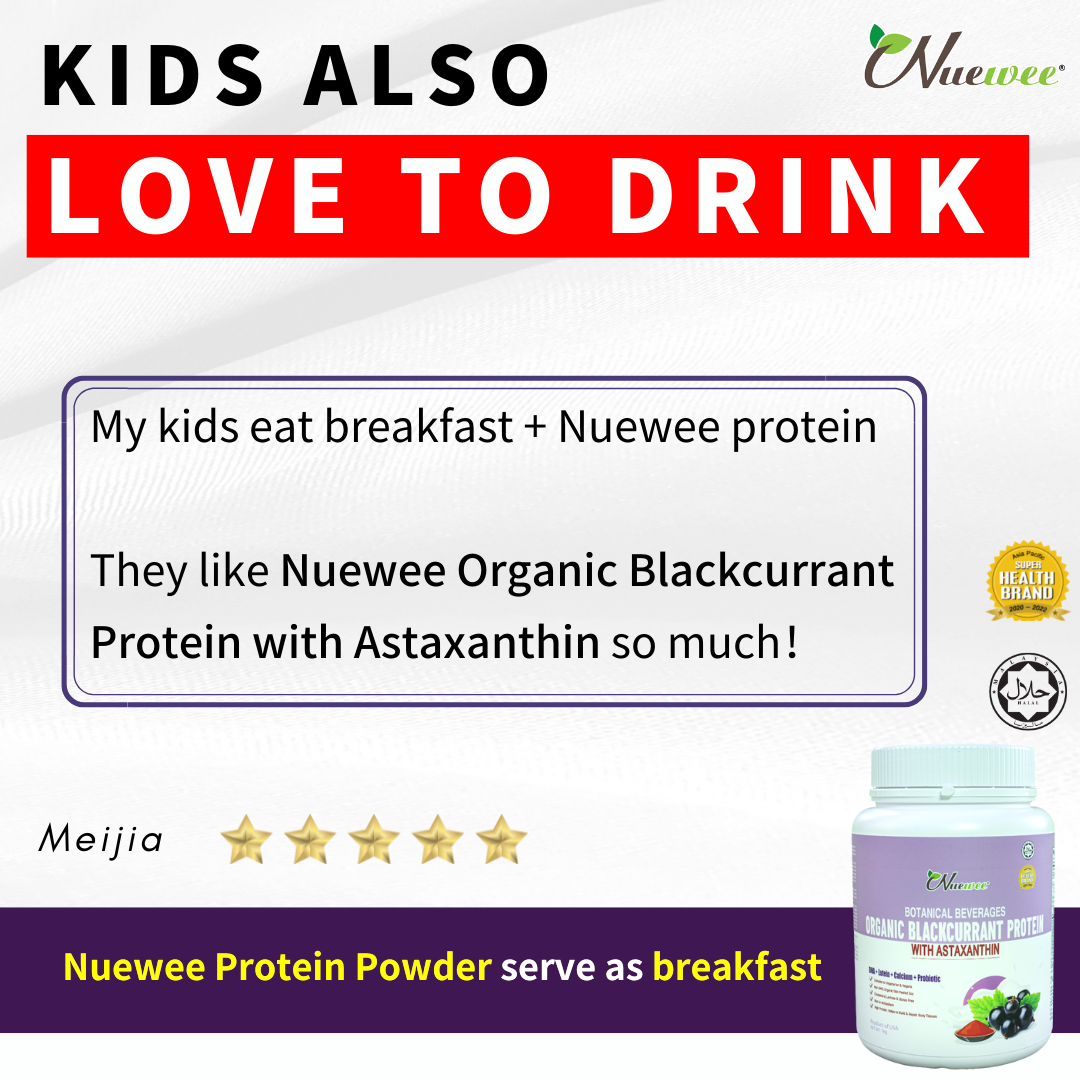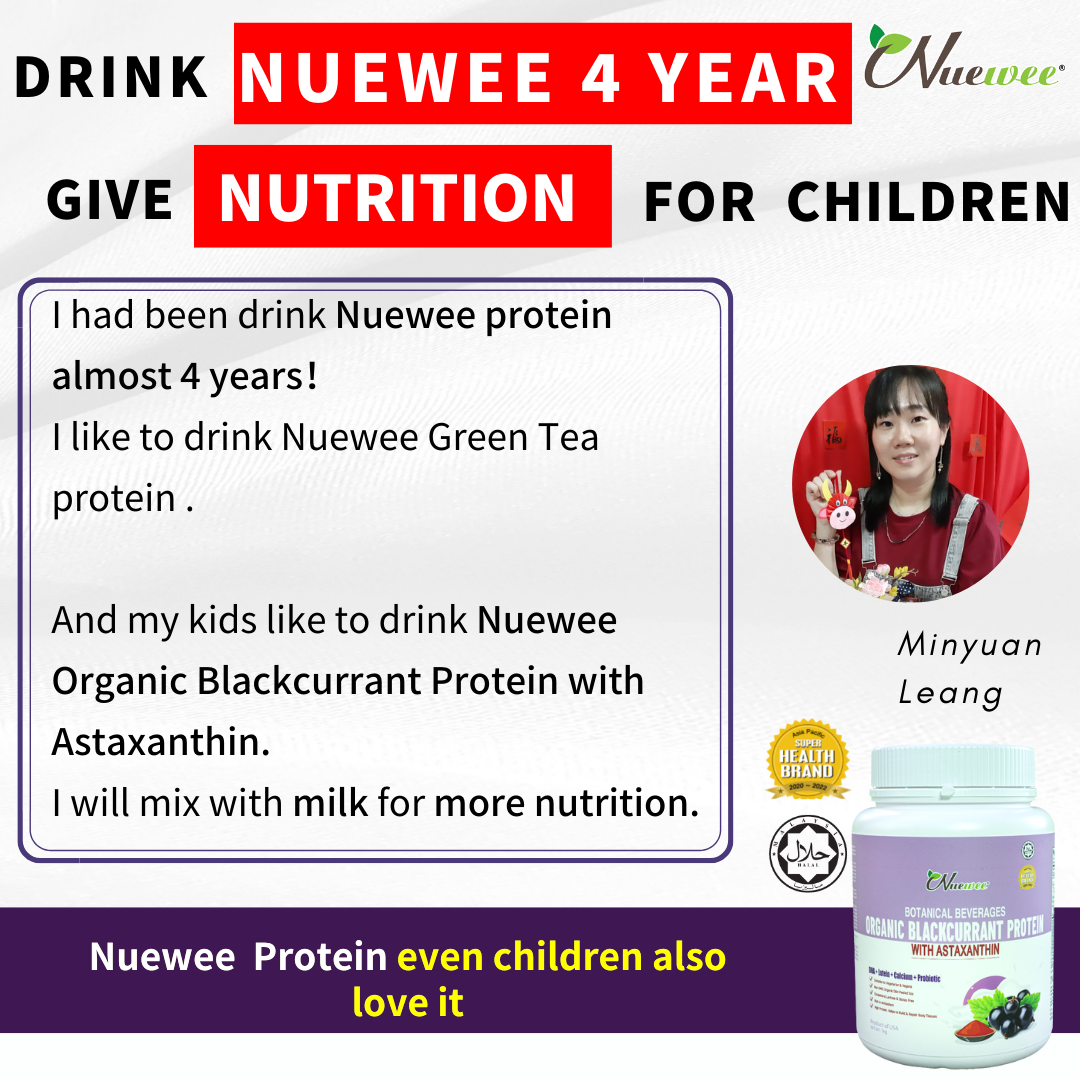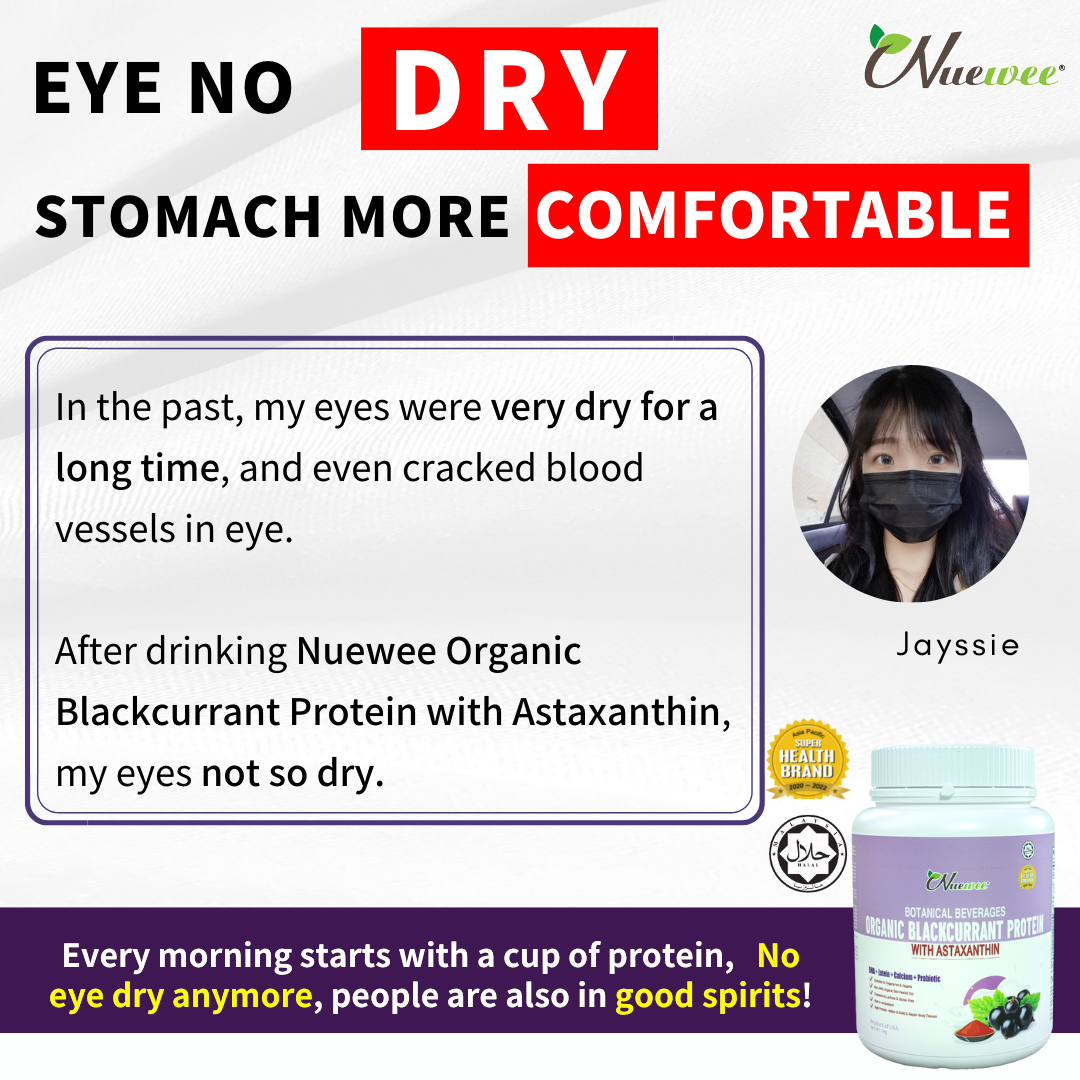 Benefits of Nuewee Organic Pumpkin Seed Protein with Turmeric
Prevent Chronic Disease – Prevent Nervous system disease, Autoimmune disease, Arthritis, Diabetes, Alzheimer's disease, Cardiovascular disease, Cancer, Pulmonary disease and Osteoarthritis
Anti-viral effect – Help suppress virus replication (e.g. Hepatitis B, H5N1 and Covid -19).
Anti-aging – Liver protection, Skin protection, Eyes protection, Prevent muscle degeneration, Improve brain processing speed.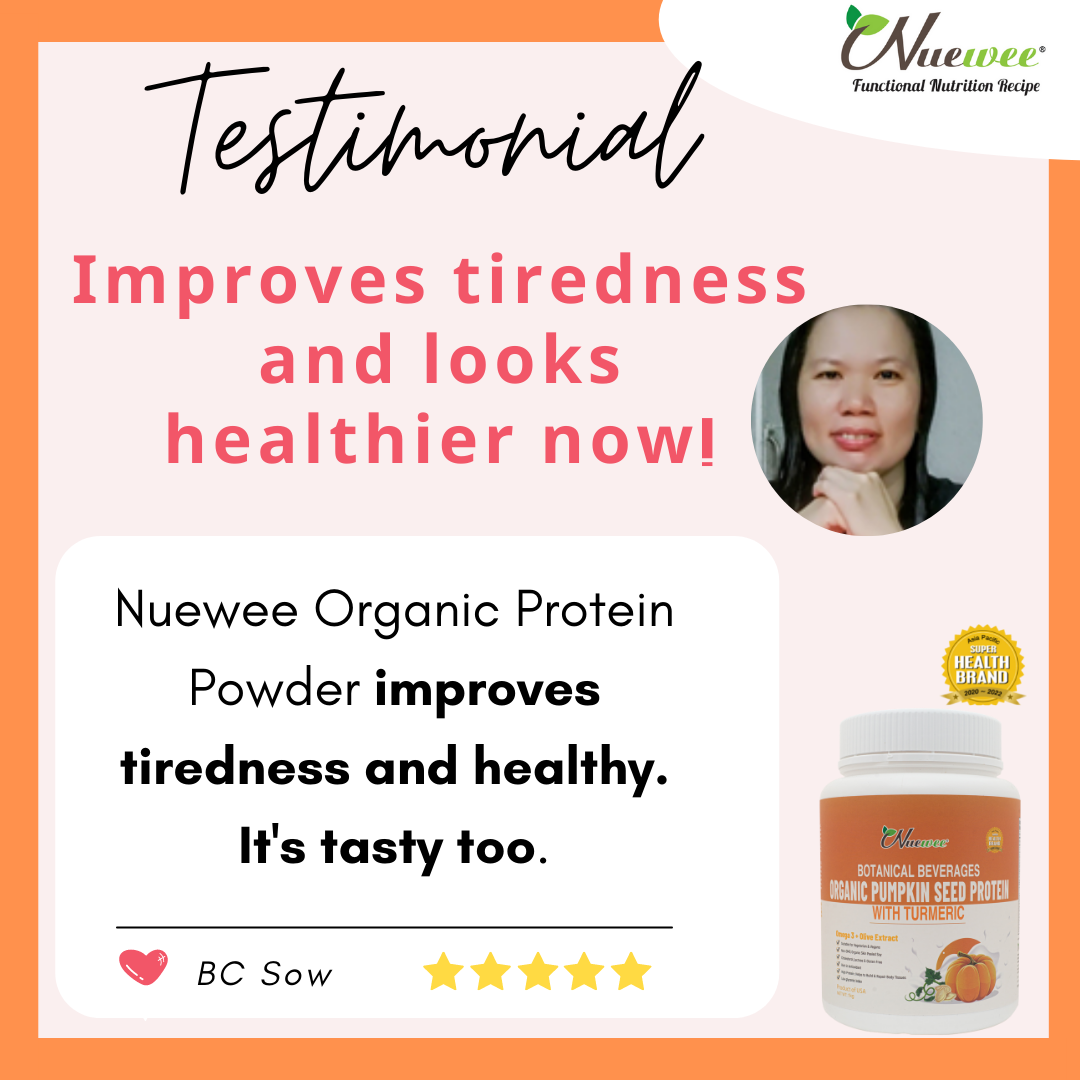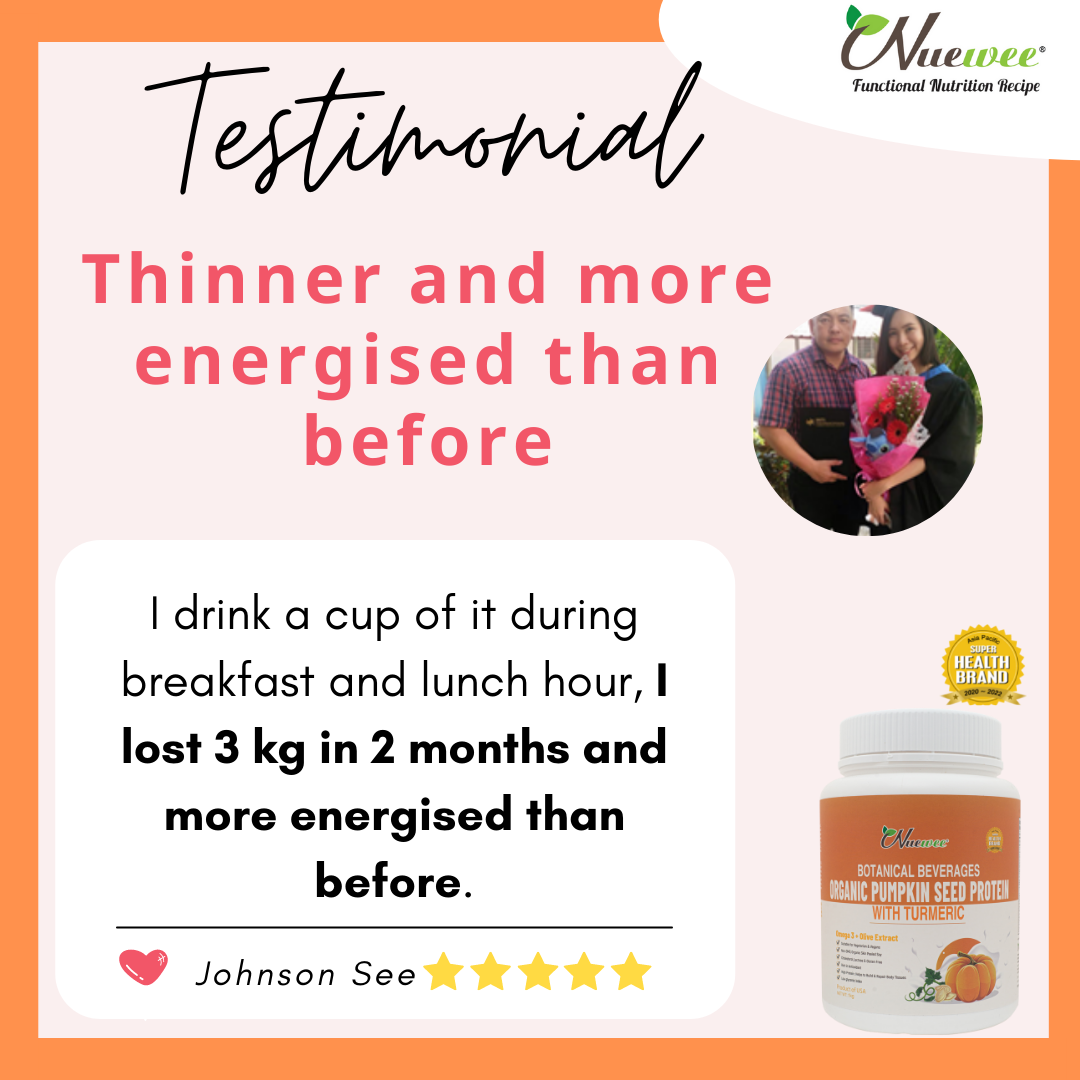 Benefits of Nuewee Organic Super Green Juice with Sea Buckthorn
Alkalize & Energize Your Body
Prevent Constipation & Bad Body Odor
Detox Naturally
High Antioxidant
Boost Immune System
Mix & Match Recommendation:
Improve skin & Eyesight problem :
Green Tea Protein + Blackcurrant Protein
Improve sleep quality & immunity level:
Green Tea Protein + Banana Protein
Resolve constipation problem & other Health Issue :
Pumpkin Seed Protein + Banana Protein
Improved Skin Condition & Feel more energetic :
Green Tea Protein + Sesamin
Detox & Slimming :
Green Tea Protein + Super Green Juice
Chinese
Nuewee 有机绿茶功能性蛋白粉与干细胞的好处
减肥瘦身
增强免疫力
解决干燥,暗淡无光和老化的皮肤问题
减少脂肪和胆固醇
减轻疼痛和炎症
Nuewee 有机香蕉蛋白粉与虎乳芝的好处
改善鼻子敏感,咳嗽和伤风症状
强化肺部和呼吸系统健康
增强免疫系统
缓解过敏和抗炎
改善睡眠质量和缓解压力
减少胆固醇
控制血糖
促进肠道健康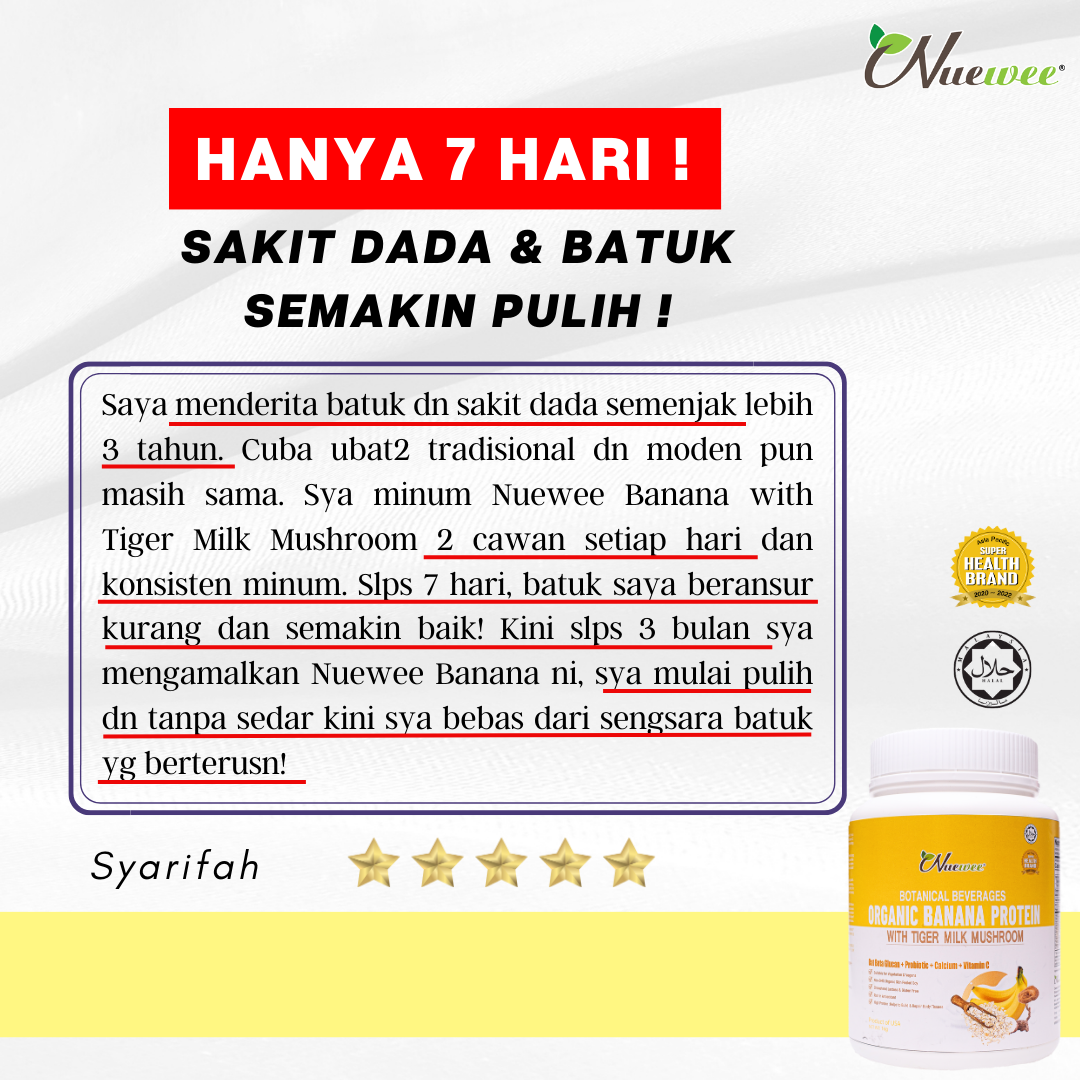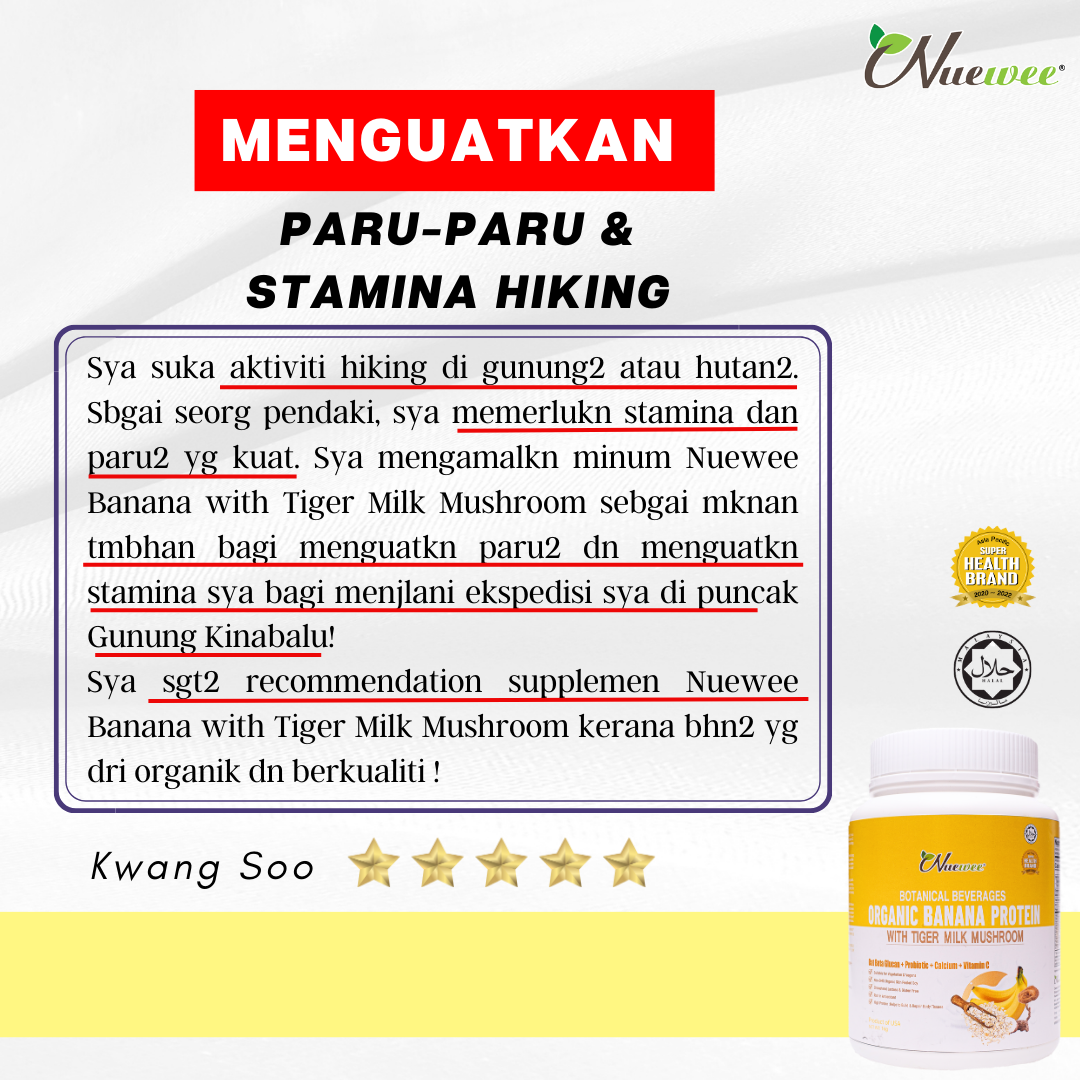 Nuewee 有机黑加仑子蛋白粉与虾青素的好处
改善大脑和记忆功能
改善弱视
减少肿胀
促进伤口愈合
保护心脏健康
改善皮肤弹性
帮助减重
淡化雀斑
Nuewee 有机南瓜籽蛋白粉与姜黄的好处
预防慢性疾病 - 预防神经系统疾病、自身免疫性疾病、关节炎、糖尿病、阿尔茨海默病、心血管疾病、癌症、肺病和骨关节炎
抗病毒作用——帮助抑制病毒复制(例如乙型肝炎、H5N1 和 Covid -19)。
抗衰老——肝脏保护、皮肤保护、眼睛保护、防止肌肉退化、提高大脑处理速度。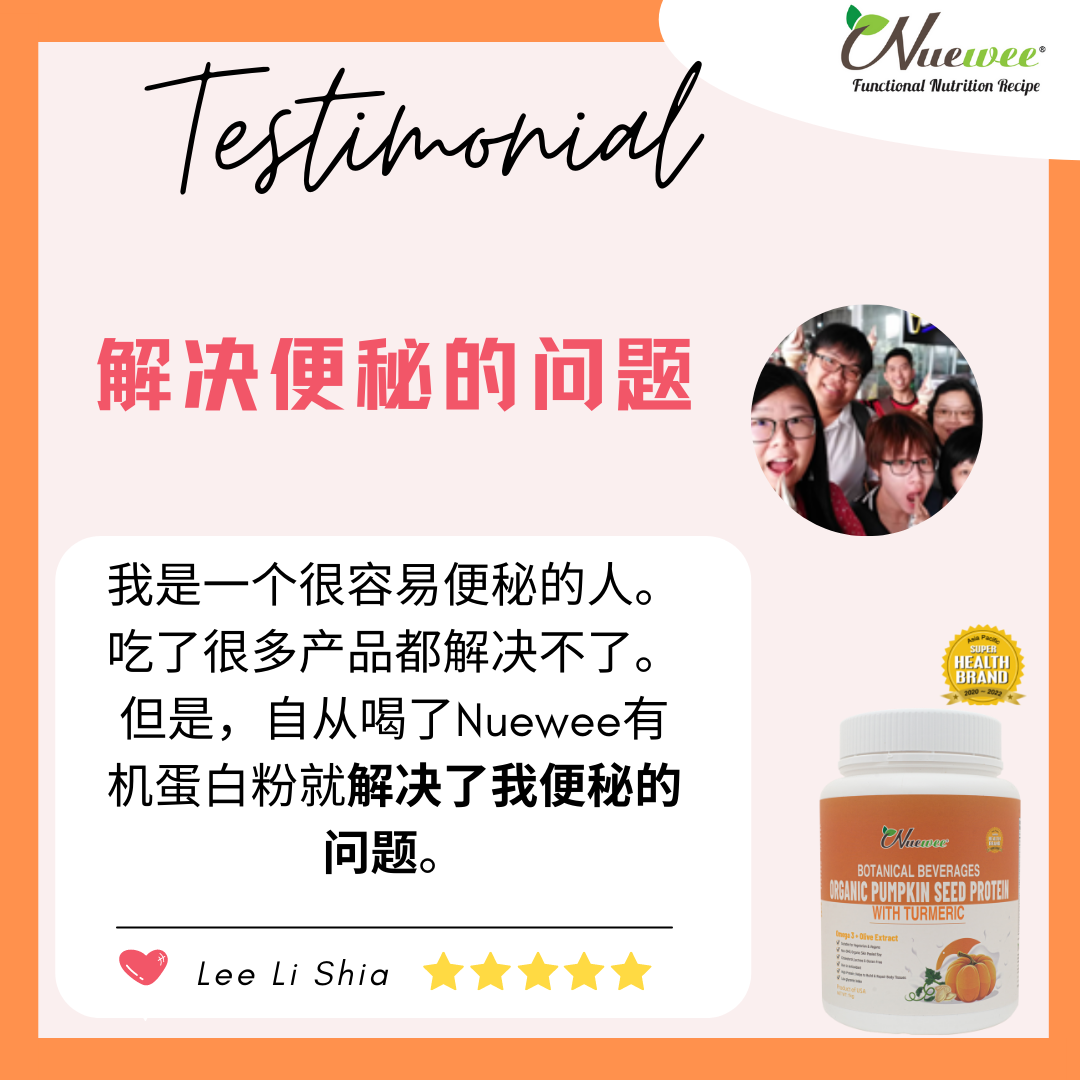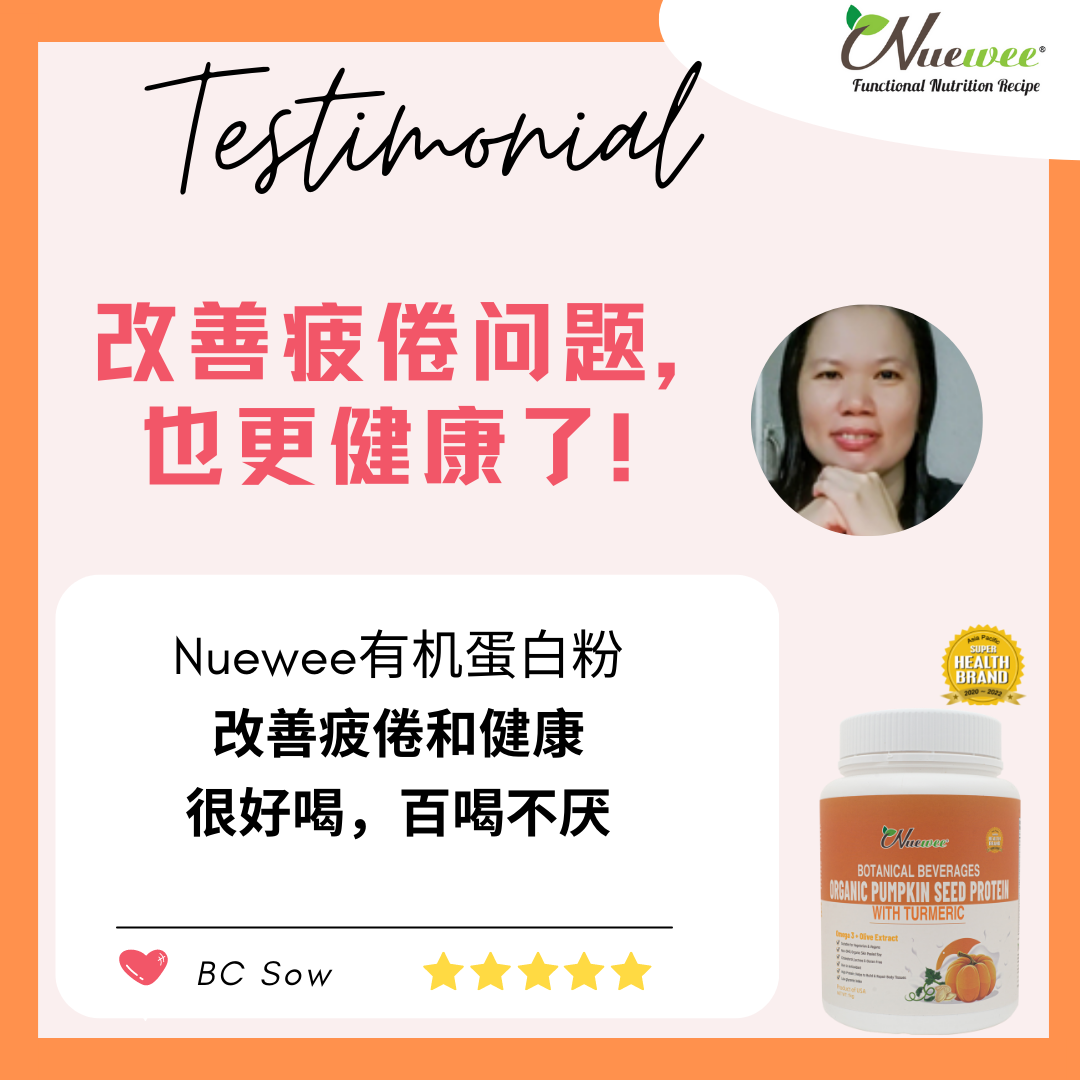 Nuewee Organic Super Green Juice with Sea Buckthorn的特点:
碱化和加强身体能量
预防便秘和体臭问题
自然排毒
高抗氧化
增强免疫系统
蛋白粉混搭推荐:
改善皮肤和视力问题:
绿茶蛋白粉 + 黑加仑子蛋白粉
提高睡眠质量和免疫力:
绿茶蛋白粉 + 香蕉蛋白粉
解决便秘问题和其他健康问题:
南瓜籽蛋白粉 + 香蕉蛋白粉
改善皮肤状况并感觉更有活力:
绿茶蛋白粉 + 黑芝麻素
瘦身和排毒:
绿茶蛋白粉 + Super Green Juice
Customer comments
| Author/Date | Rating | Comment |
| --- | --- | --- |