Salmon Oil Cream Cre8skin
充满生机的三文鱼能量深层渗透至肌肤每个角落,带来紧致弹力感,同时令肌肤光滑细嫩,让肌肤24小时水润动人。
As the revitalizing energy of salmon penetrates deep into the skin, you feel like tightening skin and adding softness in the smooth skin texture. You will be always given a moist day for 24 hours.
三文鱼油成分渗透至皮肤深处,同时带来美白,抗皱,保湿效果,让肌肤开始惊人变化.
5 大成分,守护疲劳肌肤的5大秘密。
5 ingredients, the 5 secret to regenerate your skin new and fresh


1.三文鱼油 5,000 ppm
Alaska Salmon Oil 5,000 ppm
含有组成维生素A, B和皮肤屏障的欧米茄3-脂肪酸以及具有抗氧化作用的维生素E,保护肌肤,令肌肤润泽晶透。
As Vitamin A, and B, Omega 3 fatty acids forming a kin barrier, and Vitamin B with antioxidant, the cream can protect your skin and make moist and resilient skin.

2. 专利成分L22
Patented L22
澳洲坚果籽油,荷荷巴油酯,植物甾醇
植物甾醇澳洲坚果油酸酯。角鲨烯,生育酚的覆核物质是按照与健康年轻肌肤的脂质相近的比例研发的最优化的脂质供给源,是美国的专利原料。
Ingredients si a lipid complex of Macadamia seed oils, Jojoba Oil Esters, Phytosterols, Phytostery Macadamiate, Squalene and Tocopherol.
It is a US patented ingredients as optimized lipid source with the similar ratio of types found on the healthy and young skin.

3. 鱼子酱提取物
Caviar Extracts

含有皮肤亲和力优秀的蛋白质以及对皮肤保湿起到重要作用的氨基酸类,补充肌肤营养,令肌肤水嫩滋润。
Skin-friendly proteins and amino acids that are essential to skin hydration provide nutrients moisturize the skin.

4. 三文鱼籽提取物
Salmon Egg Extracts

含有为肌肤供给营养,抗氧化作用优秀的维生素E, 能增强皮肤柔软性,令肌肤柔软细嫩。
As it nourishes the skin, included Vitamin E with excellent anti-oxidant activiteis, it enhances skin flexibility and elasticity.
5. 海带提取物
Seaweed Extracts
优化角质的保湿状态,在皮肤表面形成一道光滑有弹性的透明薄膜,令肌肤触感柔软细滑。

As it optimizes the moisturizing conditions of Keratin and forms an elastic, smooth and transparent film on the skin surface, it makes soft skin.

The above descriptions are only applied to properties of raw materials.


Capacity: 80g (6 months if use daily)
How to use
Apply an appropriate amount of cream to the face evenly (Last step of skin care products)
It can be applied on eye area, used as eye-cream

不但可以涂脸,还可以涂抹在眼睛范围,帮助减少眼睛皱纹,每天使用的话,可以用上6个月哦!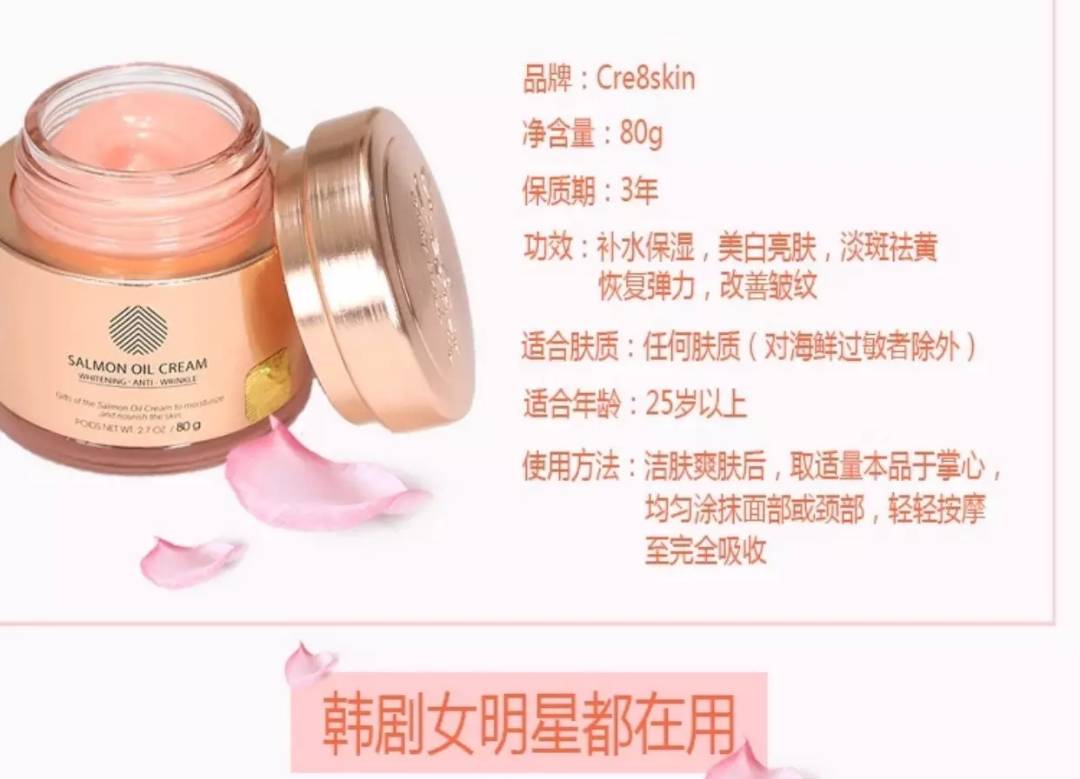 Customer comments
| Author/Date | Rating | Comment |
| --- | --- | --- |