Debeauty Reborn Stem Cell Placenta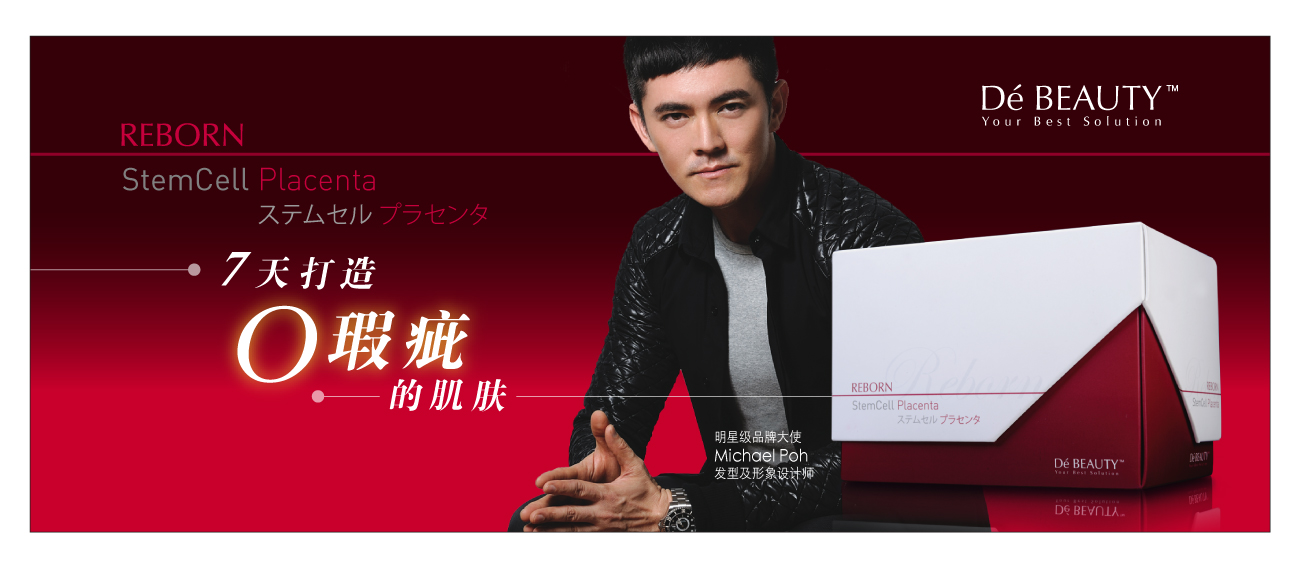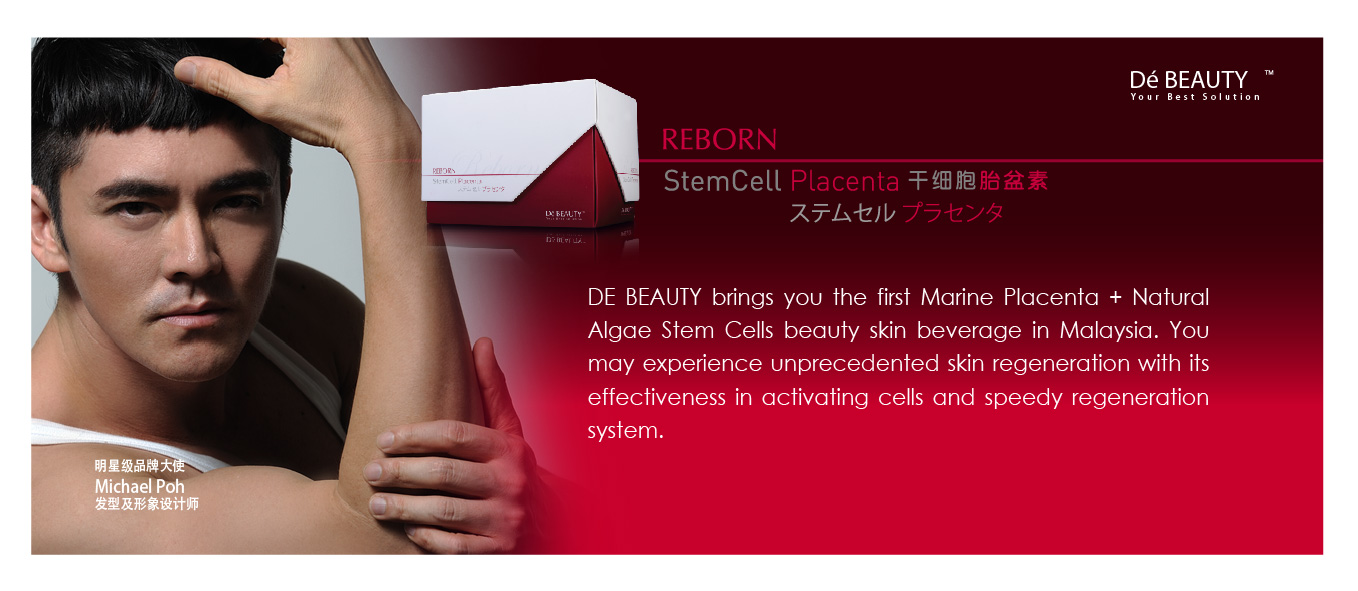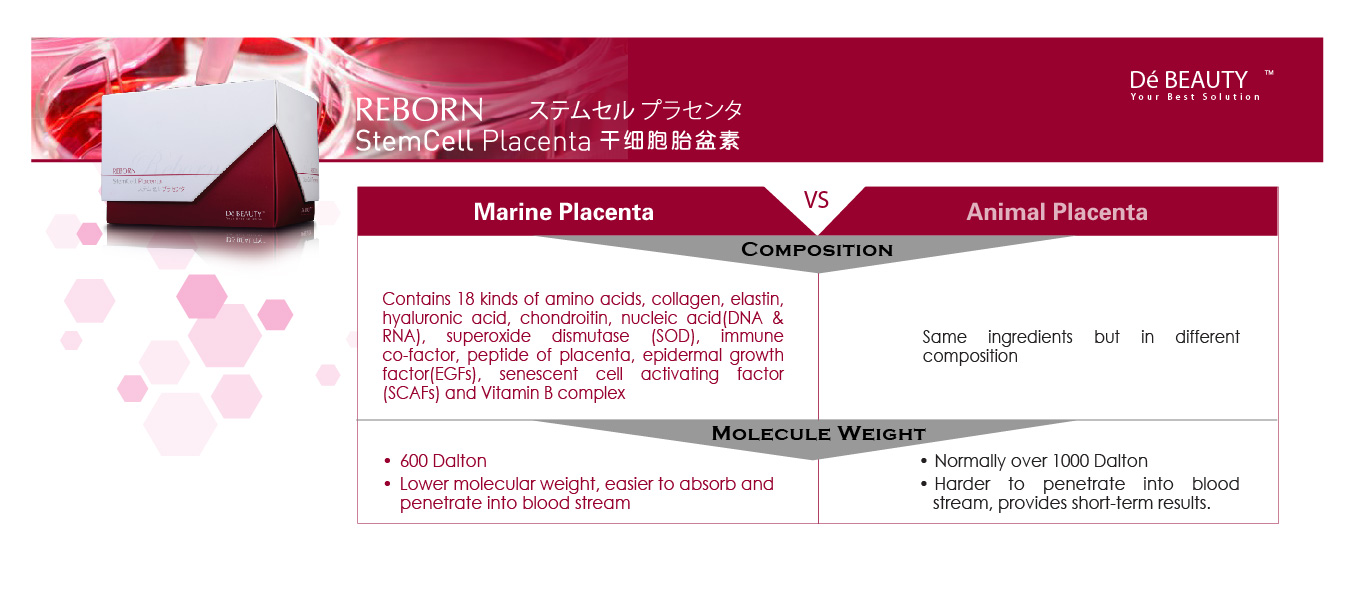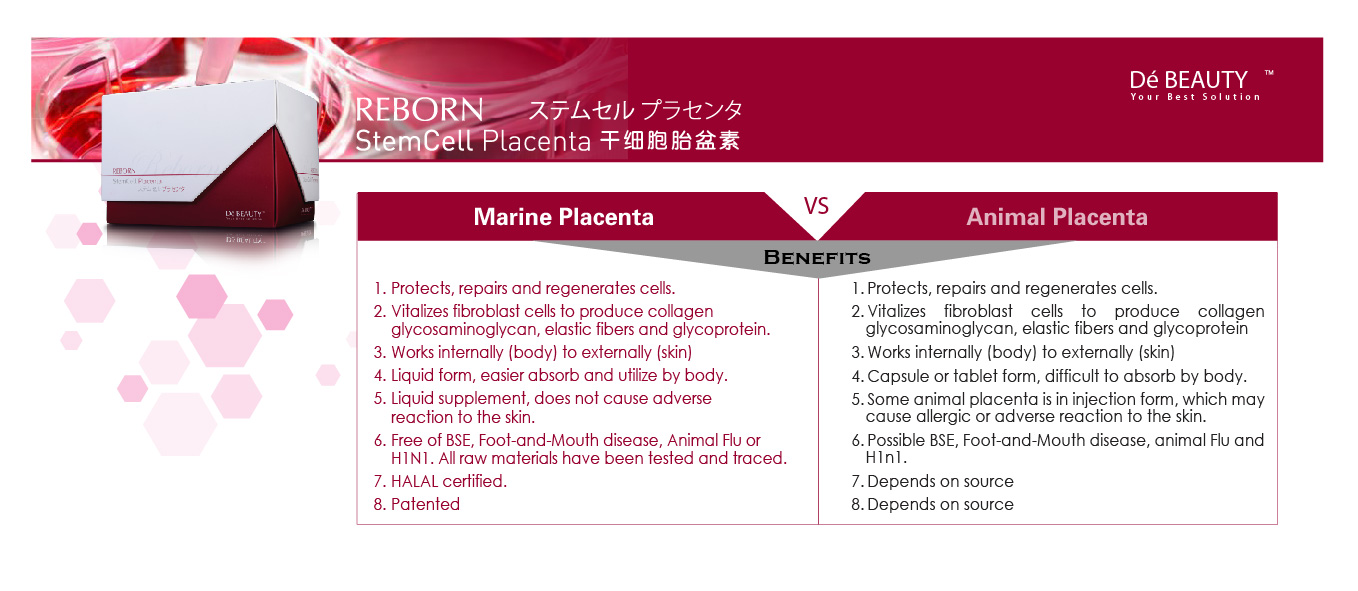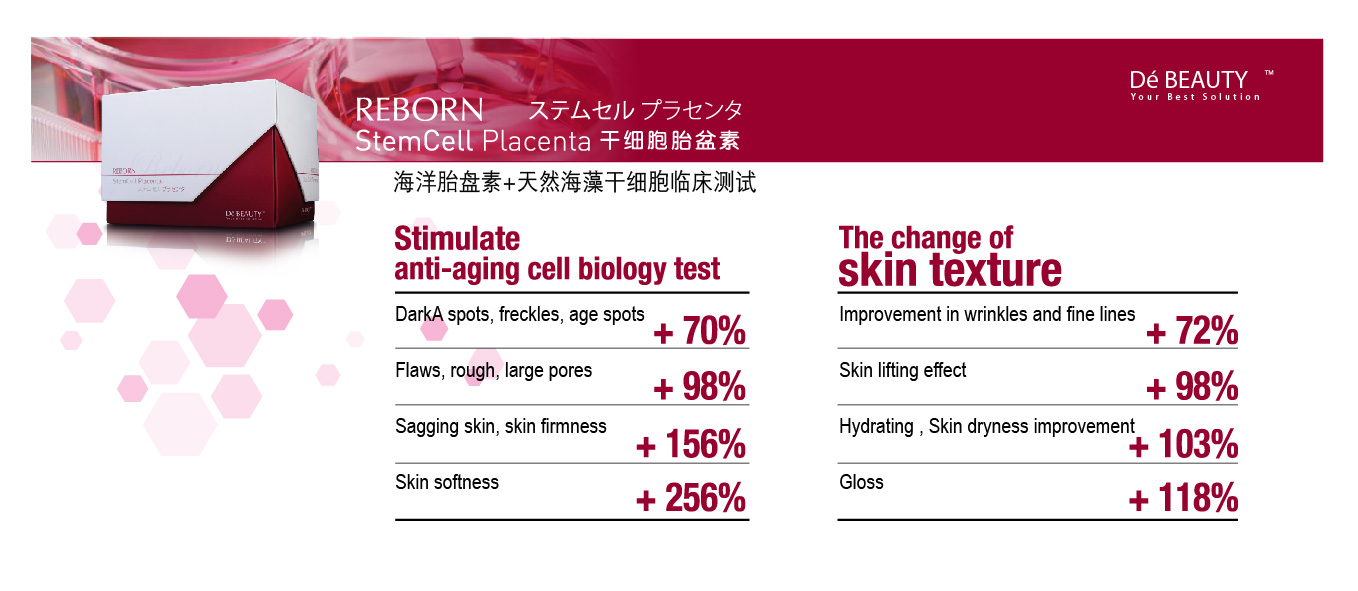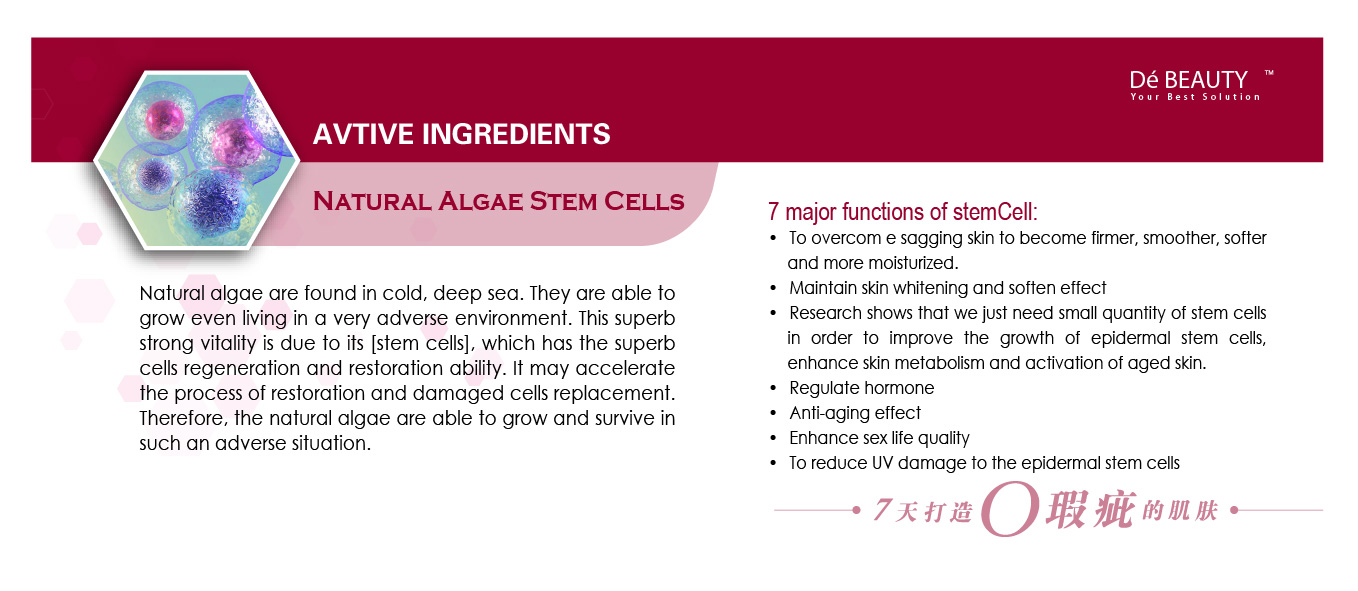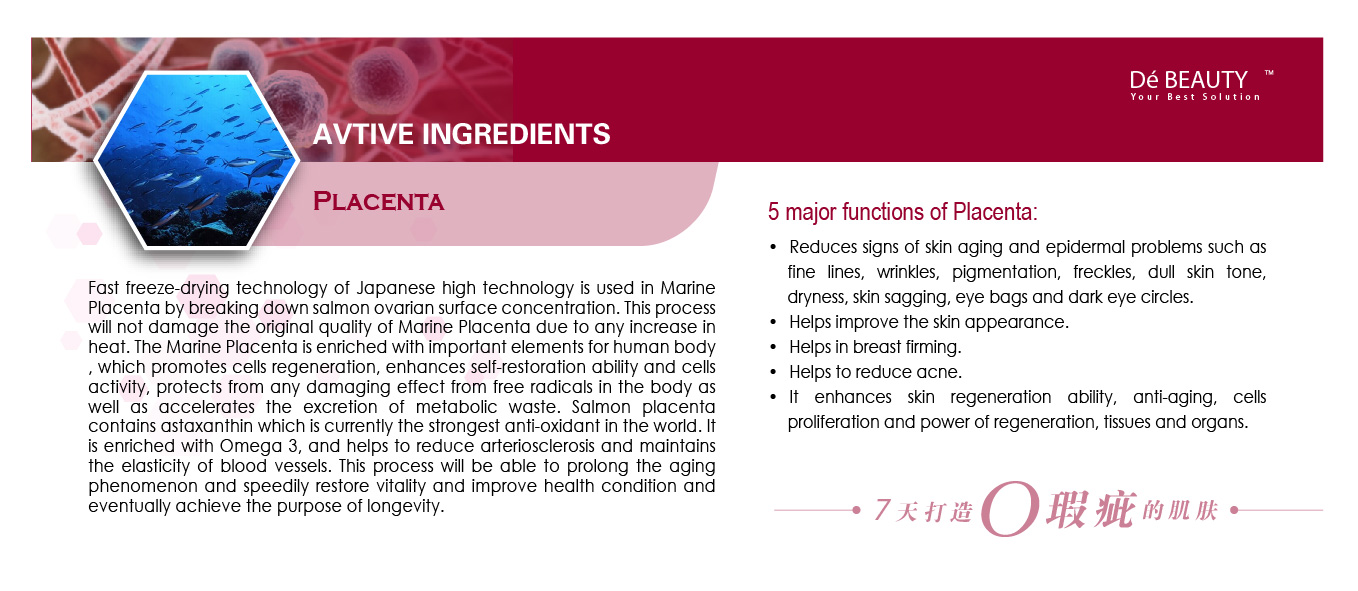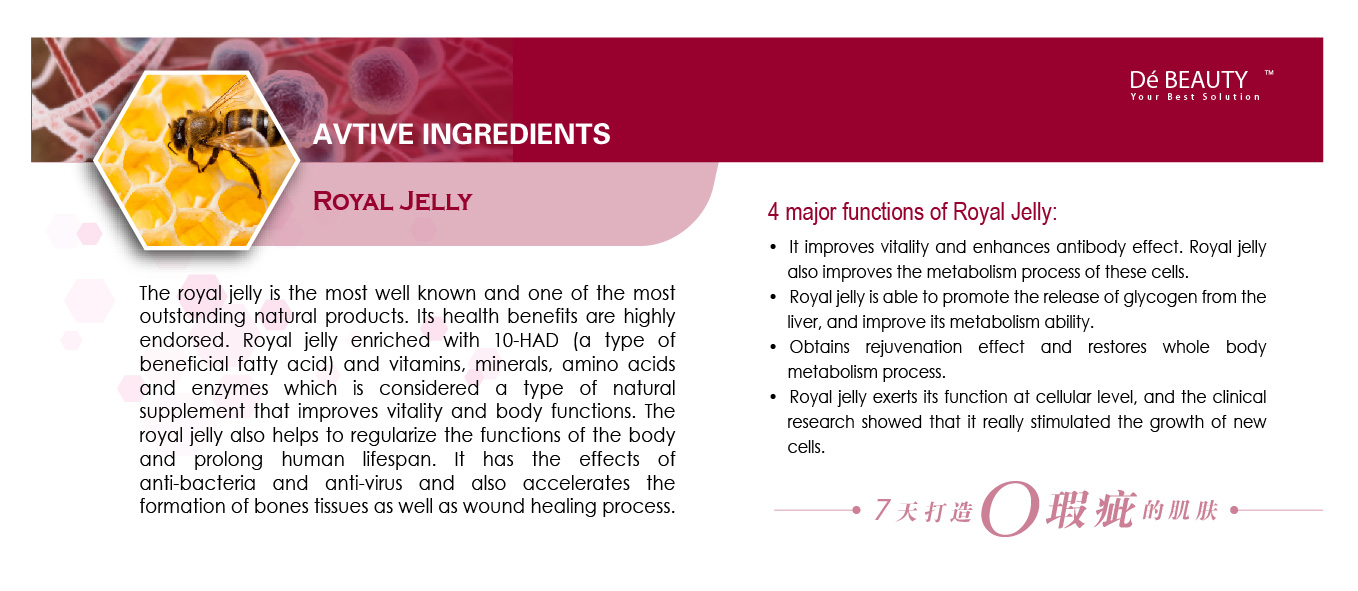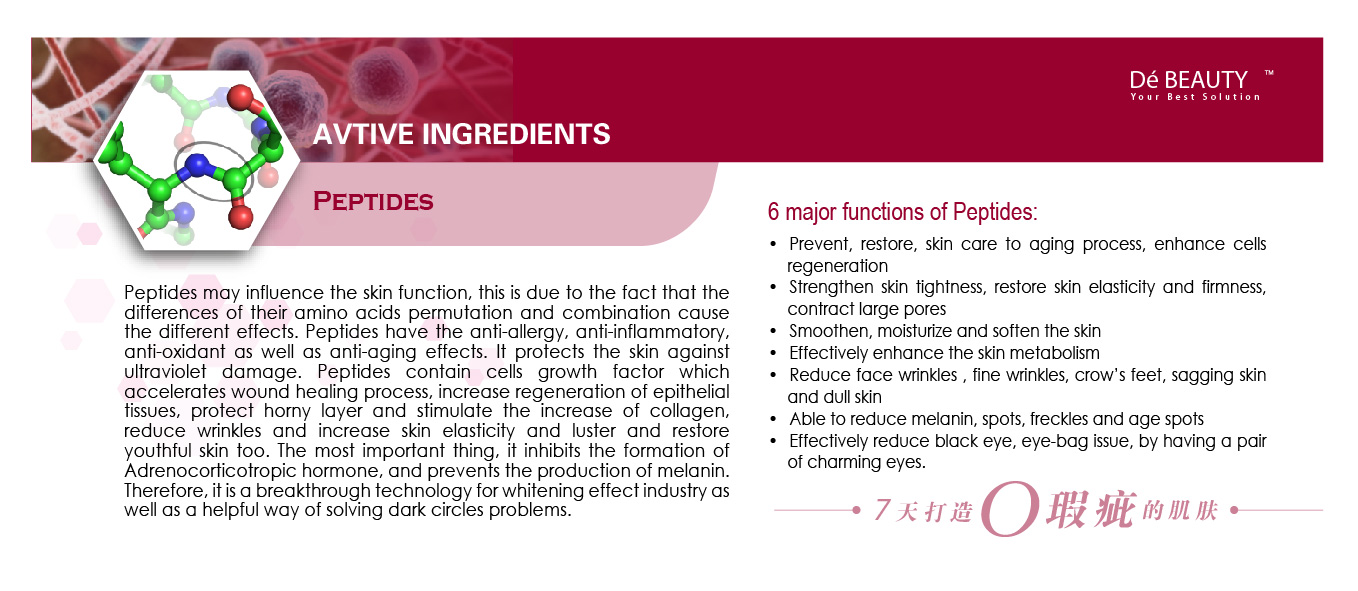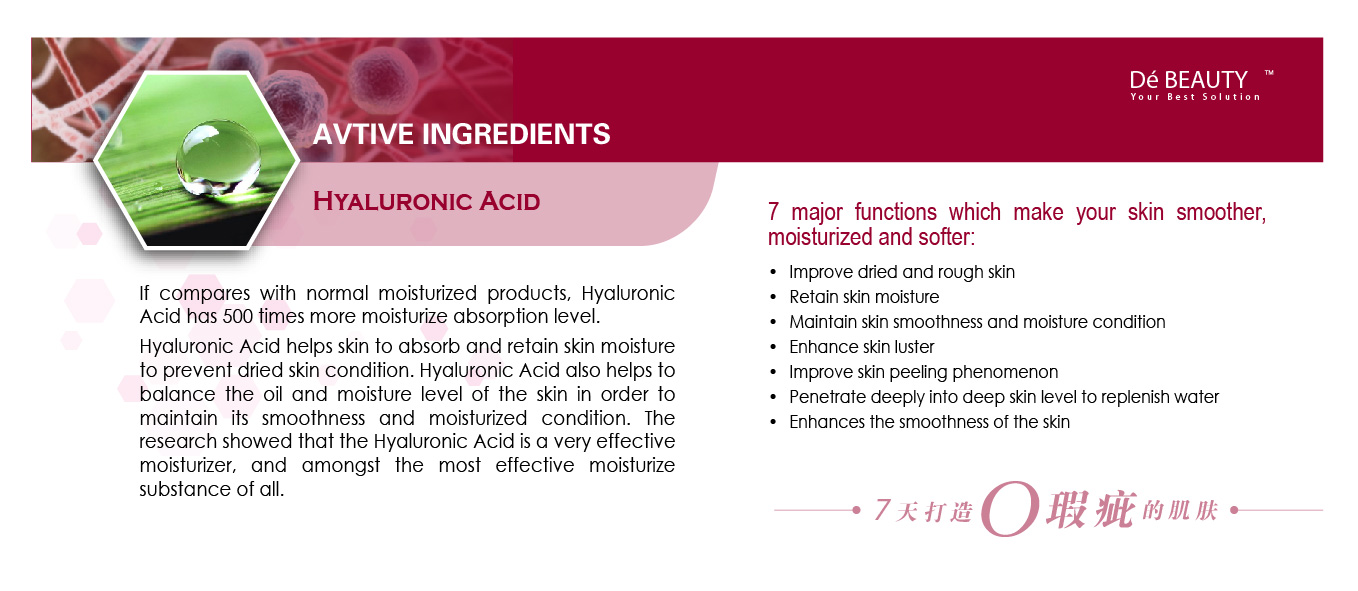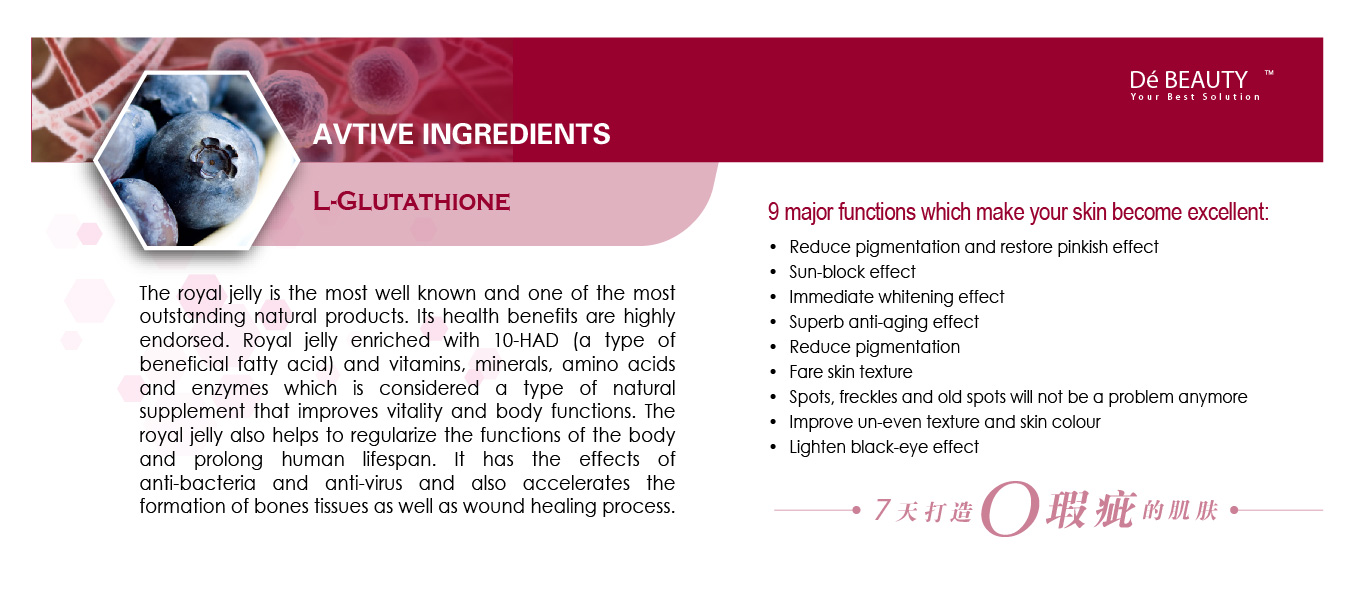 Marine placenta or animal placenta?
Animal placenta was quite common but now most people consume marine placenta than
animal placenta. both animal and marine placenta contains 18 kinds of amino acids, collagen,
elastin, hyaluronic acid, chondroitin, nucleic acid, superoxide dismutase(SOD), immune co-factor,
peptide of placenta epidermal growth factor(EGFs), senescent cell activating factor(SCAFs) and
Vitamin B complex, same ingredients but in different composition. Marine placenta is only 600Dalton but animal
placenta is normally over 1000Dalton, with the lower molecular weight, marine placenta is easier to absorb
and penetrate into our blood stream.
Benefits of Marine placenta
- Protects, repairs and regenerates cells
- Vitalizes fibroblast cells to produce collagen glycosaminoglycan,
elastic fibres and glycoprotein.
- Works internally (body) to externally (skin)
- Liquid form, easier to absorb and utilise by body
- Free of BSE, Fool-and-mouth disease, Animal Flu or H1N1. all raw
materials have been tested and traced.
- HALAL certified
- Patented
StemCell
- overcome sagging skin to become firmer, smoother, softer and moisture.
Placenta
- reduces signs of skin aging and epidermal problems such as fine lines, wrinkles,
pigmentation, freckle, dull skin tone, dryness, eye bags and dark eye circles.
Royal Jelly - improves metabolism process of the cells and enhance antibody effect.
Peptides
- Strengthen skin tightness, restore skin elasticity and firmness, contract large pores.
Hyaluronic acid - improved fried and rough skin
L-glutathione
- sunblock effect and immediate whitening effect
Mix 1 sachet with 200ml warm water. Stir well before drink.
1. De BEAUTY® Reborn StemCell Placenta ® relative to other competing brands of products, where is our strengths?
De Beauty ™ launched the star product is a combination of [seaweed stem cell 50mg (40: 1) 2,000 mg + ocean Placenta 200mg (50: 1) 10,000mg].
On the market only a combination of [stem cell + Placenta] beauty skin drinks!
2.RebornStemCell Placenta ® beauty drinks, what is the difference with others brand on the market?
De BEAUTY® Reborn StemCell Placenta® in with seven weight composite repair components (T4 enzyme, 40: 50mg seaweed stem cells, 50: 200mg ocean basin plain, six peptides, royal jelly, glutathione, hyaluronic acid) brought seven different effects of intensive heavy repair, in-depth genetic source to overcome DNA damage.
3. Reborn StemCell Placenta ® relative to other competing brands of products, our characterized is?
T4 enzymes newly discovered algae contain stem cells, stem cells compared to Apple's ability to repair DNA more than 75% faster speed.
Ocean placenta contains astaxanthin pigment has a powerful antioxidant and general placenta not contain it.
4 What is natural seaweed newly discovered stem cells?
natural seaweed in cold deep sea, harsh environment still can thrive, this super vitality is to have regard to the seaweed itself stem cell enzymes [T4], it has a powerful self-cell regeneration and repair capabilities, can rapid repair and replace damaged cells, so natural seaweed survive in the cold deep, harsh environments.
5 [T4] skill enzyme stem cells could be?
[T4] skill enzyme stem cells can be differentiated from a new and healthy cells to replace aging cells or injured cells.
Meanwhile stem cell has its unique ability to regenerate, is regarded as the most primitive of human self-repair system that can accurately split the damaged cells indefinitely elements required, the medical profession on stem cell research called "regenerative medicine."
6. What is marine placenta ?
marine placenta is derived from the deep sea salmon ovaries extracted through ultra biotechnology decomposition of concentrated again.
Placenta is rich in marine important element of human life must be the [body] growth factors, can promote cell regeneration and enhance the ability to repair itself.
Placenta extract containing marine 10,000mg of 200mg, reached 50: the golden ratio 1.
astaxanthin is from deep sea salmon it is considered to be the world's most powerful antioxidants, can usually be obtained from the deep-sea animals such as shellfish, salmon and shrimps.
Astaxanthin through the blood-brain barrier protects the brain from damage.
In addition there are up eye and improve eyesight.
8. Marine placenta VS animal placenta
astaxanthin is containing in marine placenta, antioxidants is the strongest on the market now, and general animal placenta is not contain.
9. De BEAUTY® Reborn StemCell Placenta ® How to take it, and what is the flavour?
recommend just started one day a sachet in the morning on an empty stomach.
Add 200 ml to 250ml ordinary water. Mix berry flavours.
10. Reborn StemCell Placenta ® menstruation can take it? There is anyone who is not fit to drink it?
Can, not because of the loss caused by menstruation.
Pregnancy, are taking any prescription illness, drug or caregiver, you need to consult a doctor, drinking in the doctor's recommendations.
11. Taking De BEAUTY® Reborn StemCell Placenta ® how long to see the effective results?
After taking effect due to personal physical vary. Generally, the user can perceive the effect after two weeks.
12. De BEAUTY® StemCell Placenta ® have any benefit?
helps to slow down the aging process delayed aging, early menopause can solve the problem, leading to cell aging faces gaunt, moisturize the skin, freckles, wrinkles, sagging skin, improve skin gloss.
Customer comments
| Author/Date | Rating | Comment |
| --- | --- | --- |