Nuewee Organic Banana Protein With FOS (450g)
Product Information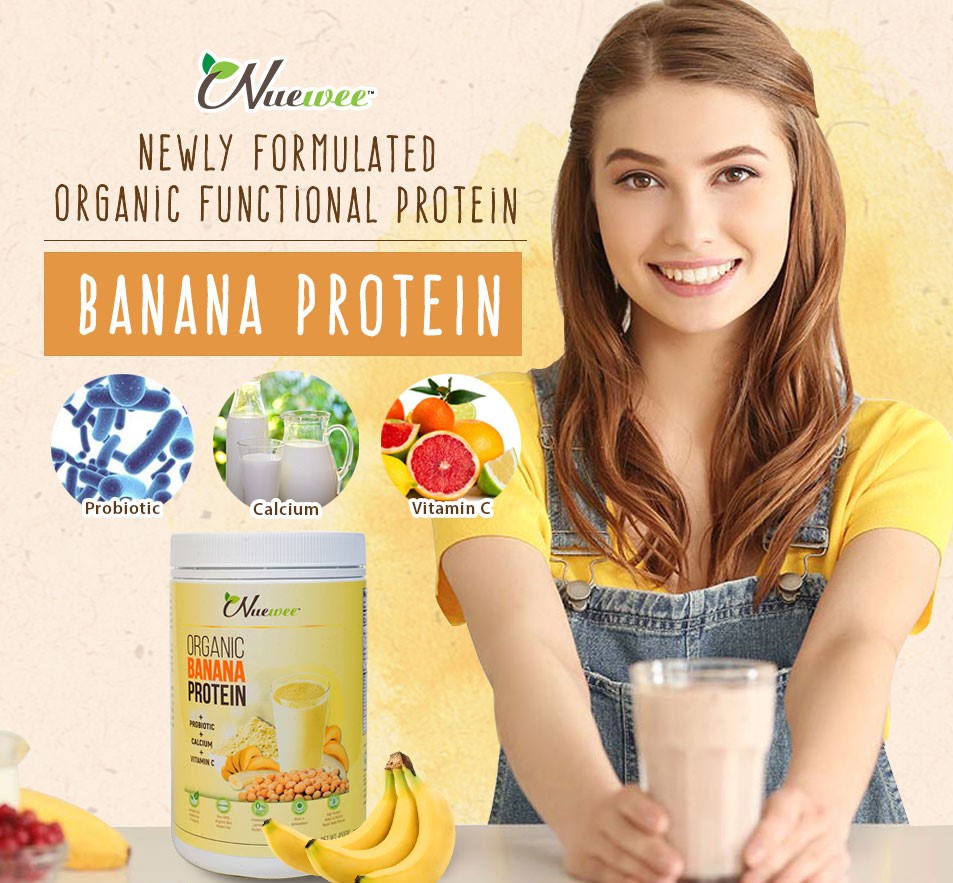 Chinese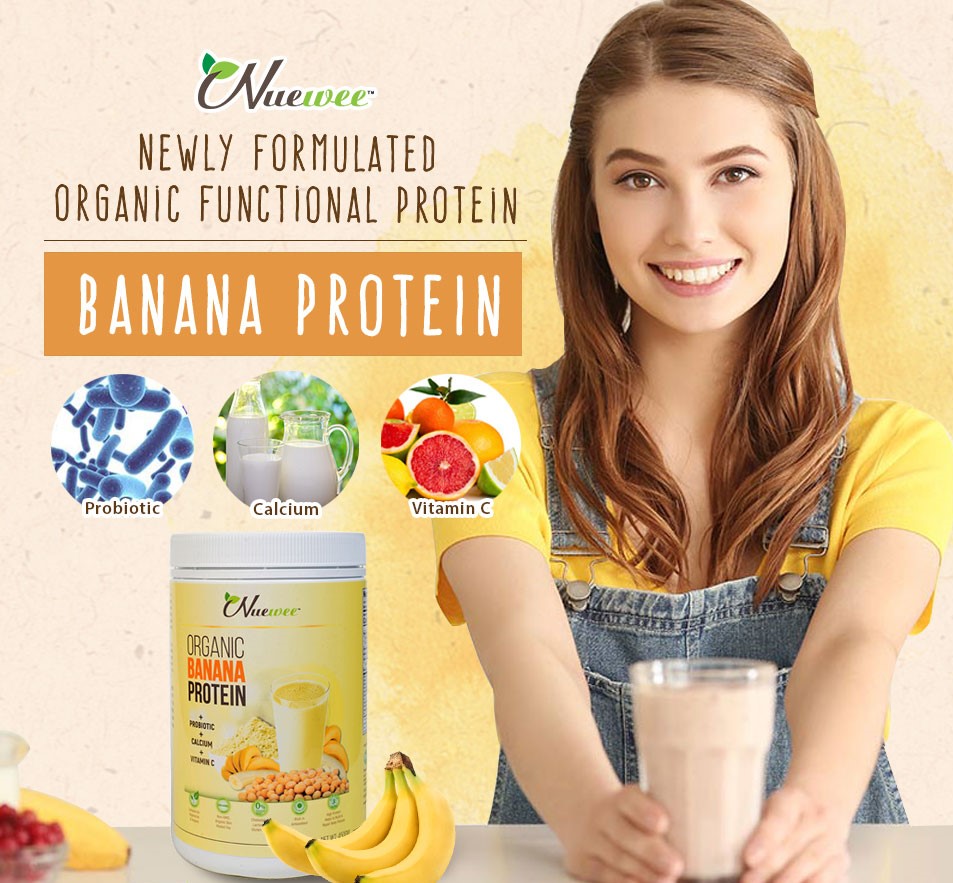 营养丰富的Nuewee有机香蕉蛋白粉是乳制品替代品。
纯正,不加糖,提供饱腹感,让您享受大豆蛋白质的营养及好处。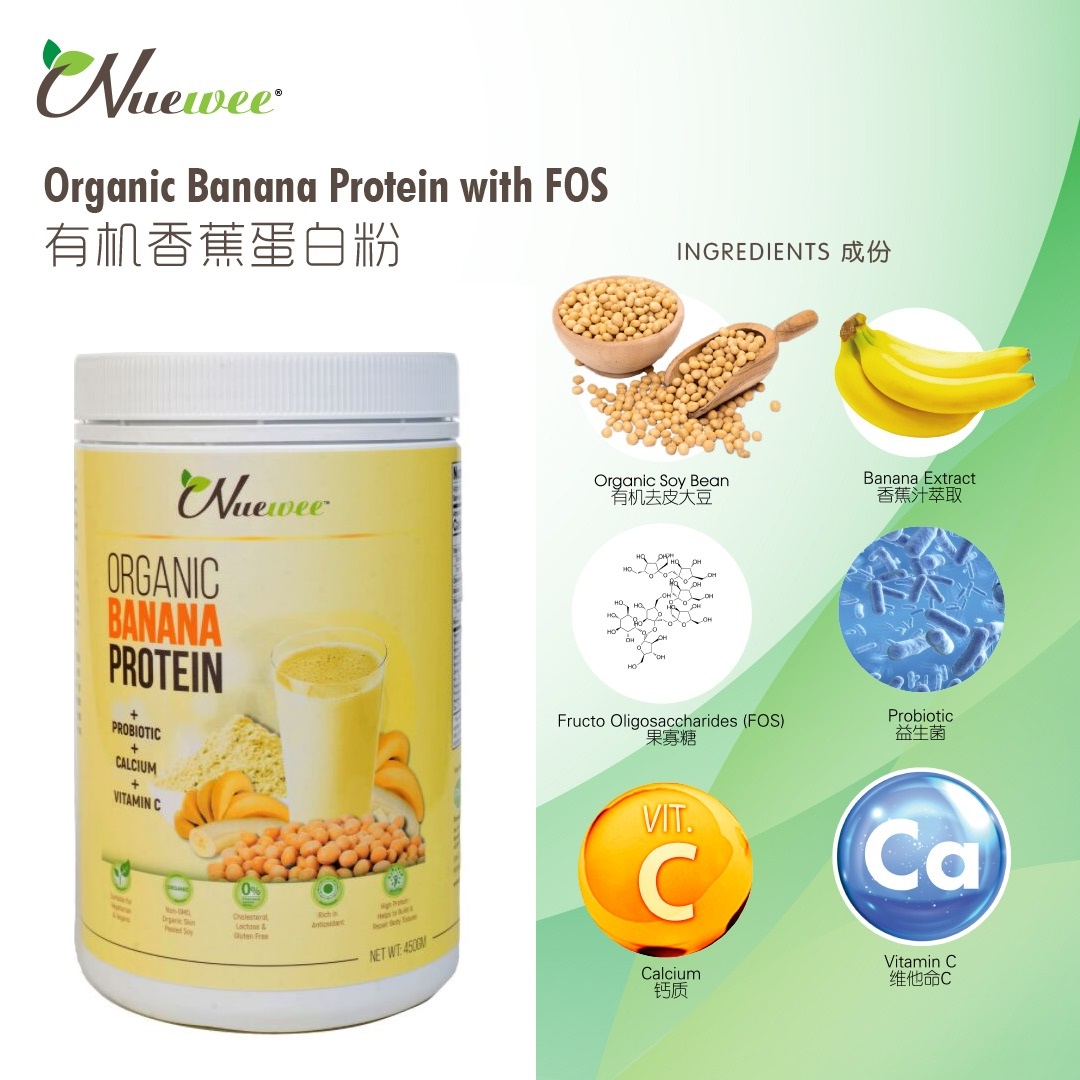 成份拥有独特的配方,由非基因改造大豆蛋白质,钙质和维生素C所组成。
香蕉含有丰富的抗氧化剂,维生素B群以及钾和镁,能降低血压,保护我们的心脏健康。
Nuewee有机香蕉蛋白粉添加了益生菌和果寡糖(FOS)帮助维持肠道良菌活动与数量,
因此会改善您的消化系统,排出毒素及提高免疫力。

Nuewee 有机香蕉蛋白粉是一个完美的营养饮料,
丰富的矿物质与蛋白质100%能够帮助您维护一个强壮和健康体魄。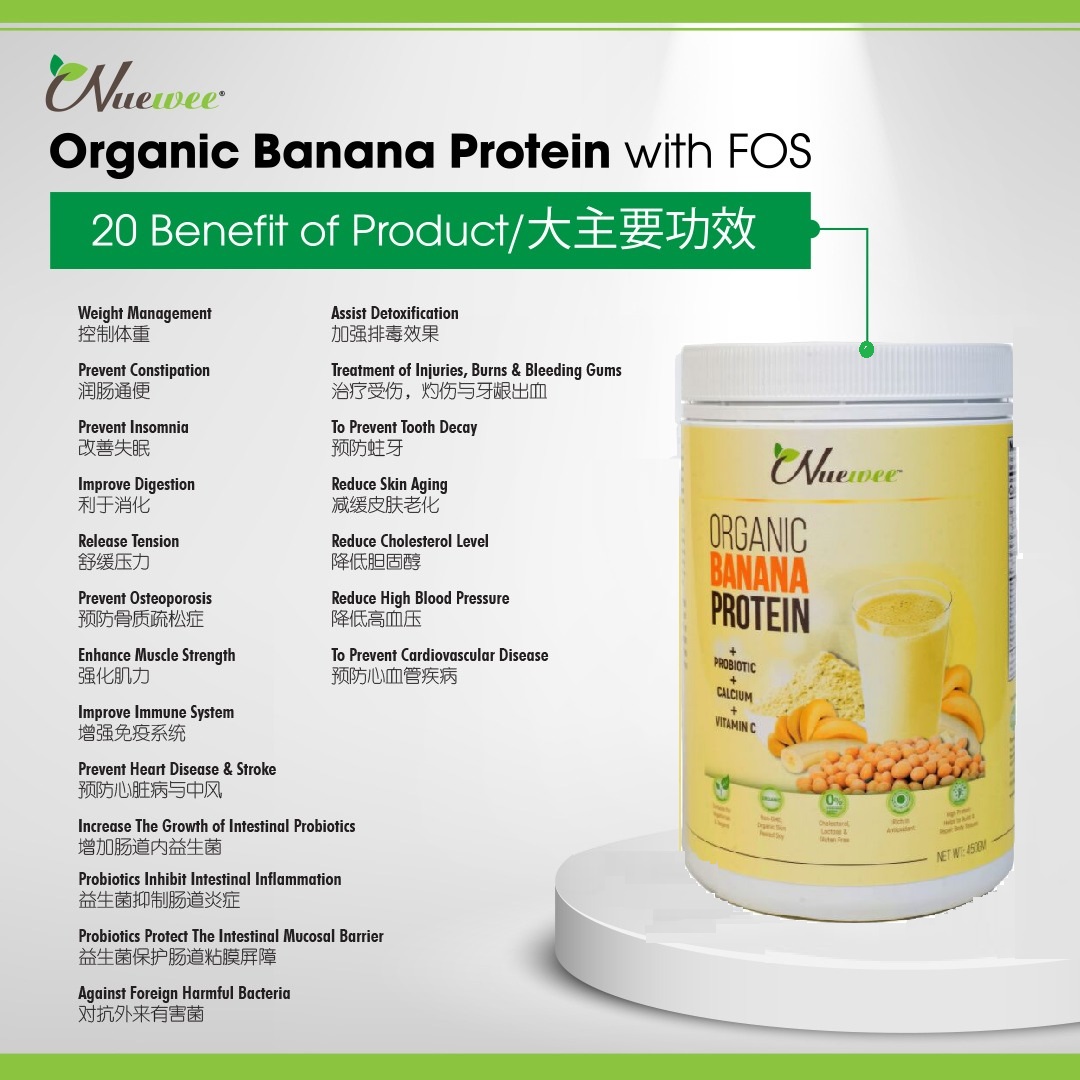 Nuewee 有机香蕉蛋白粉非常建议给:
想要替代膳食的人

想改善睡眠质量的人

想要骨骼和关节强壮健康的人

弱免疫系统

缓解压力

想要预防心脏病发作和中风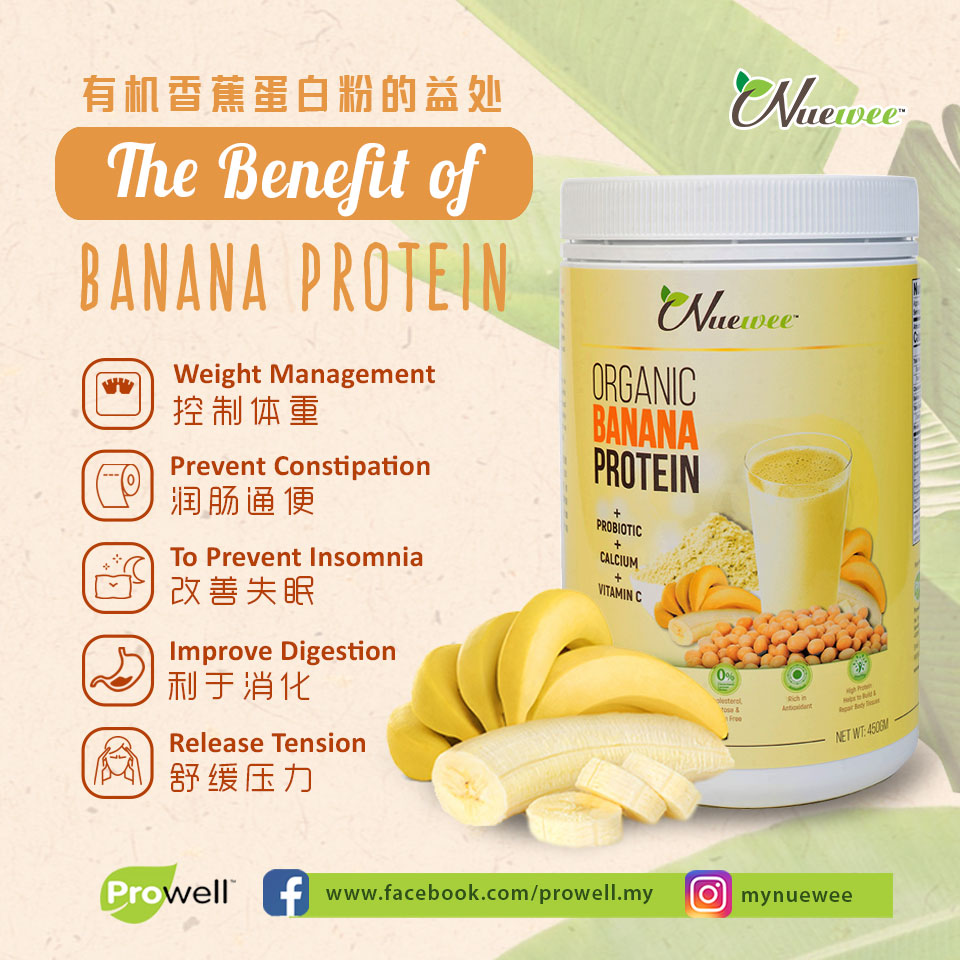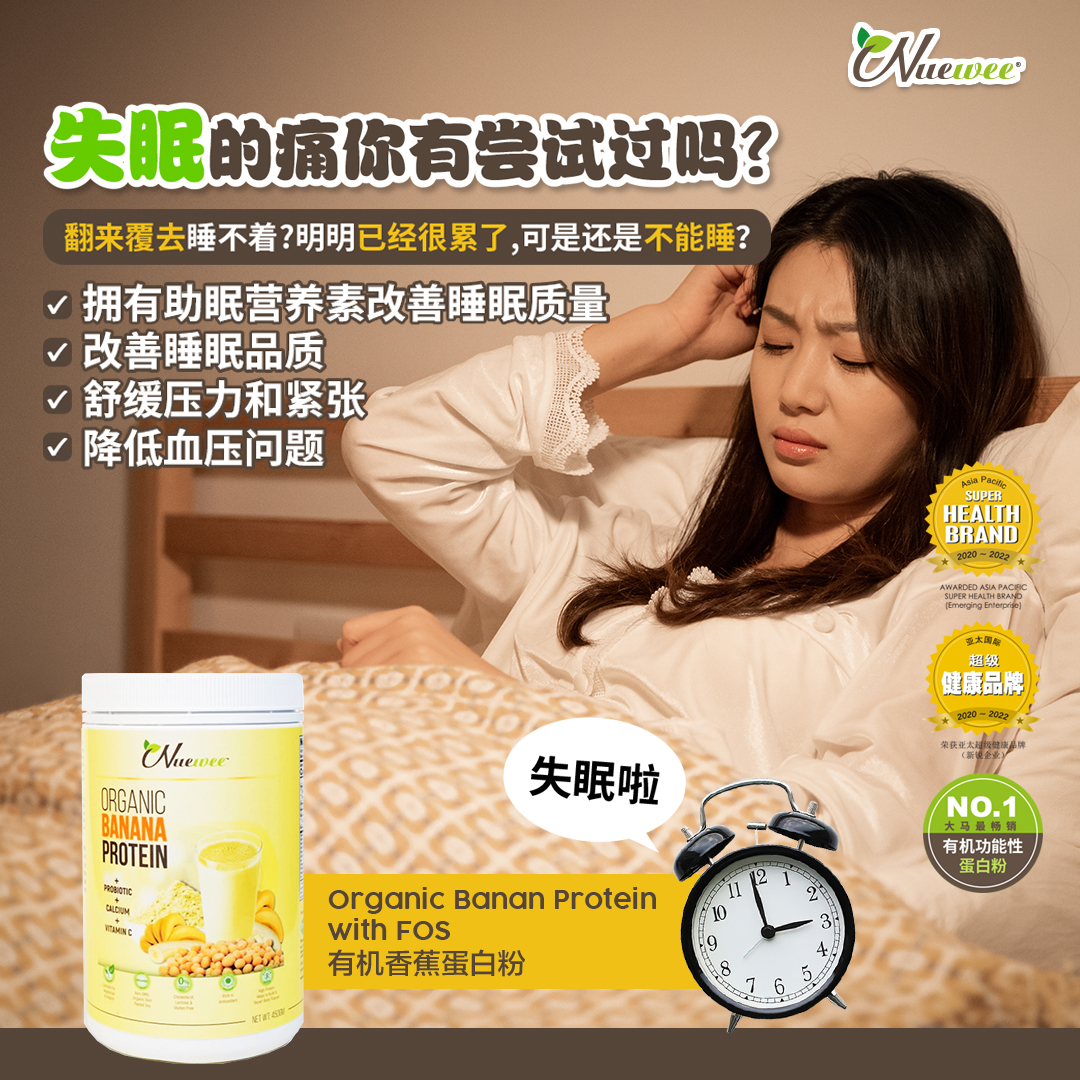 Nuewee 有机香蕉蛋白粉的成分:
有机大豆粉 (去皮), 大豆分离蛋白, 香蕉汁萃取, 果寡糖 (FOS), 益生菌,钙质,维他命C 和甜菊
Nuewee 有机香蕉蛋白粉的食用方法:
把 2 匙的 Nuewee 有机香蕉豆粉加入200毫升的冷水或温水,搅拌均匀即可饮用。您也可以加入即溶麦片或其他谷类饮料一起食用。
产品来自:美国
产品重量:450gm (一次2汤匙,可食用18次左右)



适合所有年龄层:儿童,成人,老年人,孕妇,哺乳妈妈


English
One of the delicious alternatives to dairy milk, Nuewee Organic Banana Protein is a pure, unsweetened version and deliver the satiety and allow you to enjoy the benefits of soy protein at the same time.

It is now featuring our pioneering formula with Non-GMO Soy protein, Calcium and Vitamin C.
Banana are high in antioxidants, high levels of B-Vitamins as well as potassium and magnesium to lower blood pressure and also important for heart health.
Probiotic and Fructo-oligosaccharides (FOS) helps in regulating the activities of intestinal bacteria for digestive benefits therefore will improve your digestive system, cleanse your system and enhance immunity.
Each delicious flavor has been meticulously engineered to provide a broad range of minerals,
protein and an incredible 100% to help you maintain a strong and healthy body.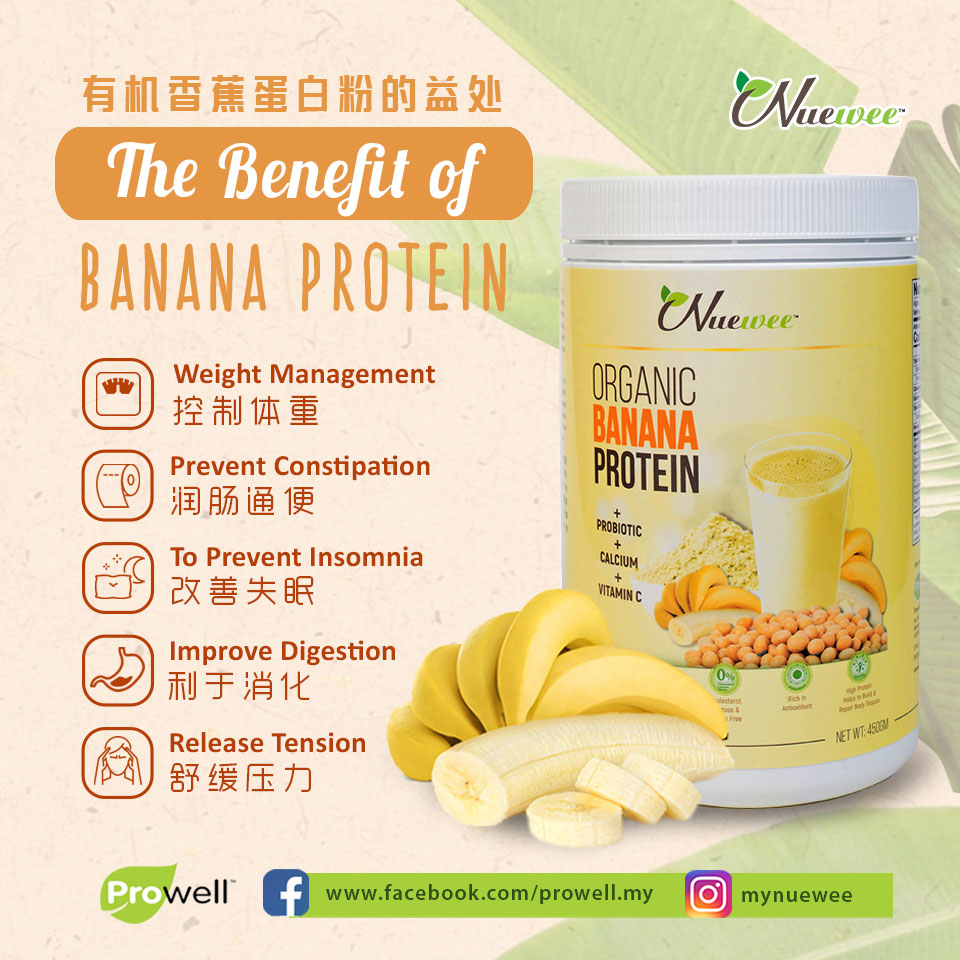 Nuewee Organic Banana Protein with FOS is suitable for:
Those who want to serve as meal replacement

Those who want to improve sleep quality

Those who want strong bone and joint

Those who want to improve Immune System

Those who want release tension

Those who have digestion and constipation problem
Ingredients of Nuewee Organic Banana Protein with FOS:
Organic Soybean Powder (Dehulled), Isolated Soy Protein, Banana Juice Extract Powder, Fructo-Oligosaccharides (FOS), Probiotic, Calcium, Vitamin C and Stevia Sugar.
Recommended Serving:
Mix 2 scoops of Nuewee Organic Banana Protein with 200ml cold or warm water. Stir well and serve. Can mix with instant oat meal or other cereal as well.
Product Weight: 450gm (18 times serving)
Product Origin: USA
Malay
Malay
Salah satu kelazatan alternatif selain daripada tenusu, Nuewee Organic Banana Protein with FOS merupakan sesuatu minuman yang asli, dengan versi tanpa kemanisan dan memberikan rasa kekenyagan serta membenarkan anda menikmati kebaikan-kebaikan protein soya pada masa yang sama.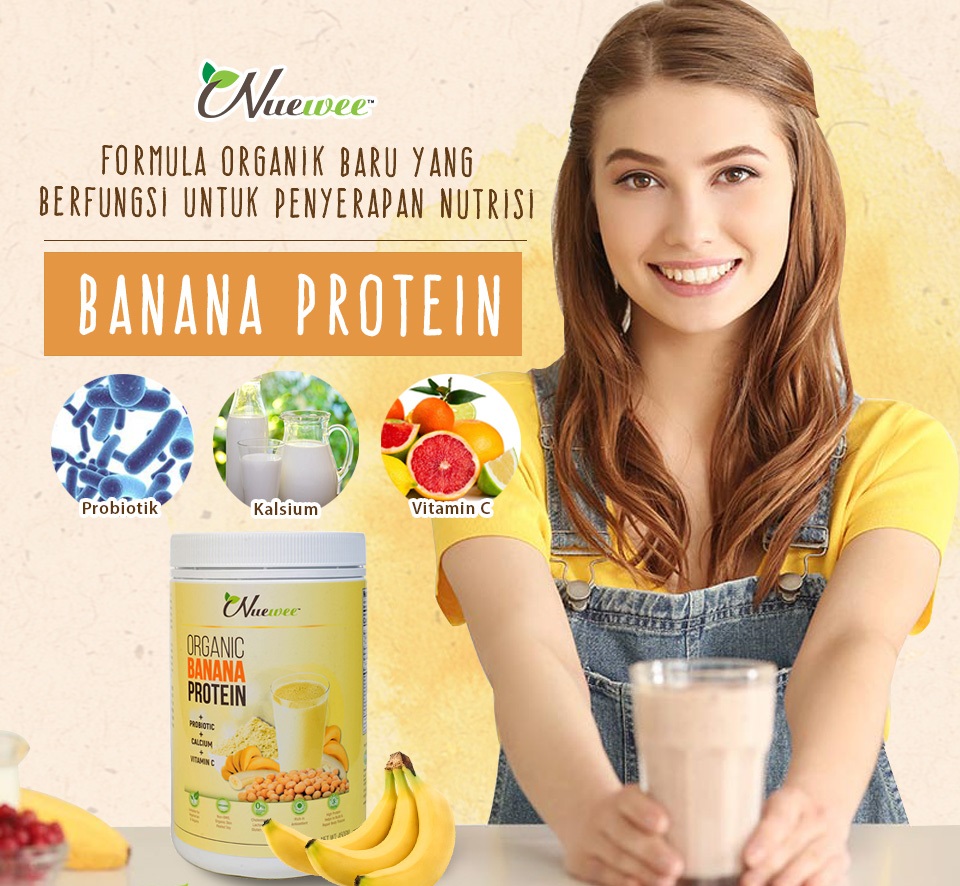 Kini dengan adanya formula perintis kami yang dicipta khas dengan protein soya tanpa Pengubahsuaian Organisma Genetik (Non-GMO), kalsium serta Vitamin C.

Pisang mempunyai kandungan anti-oksidan yang tinggi, tahap Vitamin B yang tinggi, begitu juga dengan kalium dan magnesium untuk mengurangkan tekanan darah serta penting untuk kesihatan jantung.
Nuewee Organic Banana Protein ditambahkan dengan Probiotik dan Fructo-Oligosaccharides (FOS) dan ia dapat membantu dalam pengawalan activiti-actviti bakteria usus untuk kebaikan system penghadaman.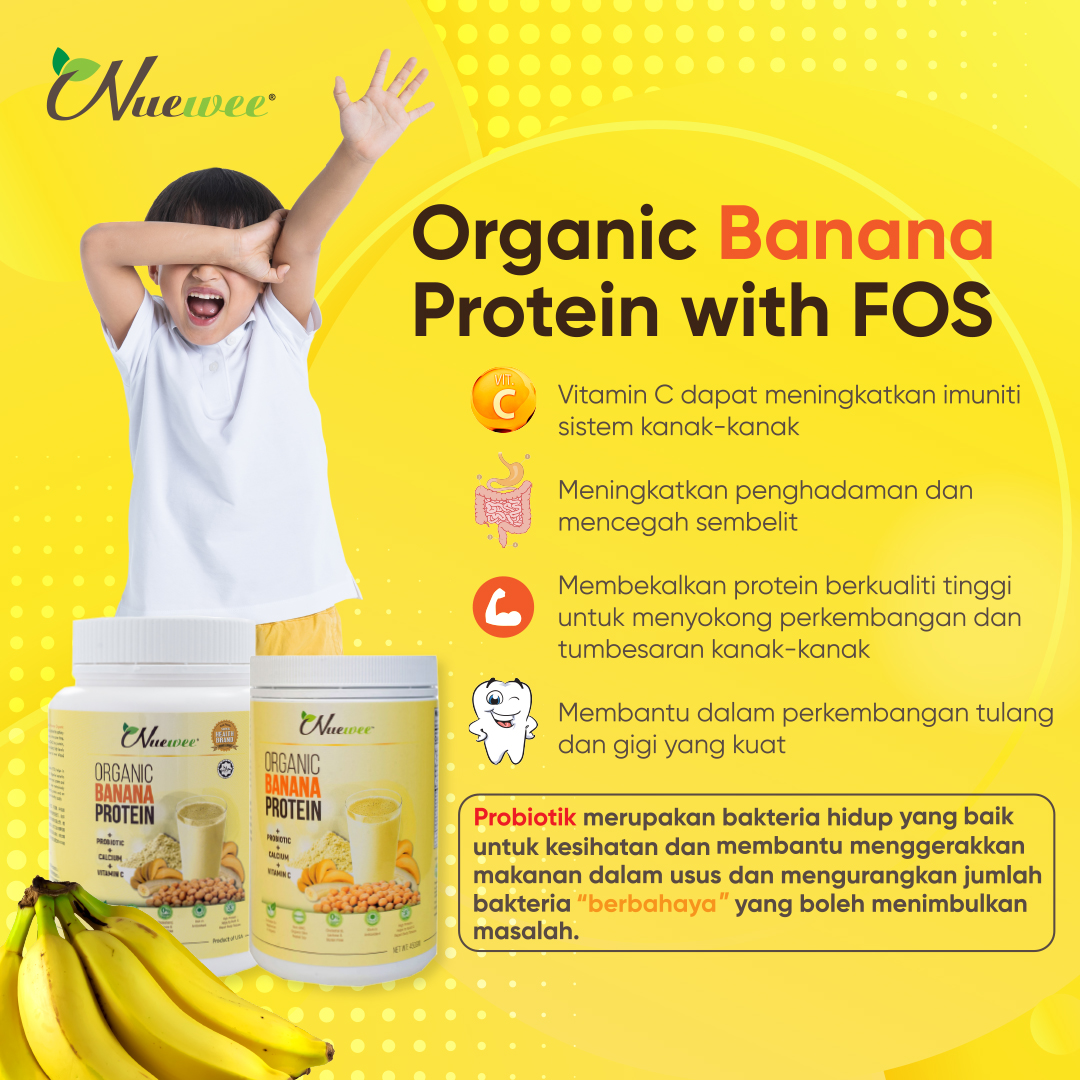 Oleh yang demikian, Nuewee Organic Banana Protein with FOS dapat memperbaiki dan membersihkan system penghadaman serta meningkatkan system keimunan anda.

Setiap perisa yang lazat dirumuskan secara terperinci untuk memberikan pelbagai jenis mineral, protein dan 100% yang luar biasa untuk membantu anda mengekalkan kesihatan badan yang kuat.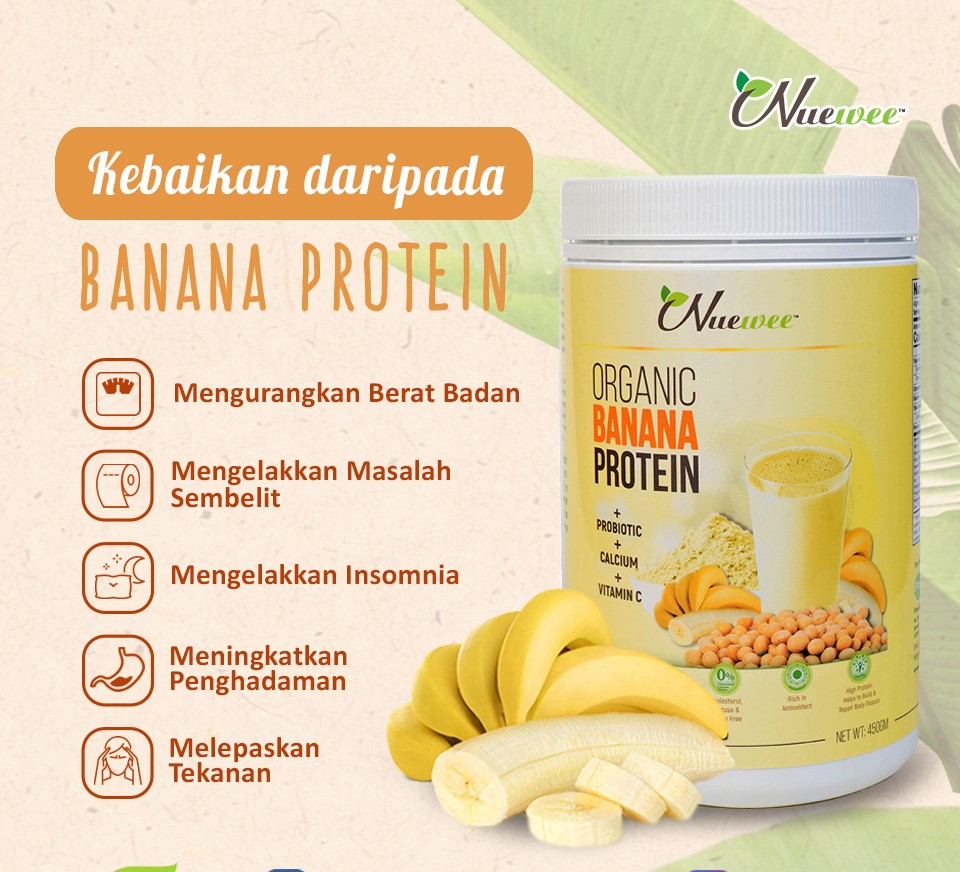 Nuewee Organic Banana Protein with FOS Sesuai Untuk:
Untuk mereka yang ingin dihidangkan sebagai penggantian pemakanan

Untuk mereka yang ingin memperbaiki kualiti tidur

Untuk mereka yang ingin mempunyai tulang dan sendi yang kuat

Sistem keimunan yang lemah

Melepaskan tekanan

Melindungi daripada ancaman sakit jantung dan strok




Hidangan Setiap Kali:
Campurkan 2 cawan Nuewee Organic Green Tea Protein dengan Stem Cell dengan 200ml air suam/ air sejuk. Boleh bercampur dengan oat untuk berasa kenyang lebih lama.

Berat: 450g

Produk Asal: USA

Soalan Lazim


1. Bagaimakah NUEWEE Organik Protein berfungsi? Siapa boleh mendapat manfaat dari penggunaan NUEWEE Organik Protein?

NUEWEE Organik Protein membekalkan protein berkualiti tinggi, yang bererti ia mengandungi jumlah kesemua asid amino yang mencukupi dalam bentuk yang tubuh anda boleh gunakan dengan protein dietari yang lain untuk pertumbuhan, penyelenggaraan dan pembaikan tisu.

NUEWEE Organik Protein sesuai untuk orang dewasa dan kanak-kanak yang sedang membesar sebagai sumber protein berkualiti tinggi yang boleh diguna untuk mengganti protein haiwan lemak lebih tinggi dalam diet.



2. Bolehkah saya mengambil NUEWEE Organik Protein jika saya mempunyai asid urik?

Tahap asid urik yang tinggi disebabkan terutamanya oleh gangguan metabolisme purin, oleh itu anda perlu mengawal penggunaan makanan purin tinggi.

Makanan tinggi purin termasuk daging, ikan, makanan laut, ayam, roti manis, buah pinggang, hati, otak, dan sayuran seperti kembang kol, cendawan dan lain-lain.

NUEWEE Organik Protein rendah dalam tahap purine, selamat menggunakan 2 sudu setiap hari. Walau bagaimanapun, bagi sesiapa yang mempunyai gout, disarankan untuk memeriksa dengan doktor sebelum mengambil NUEWEE Organik Protein.




3. Adakah pengambilan NUEWEE Organik Protein akan menjadikan saya gemuk?
Tidak. Malah, ia akan membantu anda jika anda sedang berdiet.

Asid amino dalam protein dapat menstabilkan paras gula darah anda. Ini penting kerana serbuk itu menghalang anda daripada mengidamkan makanan bila paras gula darah turun.

Jika diet anda telalu tinggi kandungan karbohidrat, paras gula darah naik turun. Mulanya anda bertenaga dan rasa kenyang, kemudian menjadi lapar pula.

Satu hidangan NUEWEE Organik Protein memberi anda kurang daripada 90 kalori, yang mana lebih baik daripada mendapatkan protein anda dari makanan berat, yang mungkin mengandungi beratus-ratus kalori.



4. Bolehkah kencing manis mengambil NUEWEE Organik Protein?

Gula utama NUEWEE Organik Protein berasal dari fruktosa dan stevia. Penyerapan fruktosa adalah lebih perlahan daripada glukosa dalam usus kecil, ia tidak bergantung kepada insulin, oleh itu impak pada tahap gula darah tidak tinggi.
Sumber utama fruktosa adalah buah, jadi pesakit kencing manis dapat makan buah secara sederhana. Malah pesakit kencing manis sesuai untuk mengambil segelas NUEWEE Organik Proteinsetiap hari.

5. Bolehkah NUEWEE Organik Protein diambil setiap hari walaupun kita telah mengambil banyak daging, ikan, telur?

Ya, semuanya bergantung pada berapa banyak protein yang anda mahu dalam diet anda.

Walau bagaimanapun, pihak berkuasa kesihatan sangat mengesyorkan pengurangan lemak, yang bererti mengurangkan makanan protein yang juga mengandungi banyak lemak, contoh, daging dan telur.

NUEWEE Organik Protein aedalah satu cara untuk mendapatkan protein berkualiti tinggi dengan lemak minimum dan tanpa kolesterol.




6. Adakah NUEWEE Organik Protein disyorkan untuk wanita hamil atau ibu yang menyusui?

Ya, soya adalah sumber protein yang baik, lengkap dengan semua asid amino penting yang diperlukan untuk manusia. NUEWEE Organik Protein adalah kaya dengan nutrien dan mengandungi banyak mineral dan vitamin.




7. NUEWEE Organik Protein menyebabkan angin?

NUEWEE Organik Protein adalah pengasingan protein kedelai, komponen utama adalah protein, dan kandungan gula sangat sedikit, jadi ia tidak akan menyebabkan masalah tersebut.



8. Adakah NUEWEE Organik Protein disyorkan untuk kanak kanak?

Kanak-kanak berumur setahun ke atas boleh mengambil NUEWEE Organik Protein.

Jika seseorang anak kurang atau tidak mengambil produk haiwan, satu hidangan NUEWEE Organik Protein adalah disyorkan.
Testimony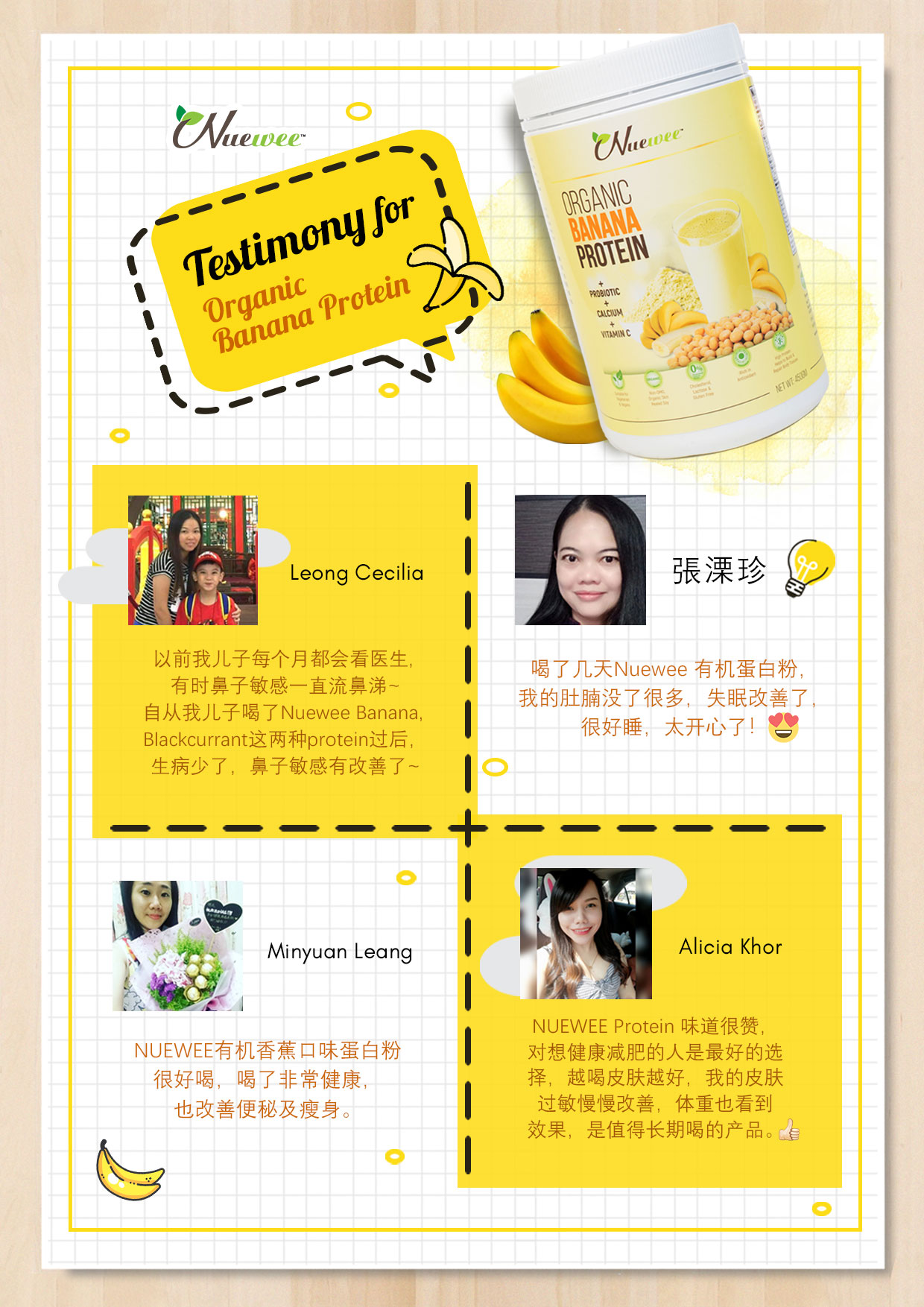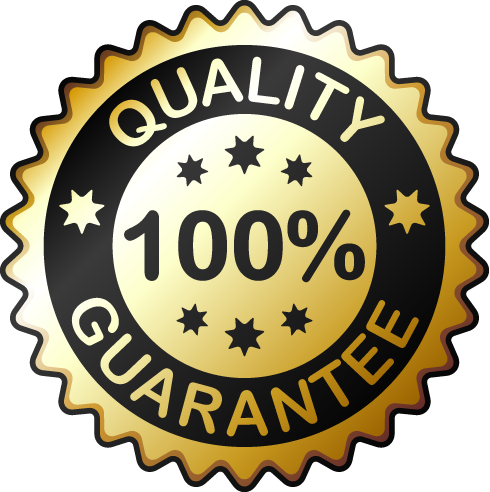 FAQ
1. How does NUEWEE Organic Protein works? Who may benefit from consuming NUEWEE Organic Protein?

NUEWEE Organic Protein provide high quality protein, contains adequate amounts of all of the essential amino acids in a form your body can use with other dietary protein for growth, maintenance, and repair of tissues.

Protein is an important building block of bones, muscles, cartilage, skin, and blood.

NUEWEE Organic Protein is suitable for adults and growing children as a source of high quality protein that can be used to replace higher fat animal proteins in the diet.


2. Can I take NUEWEE Organic Protein if I have uric acid?
Elevated uric acid level is mainly caused by purine metabolism disorders, hence you need to control consumption of high purine food. Foods high in purines include meat, fish, seafood, poultry, sweetbreads, kidneys, liver, brains, and vegetables like cauliflower, mushrooms and etc

NUEWEE Organic Protein is low in purine level, it is safe to consume 2 scoop per day.

However, for anyone having gout, it is advisable to check with physician before taking NUEWEE Organic Protein.


3. Intake of NUEWEE Organic Protein can gain weight?
Not really, protein is comparatively not easy to turn into fat, while consuming too much fat and carbohydrates will cause weight gain.

The amino acids in the protein may help keep your blood sugar levels stable, so you will not always feel hungry. It may help you if you are on a diet.
Moreover, one serving of NUEWEE Organic Protein gives you less than 90 calories, which is better than getting your protein from a heavy meal, which may contain hundreds of calories.


4. Can diabetics take NUEWEE Organic Protein?
NUEWEE Organic Protein uses froctose as main source of sugar. Fructose is absorbed slower than glucose in small intestines, it does not require insulin, thus having little impact on blood sugar level.
Fructose is mainly found in fruits, even diabetics are suitable to take a glass of NUEWEE Organic Protein per day.


5. Can consume NUEWEE Organic Protein even we have taken plenty of meat, fish and eggs?
Yes, it all depends on how much protein you want in your diet.

However, the health authorities strongly recommend cutting back on fat, which could mean cutting back on protein foods that also contain plenty of fat, for example, meat and eggs.

NUEWEE Organic Protein is one way of getting high-quality protein with minimum fat and cholesterol.


6. Does NUEWEE Organic Protein be recommended for pregnant women or breastfeeding mothers?
Yes, soy is a good source of protein, completed with all essential amino acids necessary for human. NUEWEE Organic Protein is nutrient rich and contains a lots of minerals and vitamins.
7. Will NUEWEE Organic Protein cause me to have gas?

Isolated soy protein in NUEWEE Organic Protein are primarily protein, with very little sugar, so they should not cause such a problem.

8. Can kids consume NUEWEE Organic Protein?

NUEWEE Organic Protein is suitable for kids above one years old.

If a child consumes little or no animal products, one serving of NUEWEE Organic Protein is recommended.
顾客常见问题


1. NUEWEE 有机蛋白粉如何发挥他的作用呢?谁可以从中受益呢?
NUEWEE有机蛋白粉提供优质的蛋白质,它含有各种人体必需氨基酸,帮助成长、维护及修复组织用途。只有蛋白质充足,才能代谢正常。

就像盖房子,构建身体的原材料最主要的是蛋白质。

NUEWEE有机蛋白粉适合成年人及发育中的儿童. 作为一种优质蛋白质来源,它可用于取代饮食里脂肪量较高的动物蛋白质。

2. 尿酸可以饮用NUEWEE有机蛋白粉吗?
尿酸病人主要是体内嘌呤代谢紊乱,引起尿酸升高,所以需要控制含有嘌呤高的食物的摄入量。
高嘌呤的食物包括肉类、鱼、海鲜、家禽、牛杂碎、肾脏、肝脏、花椰菜、蘑菇等.

NUEWEE有机蛋白粉主要原料是各种氨基酸,嘌呤水平偏低,一天饮用一杯NUEWEE有机蛋白粉是适合的。
至于痛风者,我们还是建议先询问医师意见哦。



3. 饮用NUEWEE有机蛋白粉导致发胖?

不会,因为蛋白质不容易转为脂肪。发胖的真正原因是脂肪和碳水化合物过量摄入。
NUEWEE 有机蛋白粉里的氨基酸能帮助稳定您的血糖水平,增加饱足感,对于在节食的您反而有帮助!而且一杯NUEWEE 有机蛋白粉才提供80-90卡路里而已哦。


4. 糖尿病患者可以饮用NUEWEE有机蛋白粉?
NUEWEE有机蛋白粉主要糖分来自果糖和甜菊。果糖在肠道比葡萄糖吸收慢,不依赖胰岛素作用,对血糖影响小。

果糖主要来源是水果,因此即使是糖尿病病人,也可以适量食用水果。糖尿病人摄入果糖不可以过量,一天适于饮用一杯NUEWEE有机蛋白粉。

5. 平常有吃大量肉类,鱼和蛋等,还可以饮用NUEWEE有机蛋白粉吗?

可以。这有赖于您希望从饮食里摄取多少蛋白质。肉类蛋类有大量脂肪,相较于NUEWEE有机蛋白粉, NUEWEE有机蛋白粉 消化吸收时间快, 减少肠胃负担, 服用方便.

因此, 饮用NUEWEE有机蛋白粉是获取优质蛋白质和最低脂肪与胆固醇量的方法之一。


6. NUEWEE有机蛋白是否适用于孕妇或母乳喂养的母亲?

可以,大豆蛋白质是优质蛋白质,含有人体所必需的氨基酸。NUEWEE 有机蛋白粉含有多种矿物质和维生素哦!
7. 饮用NUEWEE 有机蛋白粉会胀气吗?

NUEWEE 有机蛋白粉的成分是大豆分离蛋白,主要成分是蛋白质,糖的含量极低,因此不会引致类似的问题。

8. NUEWEE有机蛋白粉适合小孩吗?
NUEWEE有机蛋白粉适合一岁小孩以上。
建议少吃或完全不吃动物性产品的小孩, 每天饮用一杯NUEWEE有机蛋白粉。
Customer comments
| Author/Date | Rating | Comment |
| --- | --- | --- |