Prowell Waist Trimmer Belt for Slimming
Product Information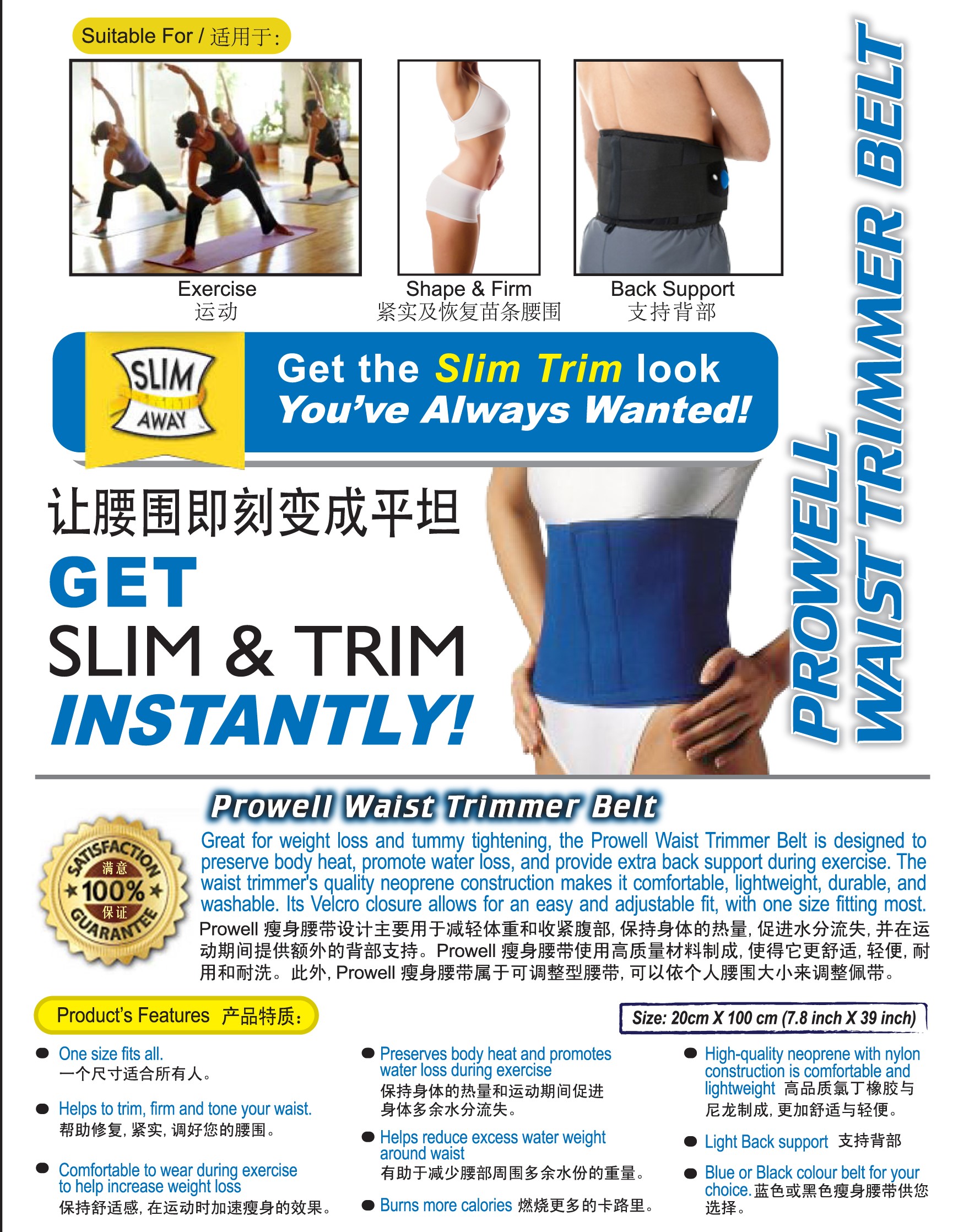 English
Prowell Waist Trimmer Belt is designed to reduce weight and tighten the abdomen, maintain body heat, promote water loss, and provide extra back support during exercise.
Prowell Waist Trimmer Belt is made of high-quality materials, making it more comfortable, lightweight, durable, and washable.

Prowell Waist Trimmer Belt is an adjustable belt that can be adjusted to fit the waist size of the individual.

Product's Features:
One size fits all.

Helps to trim, firm and tone your waist.

Comfortable to wear during exercise to help increase weight loss
Preserves body heat and promotes water loss during exercise
Helps reduce excess water weight around waist
Burns more calories
High-quality neoprene with nylon construction is comfortable and lightweight
Light Back support
Blue or Black colour belt for your choice.
Size: 20cm X 100 cm (7.8 inch X 39 inch)
Chinese
Prowell瘦身腰带设计主要用于减轻体重和收紧腹部,保持身体的热量,促进水分流失,并在运动期间提供额外的背部支持。

Prowell瘦身腰带使用高质量材料制成,使得它更舒适,轻便,耐用,和耐洗。

Prowell瘦身腰带属于可调整型腰带,可以依个人腰围大小来调整佩带。
产品特质:
一个尺寸适合所有人。
帮助修复,紧实,调好您的腰围

保持舒适感,在运动时加速瘦身的效果。

保持身体的热量和运动期间促进身体多余水分流失。

有助于减少腰部周围多余水份的重量。

燃烧更多的卡路里。

高品质氯丁橡胶与尼龙制成,更加舒适与轻便。

支持背部

蓝色或黑色瘦身腰带供您选择。
Size: 20cm X 100 cm (7.8 inch X 39 inch)
让腰围即刻变成平坦。。。
Customer comments
| Author/Date | Rating | Comment |
| --- | --- | --- |